Tanjong Pagar United extend unbeaten streak to 4 matches, after 1-1 draw against the Eagles!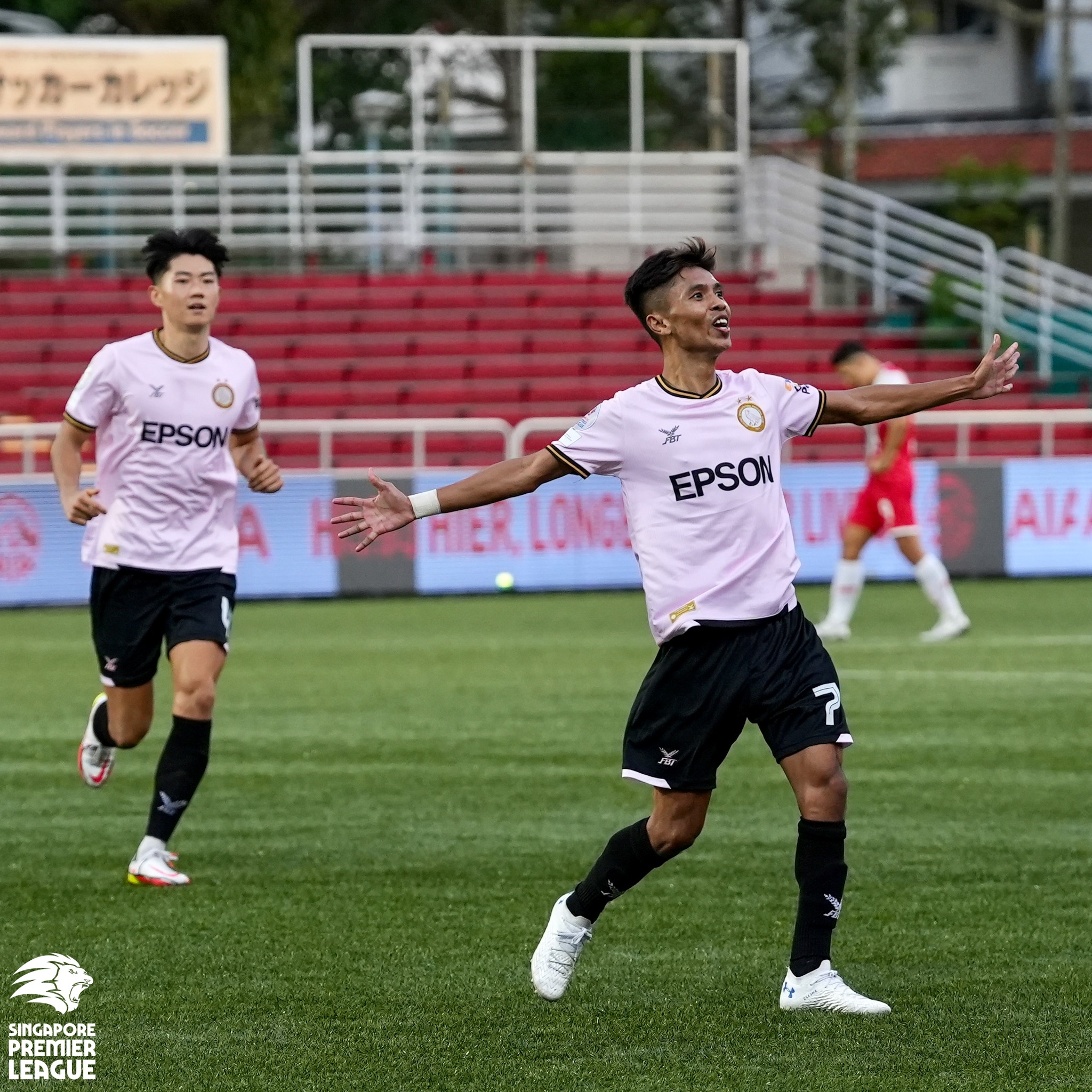 (Hazzuwan Halim equalises for Balestier Khalsa FC. Photo Credit : FAS)
By Chia Han Keong
They were among the founding clubs of the S-League, Singapore Premier League's (SPL) previous incarnation, and had experienced giddy highs in the early years of the league, as well as frustrating lows in recent seasons.
Both Geylang International - two-time league champions (1996 and 2001) and 2009 Singapore Cup winners - and Tanjong Pagar United - four-time league runners-up and 1998 Singapore Cup victors - had seen better days. But bright starts to this new season for both clubs have raised hopes that they can launch spirited challenges for the SPL title.
The two sides played out to an absorbing 1-1 draw at the Jurong East Stadium on Saturday (Mar 19) - a fair scoreline as they battled hard all match and were evenly matched throughout. Tanjong Pagar, however, are on a sterling unbeaten run to start off the season with 2 wins and 2 draws, and are surprisingly sitting pretty at the top of the SPL table, 1 point ahead of the current powerhouses Albirex Niigata (S) and Lion City Sailors. It is the first time since 2000 that the Jaguars have started the season unbeaten in 4 matches.
Geylang are not far behind, tied on 4 points with 3 other clubs - Tampines Rovers, Balestier Khalsa and Hougang United - but having played one fewer game (three) than Balestier and Hougang.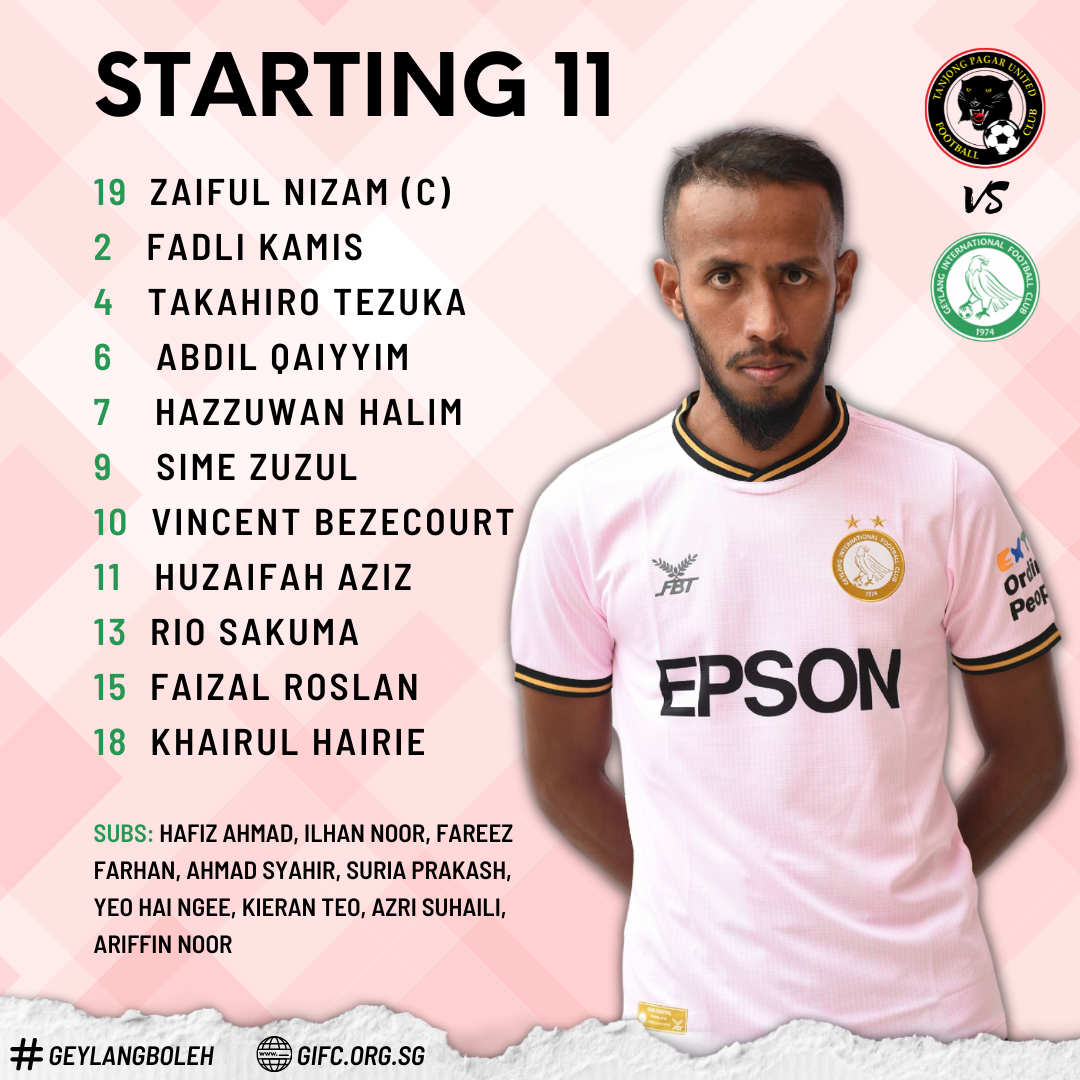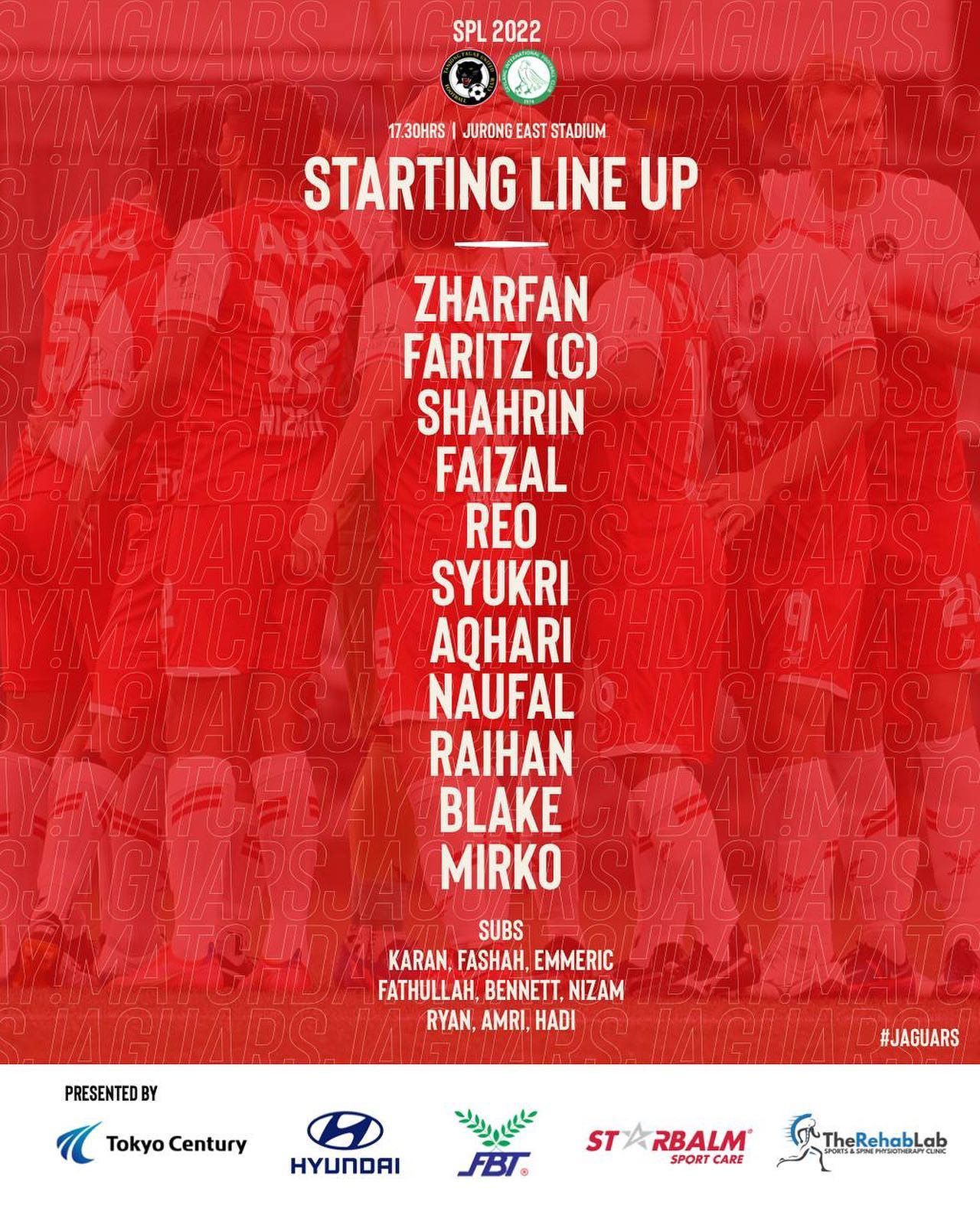 Looking at both line-ups, it was clear that both head coaches, Tanjong Pagar's Hasrin Jailani and Geylang's Mohamed Noor Ali, have constructed strong spines for their respective clubs.
Both of their goalkeepers Zharfan Rohaizad and Zaiful Nizam are reliable custodians; both of their defence lines are sturdy and tough to beat; both of their central midfielders (Tanjong Pagar's Blake Ricciuto and Mirko Sugic, and Geylang's Vincent Bezecourt and Takahiro Tezuka) are industrious and creative; and both of them boast outstanding strikers in Reo Nishiguchi and Sime Zuzul to put away the goal chances.
The resilience among both clubs was evident in a cagey first half, where goal opportunities were hard to come by as both Tanjong Pagar and Geylang battled for control.
The Eagles relied on the incessant hard-running of Zuzul and the smart distribution of Bezecourt and Tezuka to probe the Jaguar defence. However, the home side held firm, and Geylang were reduced to just a shot on target, when a direct free-kick by Tezuka in the 26th minute was parried away acrobatically by Zharfan.
That save seemed to have jolted Tanjong Pagar out of their shells, as their imports Ricciuto and Sugic began asserting themselves in midfield, while Nishiguchi lurked with intent around the penalty area. In the 28th minute, the Japanese latched onto a pass and from about 25 metres out, launched a stinging shot which fizzled just wide of the Geylang goal, to the relief of goalkeeper Zaiful Nizam.
The Japanese had probably the best chance of the half in the 41st minute, as he intercepted a stray pass by Huzaifah Abdul Aziz, dribbled to find space to clip a shot which Zaiful did superbly to dive low and deflect to the right post.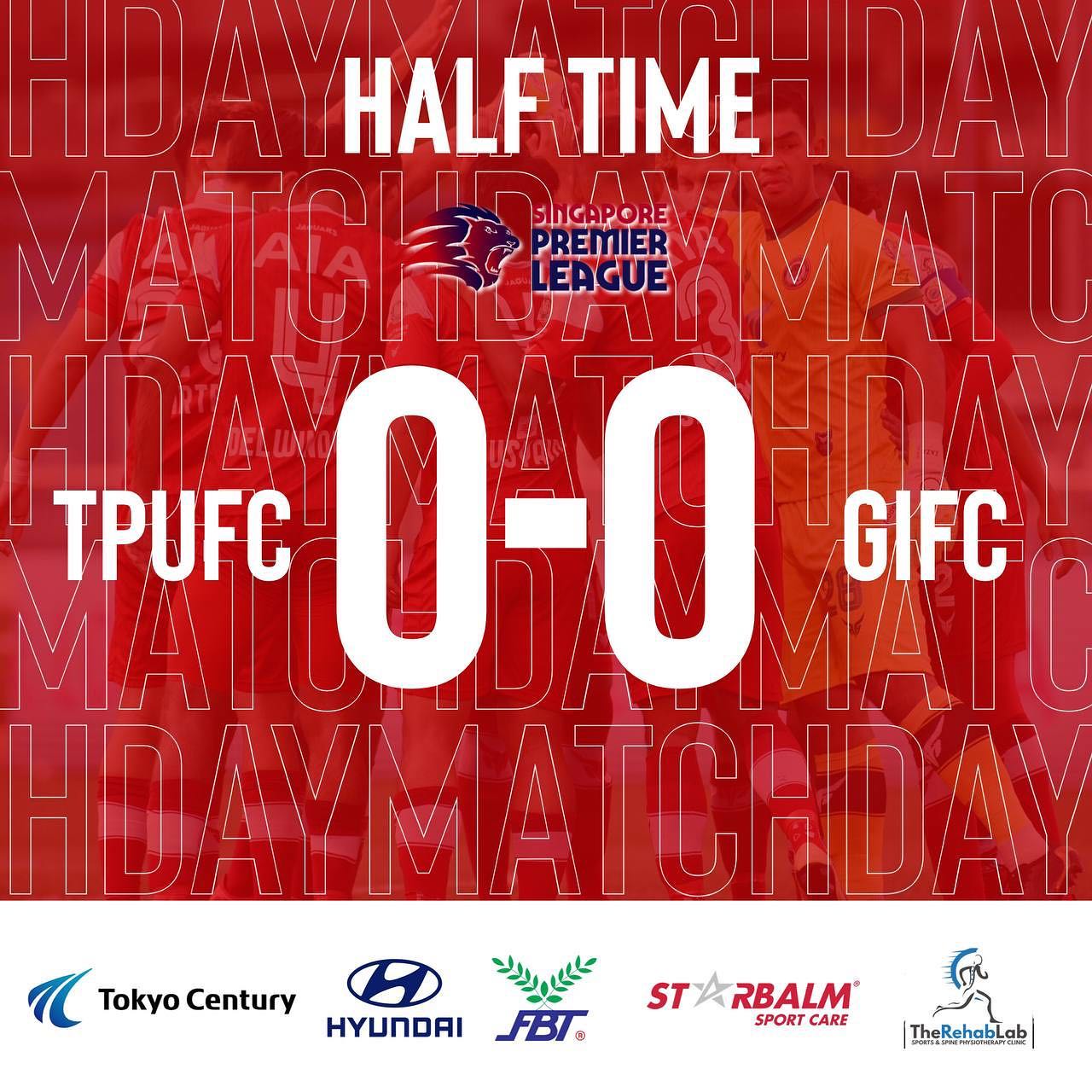 Nishiguchi continued to be lively when the 2nd half began, testing Zaiful again in the 53rd minute with a free-kick from the left flank, which the Geylang goalkeeper did well to palm away. The 24-year-old was finally rewarded in the 63rd minute with a well-taken goal. Geylang defender Abdil Qayyim Mutalib misjudged the bounce of Sugic's long punt up the field, and Nishiguchi barged through to bear down on goal, calmly slotting past Zaiful for his 4th goal of the season.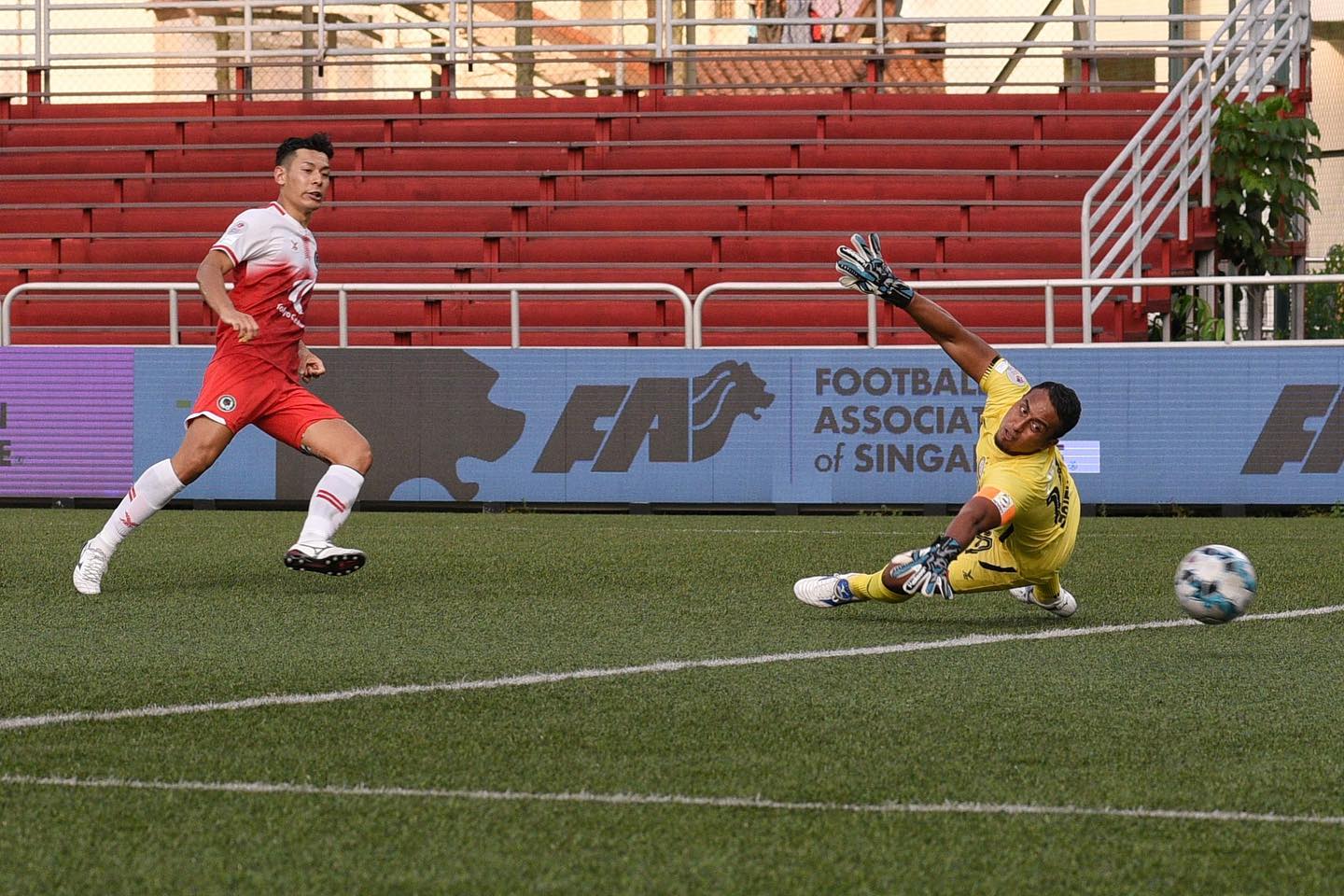 (Tanjong Pagar's Reo Nishiguchi scores. Photo Credit : Tanjong Pagar United FC)
Geylang, to their credit, did not crumble and continued to press forward with intent in search of an equaliser. It duly arrived in the 74th minute, but not after Tanjong Pagar substitute Khairul Nizam almost doubled their lead when his close-range attempt was bravely blocked by Rio Sakuma. The ball broke to Geylang substitute Fareez Farhan deep inside his half, and the midfielder went on a storming run into the Tanjong Pagar half before laying the ball to an unmarked Hazzuwan Halim just inside the right side of penalty box.
The forward, in his first season with Geylang after a 8-year spell with Balestier Khalsa, had all the time in the world to sweep a beautiful shot which hit the left post and spun into goal.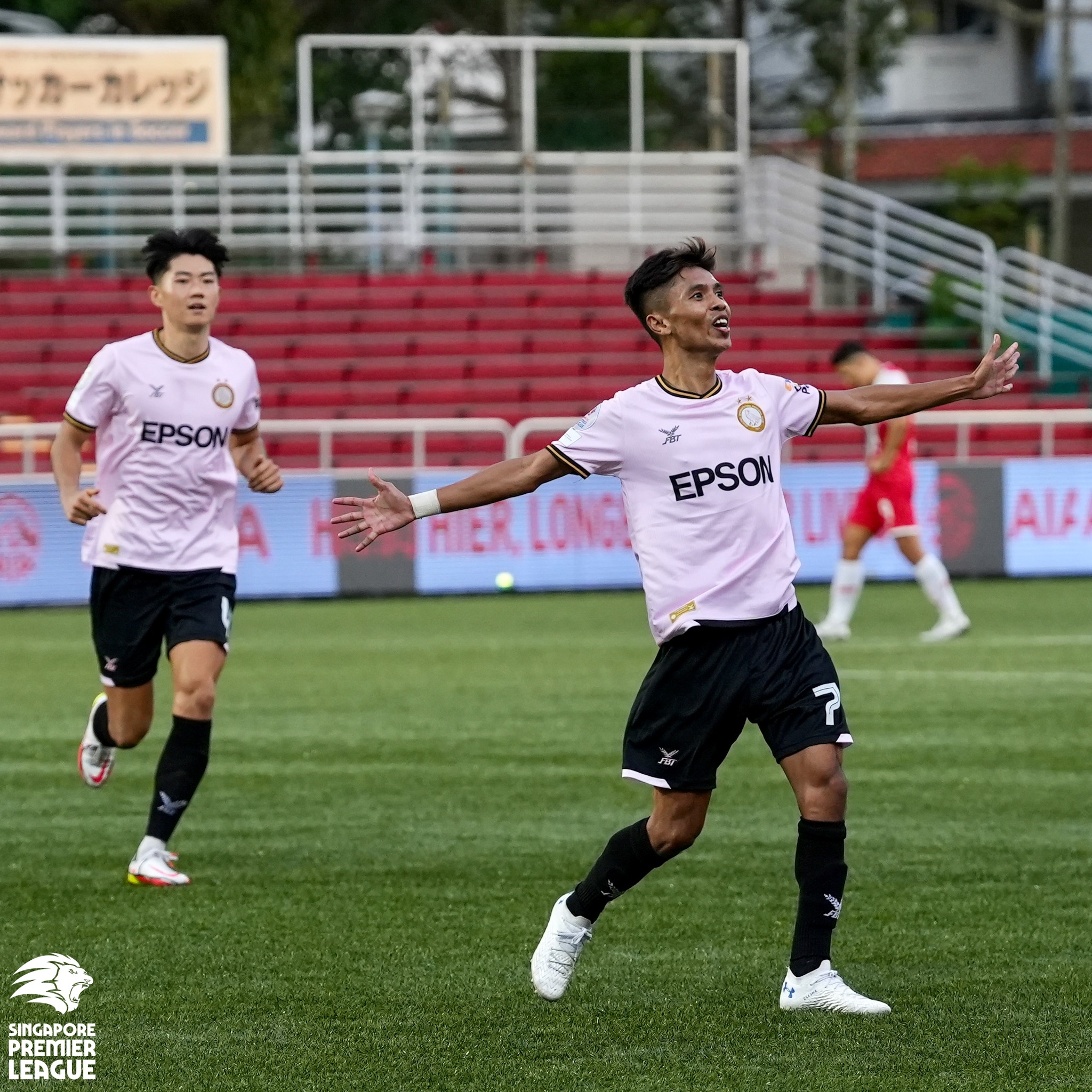 (Hazzuwan Halim equalises for Balestier Khalsa FC. Photo Credit : FAS)
While both sides continued to threaten, their defence lines held firm until the final whistle. It was a match neither side deserved to lose, which just shows that they might be able to bring joy to their devoted fan bases, if they can maintain their strong starts to this SPL season.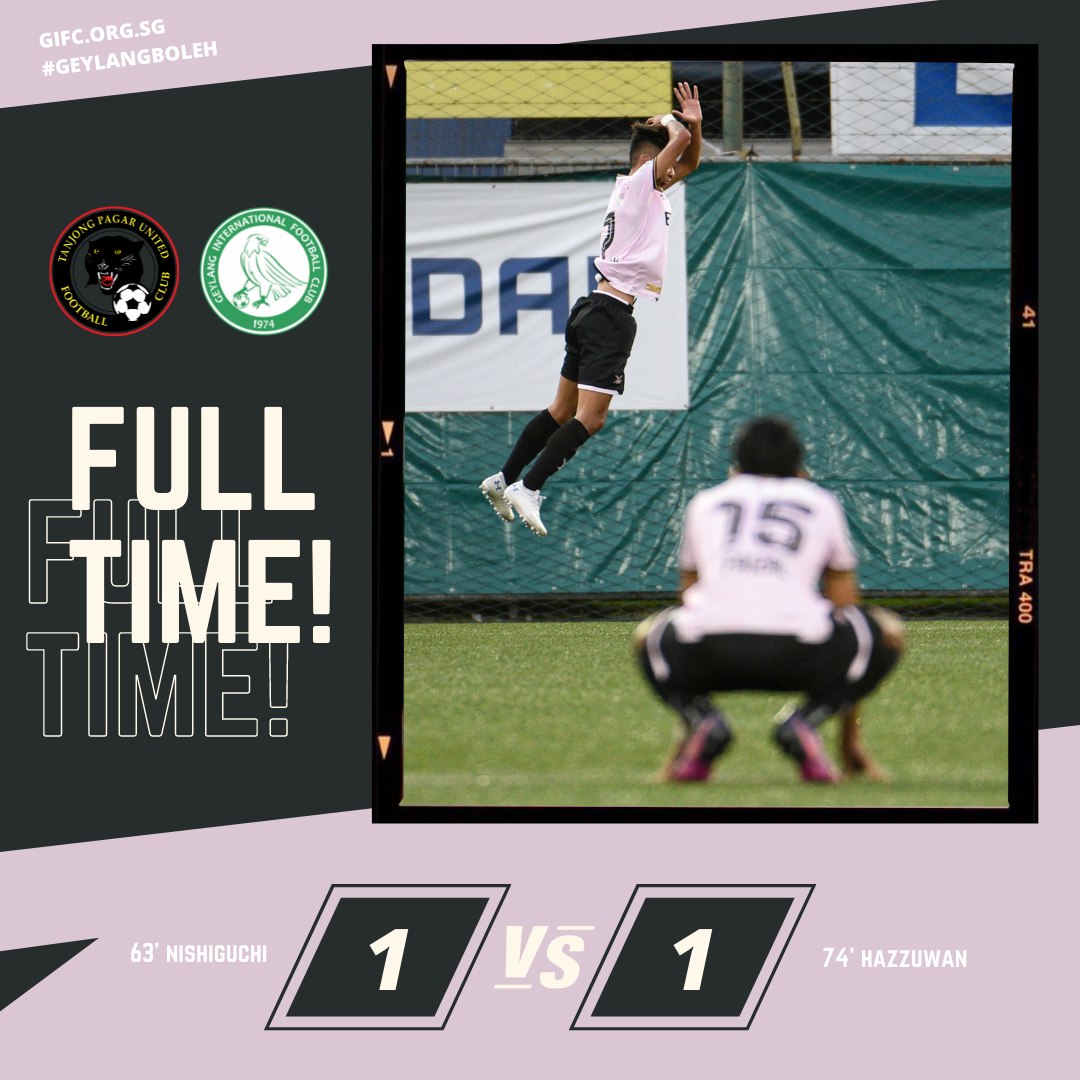 Chia Han Keong is a veteran journalist who has covered both Singapore and international sports extensively for the past 19 years. He was the sports editor of bilingual tabloid My Paper, and has also worked for The Straits Times and Yahoo News Singapore. He has covered four SEA Games (2009, 2011, 2013, 2019), two Asian Games (2010, 2014) as well as the 2008 Beijing Summer Olympics and the Tokyo 2020 Olympiad. He counts himself as a massive Liverpool, LA Lakers and Rafael Nadal fan.