Team Singapore Wins Two Gold Medals in Pencak Silak at Asian Beach Games
Singaporean teenager Sheik Farhan pulled off a remarkable Gold medal-winning performance in the Pencak Silat competition at the 5th Asian Beach Games in Da Nang, Vietnam.
Trailing his Vietnamese opponent Le Sy Kien on three of the five judge's scorecards heading into the third and final round, the Nanyang Polytechnic student knew he needed to do something special to win the 85kg Tanding title.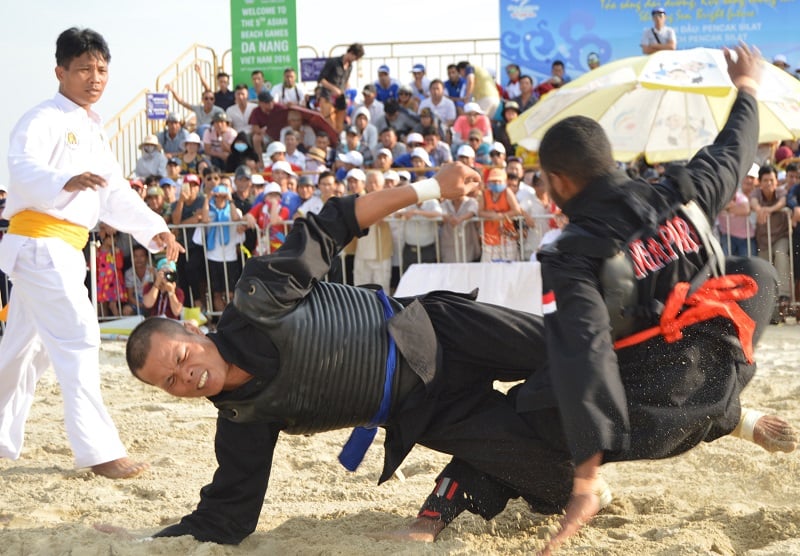 TeamSG silat exponent Sheik Farhan (right in red belt) in action during one of the sweep drops. Photo: Julian Linden
His father and coach Sheik Alau'ddin, a two-time world champion in the popular martial art, advised his son to try and punch his way to victory, saying it was too risky to kick his opponent in case the move backfired and he ended up getting thrown down in the sand.
But with just a few seconds left on the clock and Farhan still needing two more points to take the lead, he had to change his game plan and produced two perfectly executed sweep drops to clinch Singapore's second Gold medal in central Vietnam.
"I guess I was kind of lucky because I got those two points from kicks right at the end," Farhan said. "Like a lot of people, I haven't competed on the sand before but we had some camps and extra training to adapt to the beach."
"I felt okay with the sand even though the balance wasn't always there and I couldn't apply my techniques as much. It was definitely very hard."
Like father, like son, Farhan is also a world champion, winning his first global title as a 17-year-old last year. In December, he hopes to emulate his dad by winning a second crown in Bali.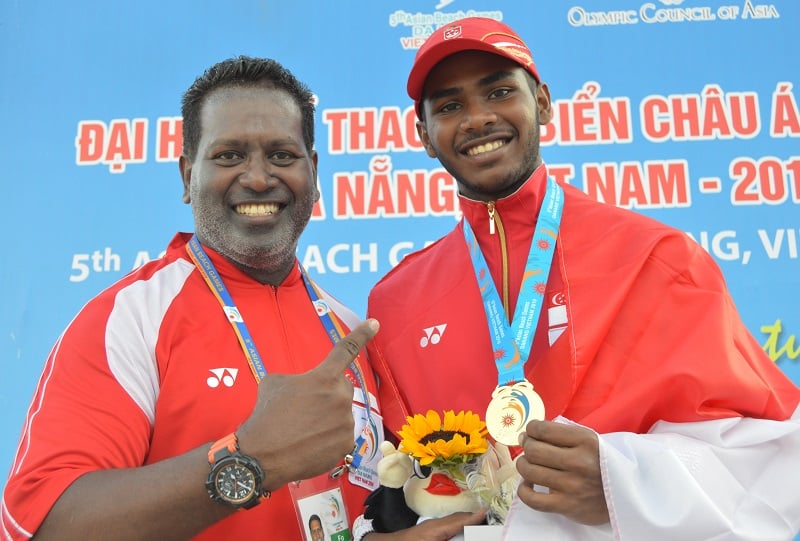 TeamSG silat exponent Sheik Farhan (right) with his coach and father Sheik Alau'ddin. Photo: Julian Linden
"My siblings and I were brought into the sport very early; I didn't even remember when we started," Farhan said. "I won my first ever competition so I felt like I could be a winner in this sport. I liked that feeling so I grew to love the sport very quickly."
Sheik Alau'ddin was all smiles after the fight, joining his son on the podium for a family photo after he was presented with his Gold medal from Team Singapore's Chef de Mission Clifford Wong.
Although Farhan had discarded his dad's advice, his fighting instincts capped an outstanding performance from the Singapore Pencak Silat team at My Khe Beach, the host site for the multi-sports event featuring 41 Asian countries.
Nurul Khairunnisa Azlani also won Gold for Singapore in the Women's Tunggal competition while Nurhanishah Shahrudin collected two Silver medals, one in the individual 60kg Tanding event and the other in the Women's Team Regu competition.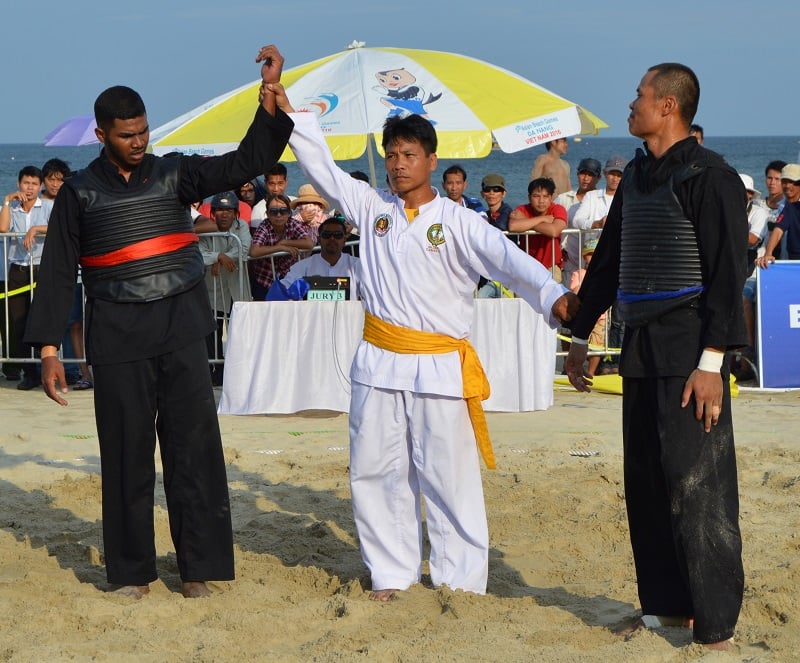 TeamSG silat exponent Sheik Farhan (left) being announced the winner of the 85kg Tanding Final. Photo: Julian Linden
The republic also picked up six Bronze medals for a total of 10 in Pencak Silat, second only to the host-nation Vietnam.
"I'm very proud of the whole team," Sheikh Alau'ddin said. "Being on sand, this was a tough competition so we trained really hard for this. They all went through hell during our preparation at the East Coast and the SportsHub but we all pulled through and won 10 medals so I couldn't be happier as we prepare for the world championships."
"It's been a very good few months for Singapore sports, everyone seems to be winning medals at the moment, and it just shows that we can all do it if we work hard."