Team Singapore's Women's campaign at WTT Singapore Smash, ends after valiant performances!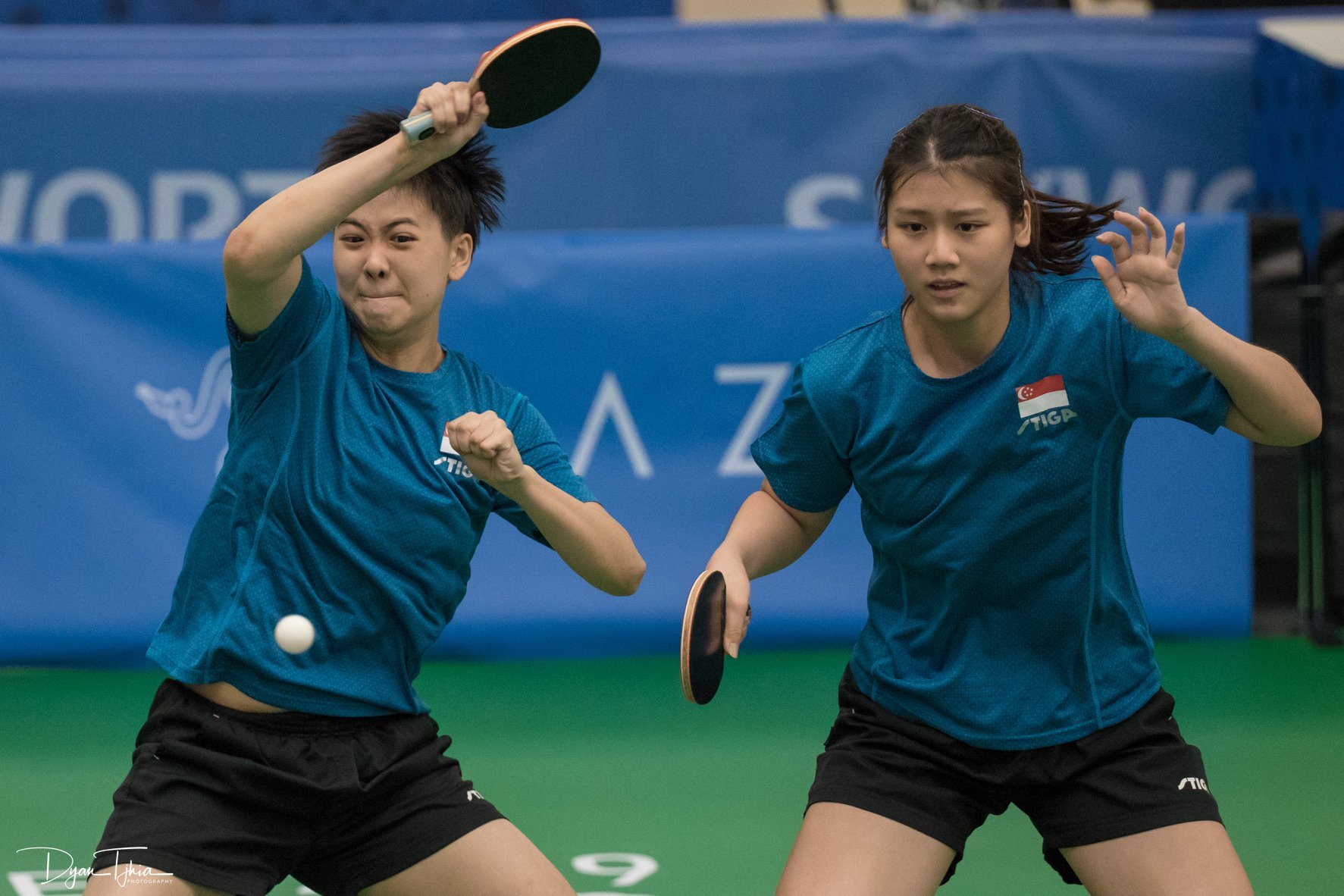 (TeamSG's Goi Rui Xuan and Wong Xin Ru in 2019. Photo Credit : Rui Xuan's FB Page)
By Pearlyn Koh
Exciting table tennis action continued on Day 4 (14 March) of the inaugural WTT Singapore Smash held from 7- 20 March in Singapore for the first time ever. And our Team Singapore Female athletes continued their campaign, with 2 Doubles fixtures, plus a Singles match on the agenda for the day.
Having won against teammates Zhou Jingyi/Ser Lin Qian in straight games on Day 3 (13 March) in the Round of 32 of the Doubles event, Goi Rui Xuan and Wong Xin Ru successfully set up a Round of 16 encounter with 6th seed Manika Batra/Archana Girish Kamath of India.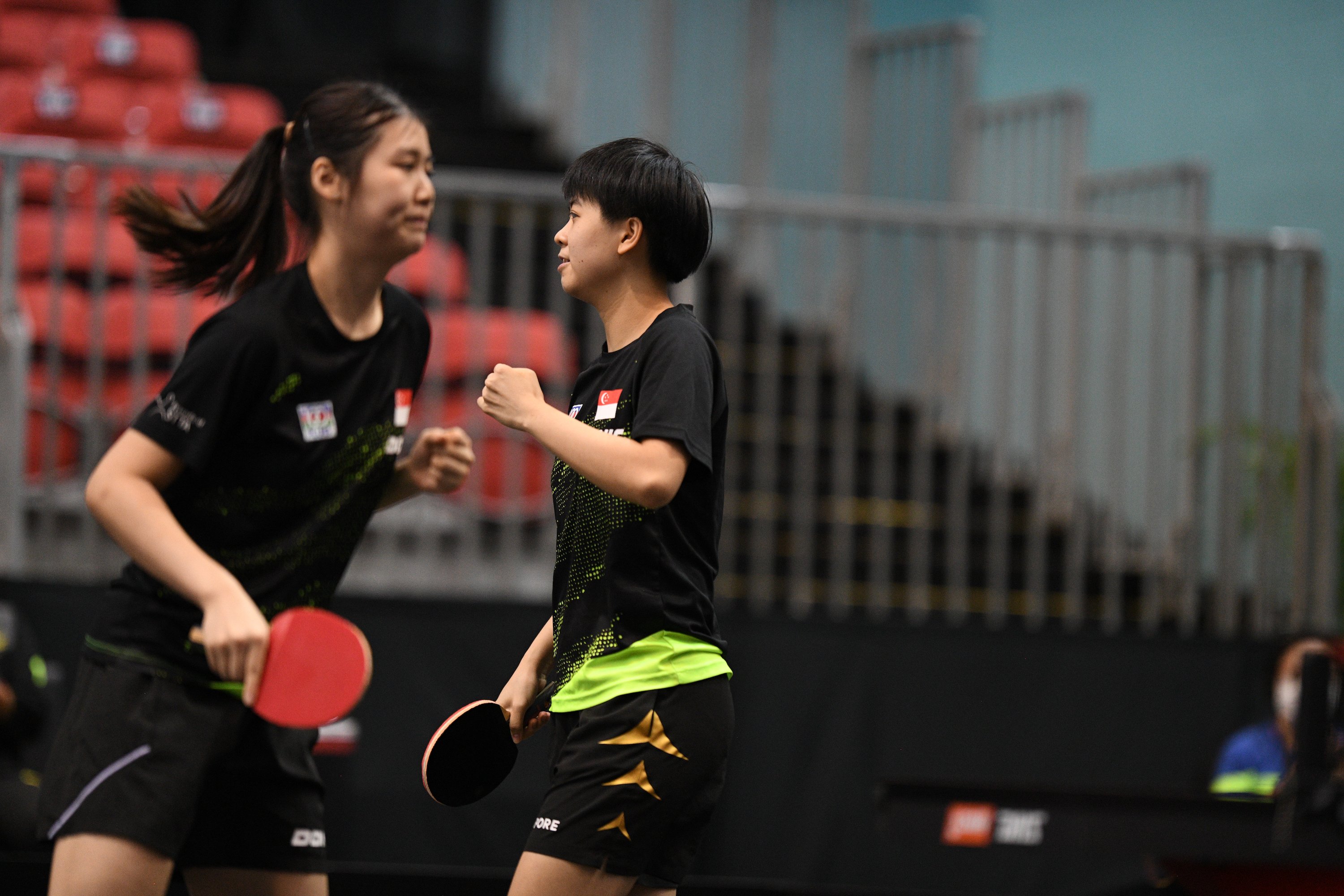 Team Singapore's Wong Xin Ru (L) and Goi Rui Xuan. Photo Credit : WTT)
TeamSG's pairing of Rui Xuan (21) and Xin Ru (20), would have hoped to keep their Singapore Smash campaign running. Unfortunately, their hopes were ultimately dashed as they fell to their Indian opponents 3-1 (11-4, 9-11, 11-9, 11-5) at the OCBC Arena, on Monday (14 March) evening.
Game 1 started off steadily, with both pairs careful and cautious - wanting to test their opponents out. Playing against Manika, who is a long-pimpled player and Archana, the Singaporean duo knew they had to be prepared for longer rallies. Scores were tied at 4-a-piece, until the Indian pair successfully scored 6 straight points to bring themselves to a 10-4 lead to seal off Game 1 11-7.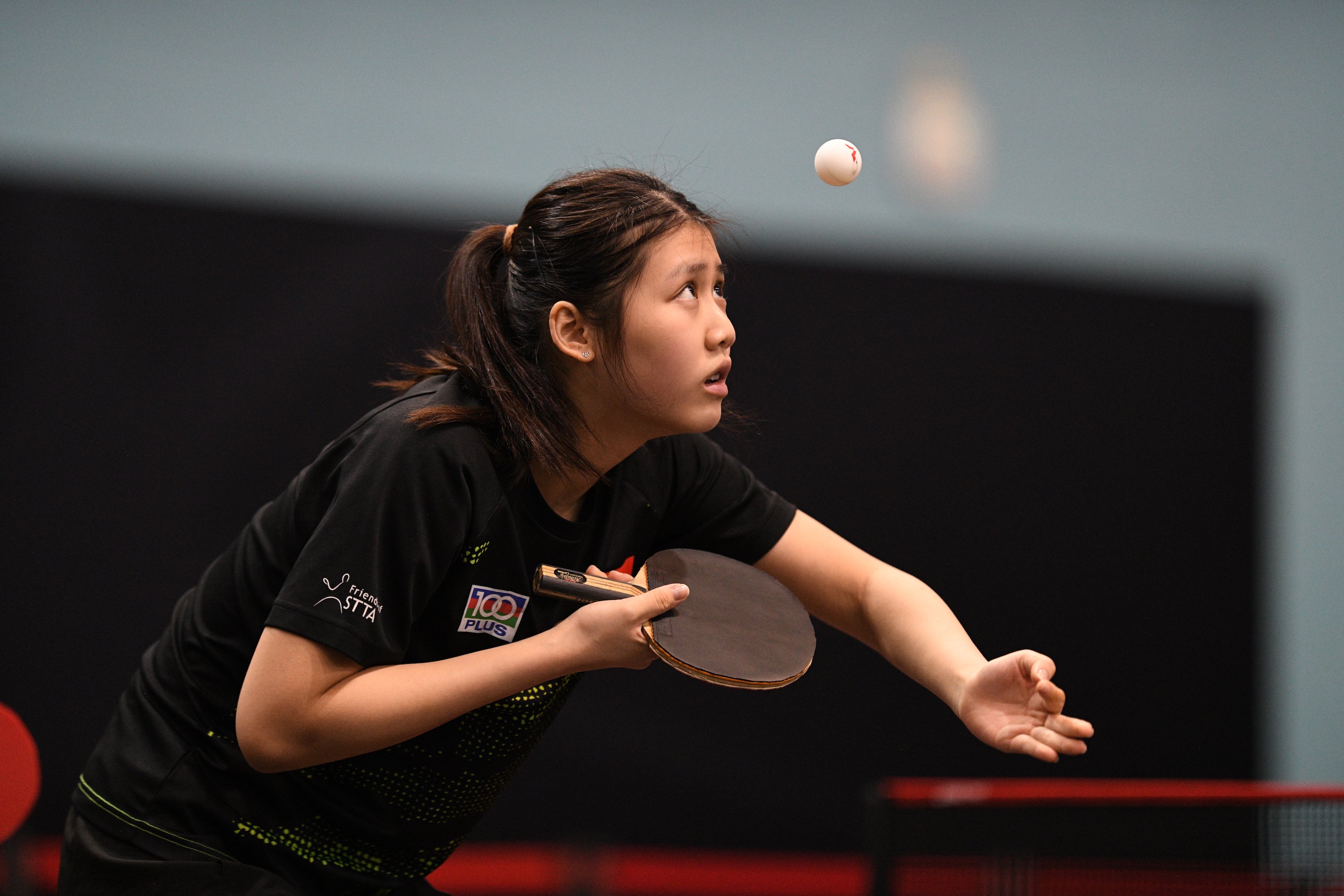 (TeamSG's Wong Xin Ru. Photo Credit : WTT)
Despite trailing 1-0, Rui Xuan and Xin Ru showed no signs of nervousness as they entered Game 2. Learning from their loss the previous game, the younger Singaporean pair tried to change their game plan by executing longer serves. They seemed to have found their winning strategy, as they managed to take the lead all the way from 4-3 to 10-5. However, their 6th seeded opponents were not ones to throw in the towel easily. The Indian pair successfully saved 4 game points, bringing the score to 10-9 to force the Singaporean team to call for a timeout. Fortunately, the timeout was effective for Rui Xuan and Xin Ru, as they subsequently clinched the second game 11-9!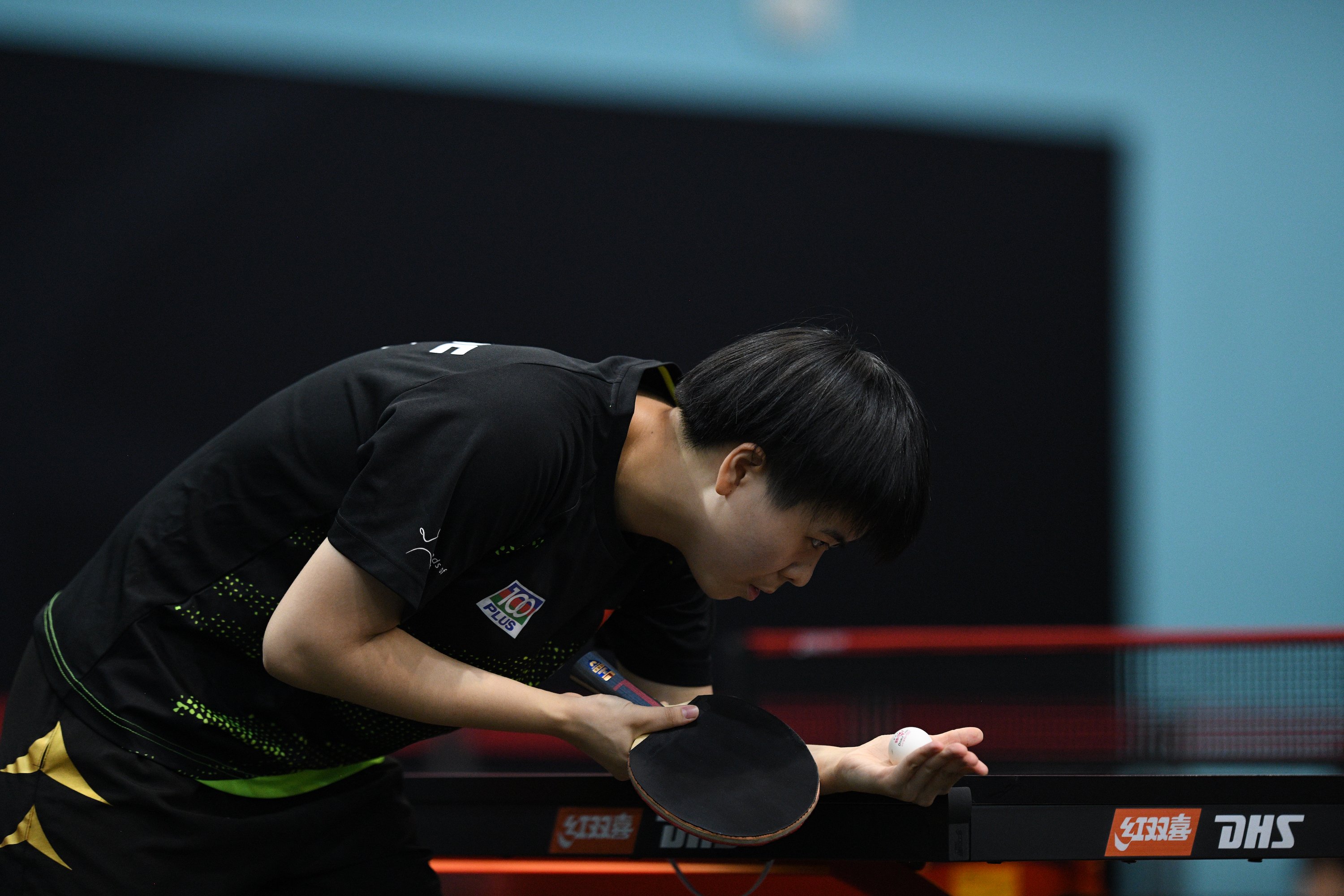 (TeamSG's Goi Rui Xuan. Photo Credit : WTT)
With both pairs tied at one game each, Game 3 was an important matchup for both the Singaporean and Indian pairs. The third game saw the older and more experienced Manika trying to fully utilize her advantage as a long-pimples player, by creating variations of spins. And she was successful on most occasions - as the Singaporean duo struggled to gauge and return with accuracy. Nonetheless, Rui Xuan and Xin Ru were determined to keep the scores close - by switching the locations and spins of their services. A closely contested Game 3 saw both pairs with 9 points each. But 2 forehand errors on the Singaporeans' end ultimately gave the third game to India, 11-9.
Down 2-1, Rui Xuan and Xin Ru were not ready to give up without a fight. Learning lessons from the earlier games, the Singaporean duo quickly adjusted their tactics to be more precise in the placements of their shots. Although they had some difficulty returning some of the high quality shots by their Indian opponents, the local pair were still able to bring themselves to a 5-4 lead in the fourth game. Unfortunately, a series of unforced errors caused them to quickly lose 3 points in a row, to trail 6-5 instead. But the pair remained calm and clear-minded, as they quickly leveled the score to 7-7 before scoring 4 consecutive points to take Game 4, 11-7!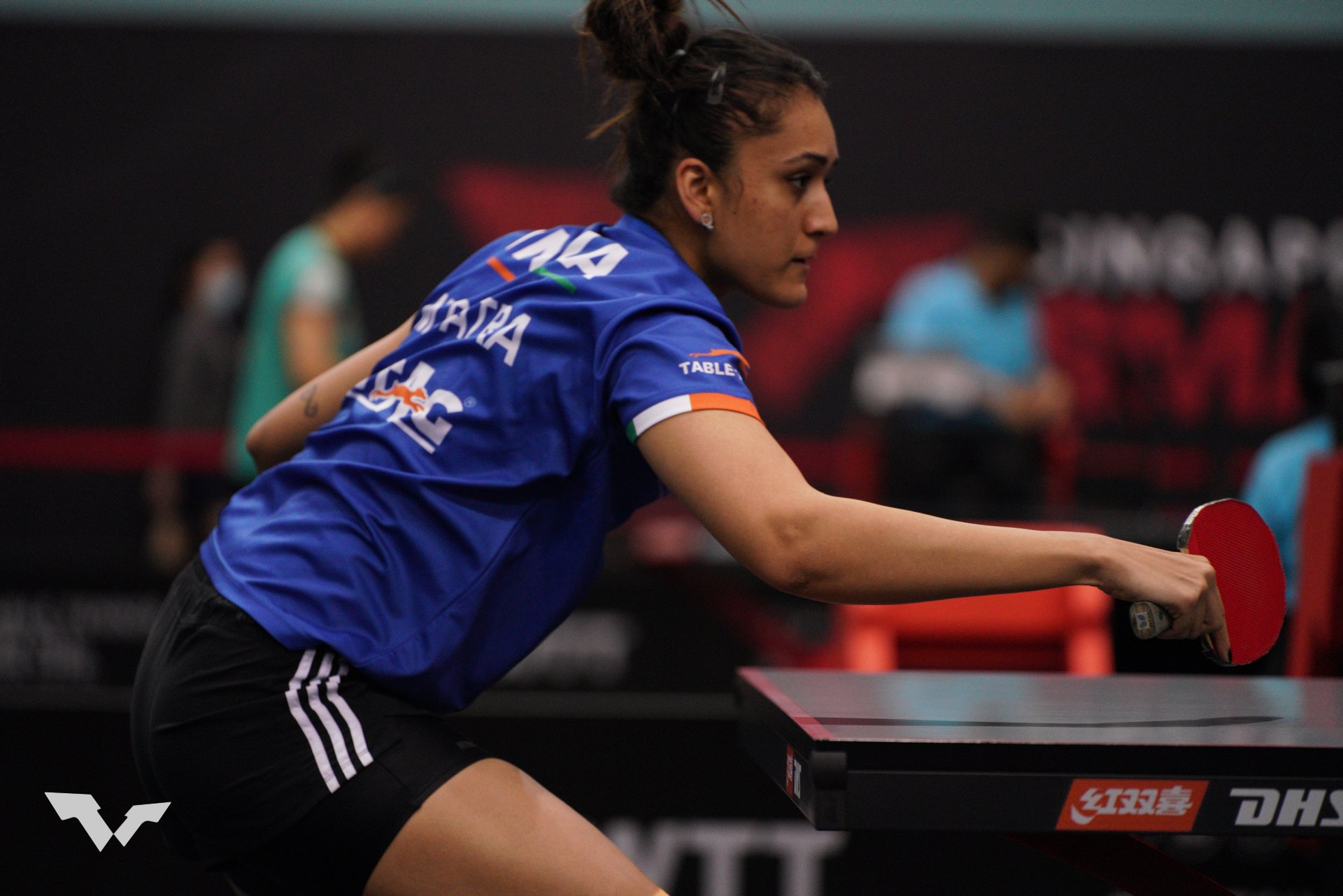 (India's Manika Batra. Photo Credit : WTT)
At 2 games apiece, Rui Xuan and Xin Ru seemed to be in control as they took the first point of the final game. But their Indian opponents quickly leveled up their game as they took 6 straight points to regain the lead, 6-1! Despite the Singaporean pair trying their best to catch up with the scores, Manika and Archana's seamless pairing made it extremely challenging for the TeamSG paddlers to improvise. Eventually, it was the higher-ranked Indian duo who took the deciding game 11-5, winning the overall match 3-1!
"It was a pity that we didn't win in the end, because it was such a close match. But I think we both played well, and there is a lot for us to learn from this match" said Rui Xuan after their loss.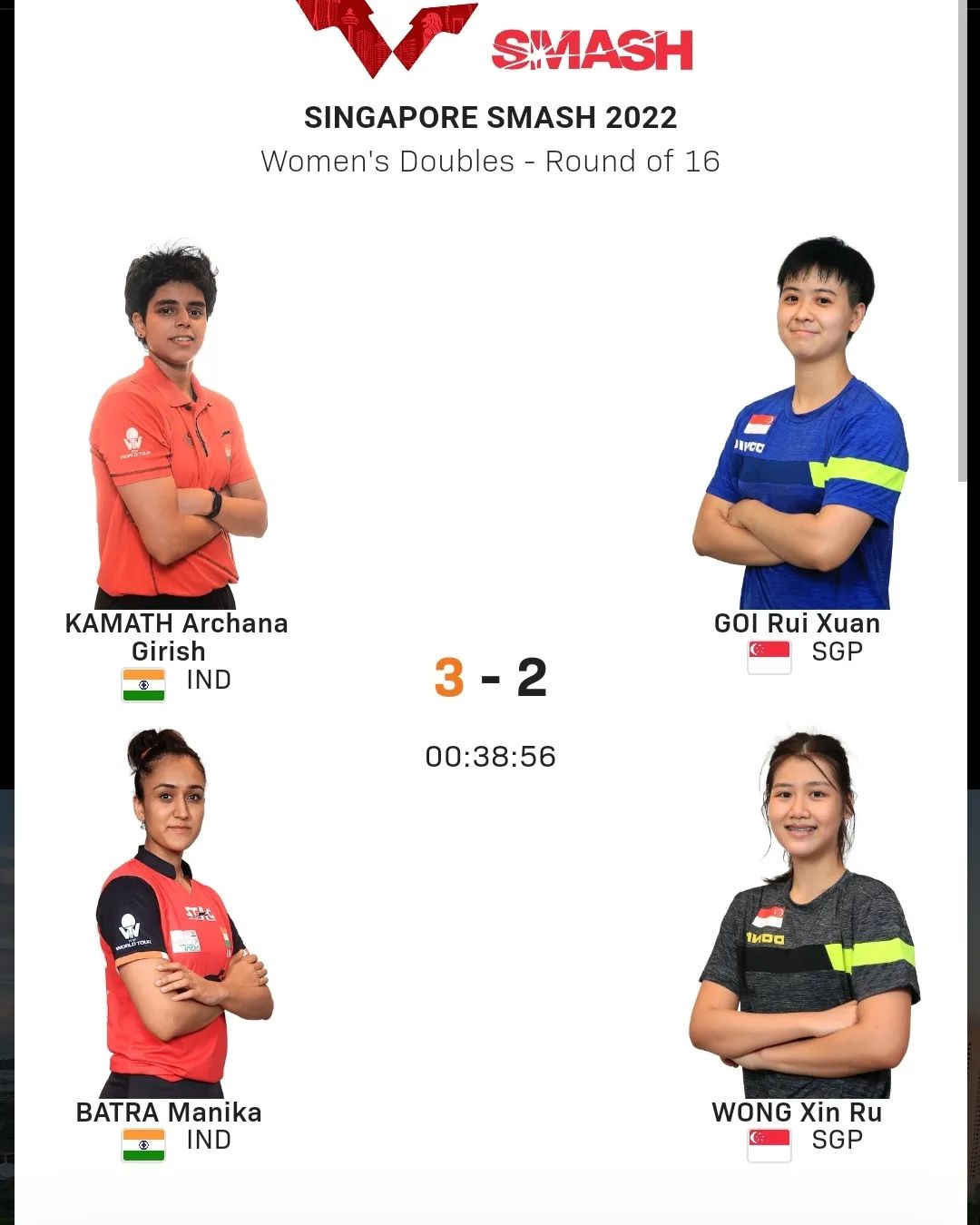 Other TeamSG representatives who competed on Day 4 (14 March) of the WTT Singapore Smash included Lin Ye/Zeng Jian, who fell to 5th seeded Ni Xia Lian/Sarah De Nutte of Luxembourg in the Round of 16 of the Women's Doubles event. Zeng Jian also ended her Singapore Smash campaign after losing to world number 2 and Tokyo Olympics gold medalist Chen Meng 3-1 (7-11, 11-3, 11-9, 11-6), in the Women's Singles Round of 32.
Team Singapore on Day 4 Results:
(WS)
Zeng Jian vs Chen Meng (CHN) 1:3
(WD)
Goi Rui Xuan/Wong Xin Ru vs Manika Batra/Archana Girish Kamath 2:3

Lin Ye/Zeng Jian vs Ni Xia Lian/Sarah De Nutte 0:3



Event details
Date: 7 to 20 March
Venue: OCBC Arena, Singapore Sports Hub
Tickets: go.gov.sg/wttsingaporesmashticket
Tickets start from $10 for qualifying matches and $18 for main draw matches. All spectators to Singapore Smash 2022 are to abide by the necessary Safe Management Measures. Spectators attending Singapore Smash must be fully vaccinated and submit a negative self-administered ART test result before entry into OCBC Arena. Please visit go.gov.sg/wttsingaporesmashticket for more information.
Additional Reporting by Raj Kumar
Pearlyn Koh has been playing Table Tennis competitively for 9 years. She's currently a member of the National Team and had represented Singapore at several major tournaments, including the 2018 Asian Games and World Table Tennis Championships. In 2019, Pearlyn was also the sole Southeast Asian player to enter the Top 16 at the Asian Junior & Cadet Table Tennis Championships. During her free time, Pearlyn enjoys reading and catching up with her friends.