TeamSG's Clarence Chew & Ethan Poh stun Men's Doubles favourites, to reach the last 8 of the WTT Singapore Smash!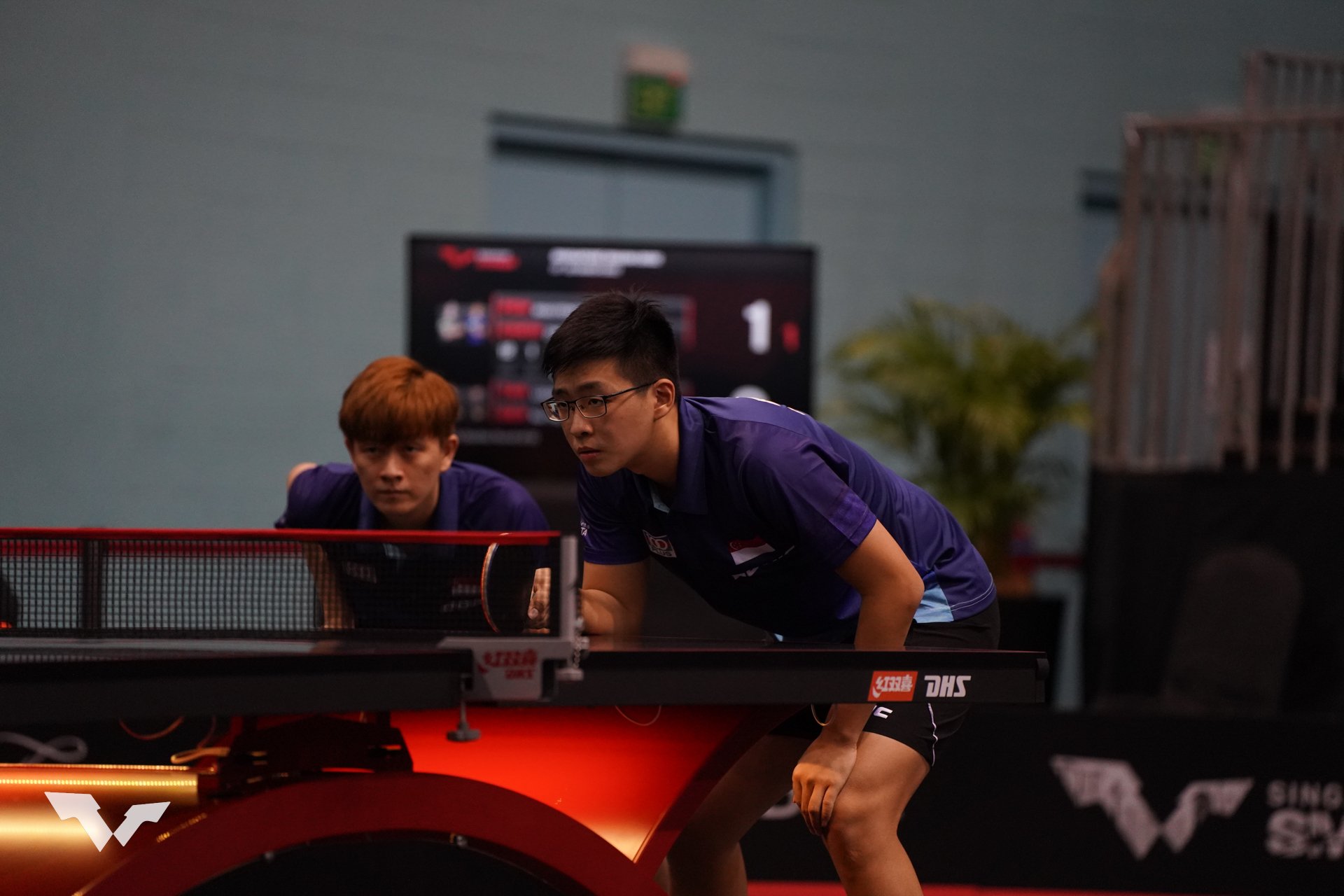 TeamSG's Clarence Chew (Left) and Ethan Poh. Photo Credit : WTT
By Pearlyn Koh
At the OCBC Arena on Day 3 (13 March) of the Main Draw at the first-ever WTT Singapore Smash, Team Singapore was represented by 9 athletes in 6 matches across 4 divisions. And the biggest highlight came in the evening session when the Republic's Men's duo of Clarence Chew and Ethan Poh battled their way into the Quarter-finals!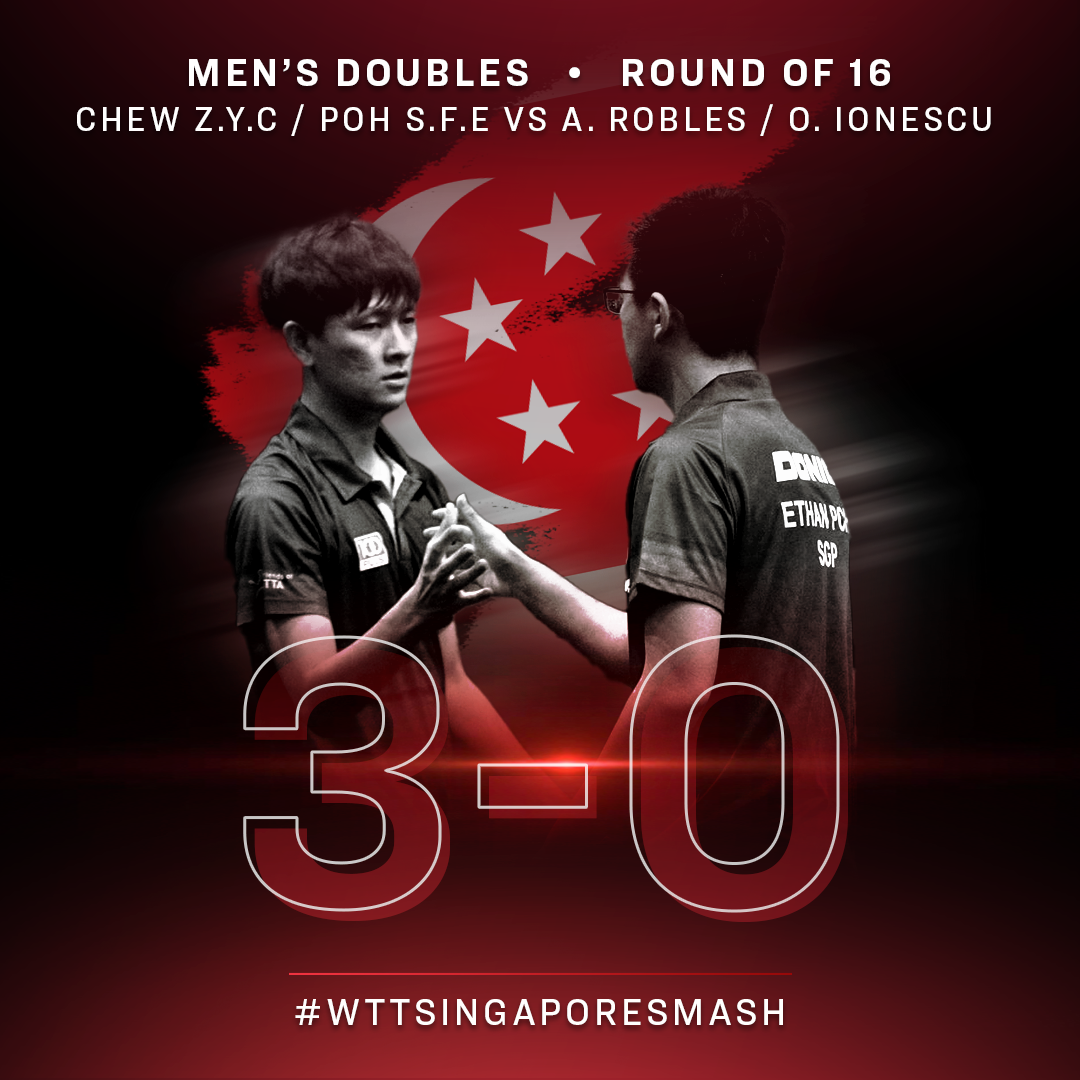 (Image Credit : WTT)
26-year-old Clarence and Ethan (23) shocked the 4th seed and 2019 World Championships Men's Doubles silver medalist pairing of Romania's Ovidiu Ionescu and Spain's Alvaro Robles in 3 straight games! The scores in the 22nd minute matchup were 11-3, 11-9, 13-11.
"Our opponents today are very strong players who have done well at several major tournaments. We did not put any pressure on ourselves, which I think is a contributing factor to our eventual win", said Ethan, in a post-match interview.
"We will next face either Portugal or China - both are very strong pairs and we will try our best" expressed Clarence, as the duo prepares for their Quarterfinal match.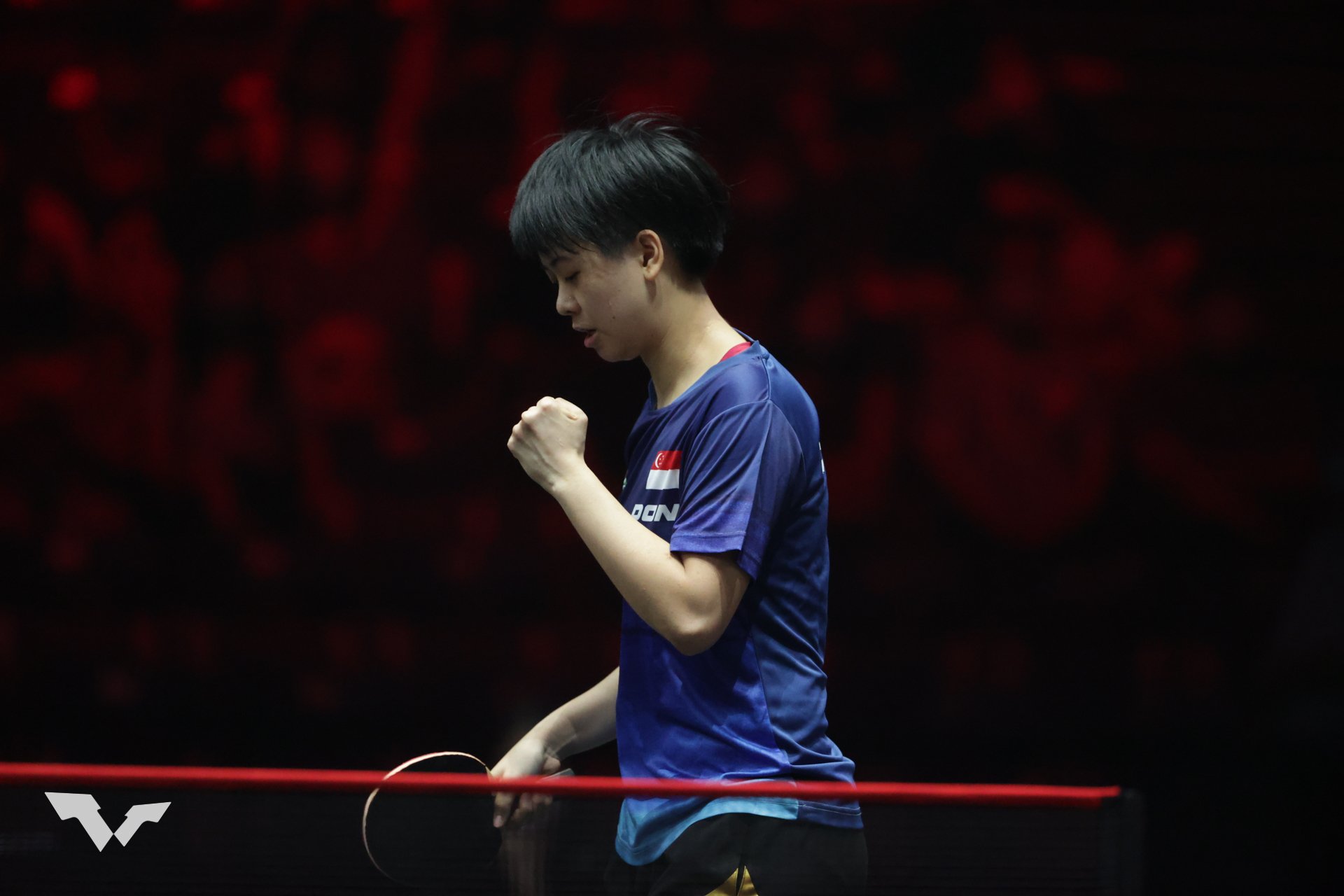 (Team Singapore's Goi Rui Xuan. Photo Credit : WTT)
Onto Women's Singles action and the 1st to compete in today's Round of 32 event was 21-year-old Goi Rui Xuan - Singapore's female representative at the 2018 Buenos Aires Youth Olympic Games. Just 2 days ago, in the Round of 64 at the Singapore Smash, the local star shocked world number 60 Cheng Hsien-Tzu of Chinese Taipei 3-1, to set up a meeting with world number 6 Hina Hayata of Japan!
The Japanese, also 21 years of age, overcame Luxembourg's Sarah De Nutte in a 3-2 in a closely contested battle to earn her spot in the 2nd round. Despite her young age, Hina has made waves in the sport. At her last tournament in Singapore during the WTT Cup Finals last December, Hina made her way into the semi-finals, before falling out to world number 1 Sun Yingsha.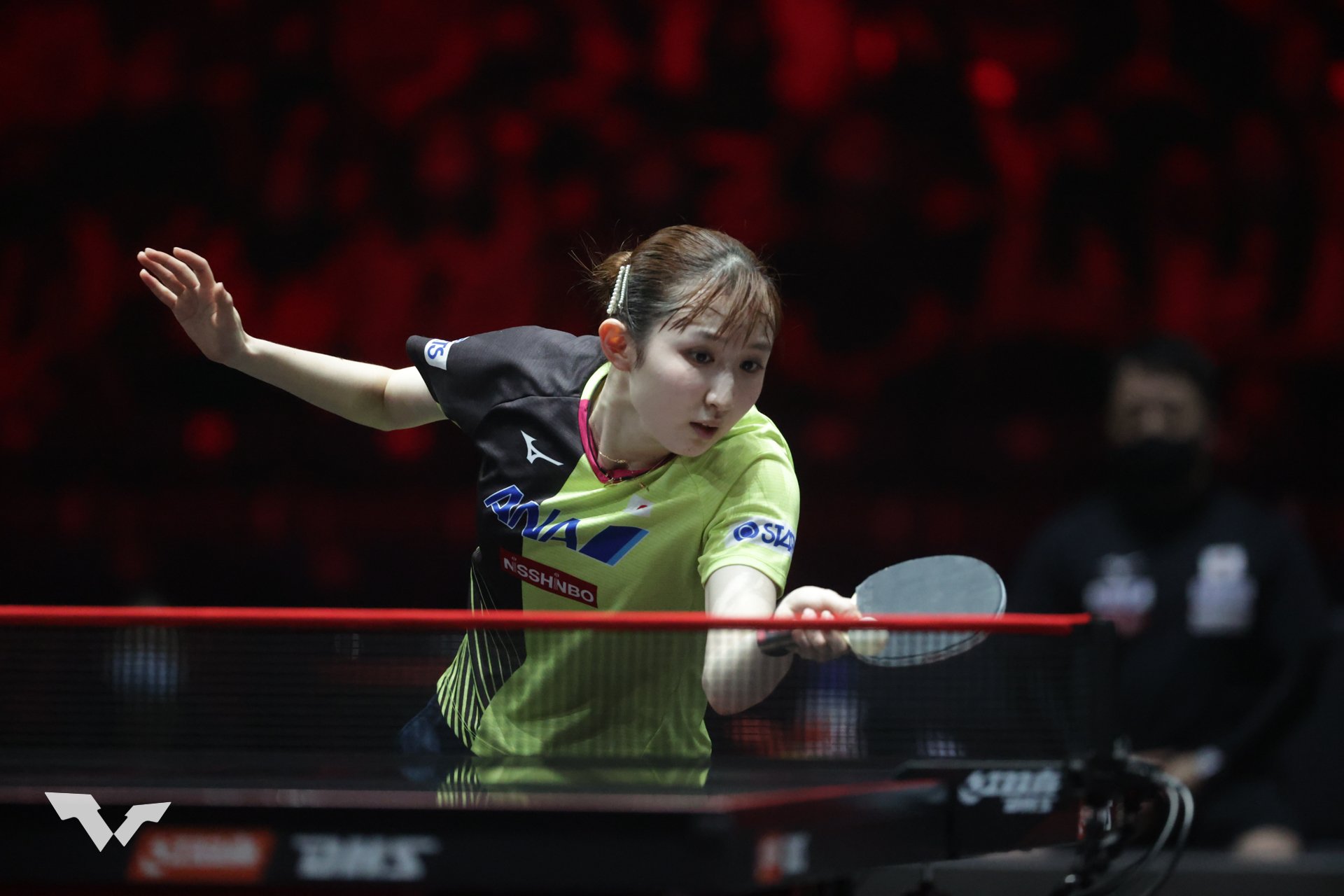 (Japan's Hina Hayata. Photo Credit : WTT)
Following her massive win 2 days ago, Rui Xuan would have hoped to continue her splendid performance at the OCBC Arena again. But Hina eventually proved one step too far for the Singaporean, as she stormed into the 3rd round with a resounding 3-0 (11-4, 11-2, 11-4) victory over the home favourite.
Against the TeamSG paddler who'd just upset a higher-ranked player, Hina knew she had to be extremely focused right from the beginning. And so, the Japanese star went into Game 1 by claiming the first 4 points, bringing herself to a comfortable 4-0 lead. Rui Xuan responded by making use of her serves in an attempt to cause some threat to her opponent. Her strategy seemed to work, as she subsequently narrowed Hina's lead to 6-4. But the more experienced world number 6 did not spare her opponent any chance as she went on to take 5 straight points, to seal the first game 11-4!
In the 2nd game, the Japanese star was even more dominant. Even as Rui Xuan tried to be more aggressive by increasing her attacks, Hina was able to return with even higher quality shots which her opponent struggled to return. Game 2 saw the powerful Hina claiming 10 straight points, before clinching the game 11-2.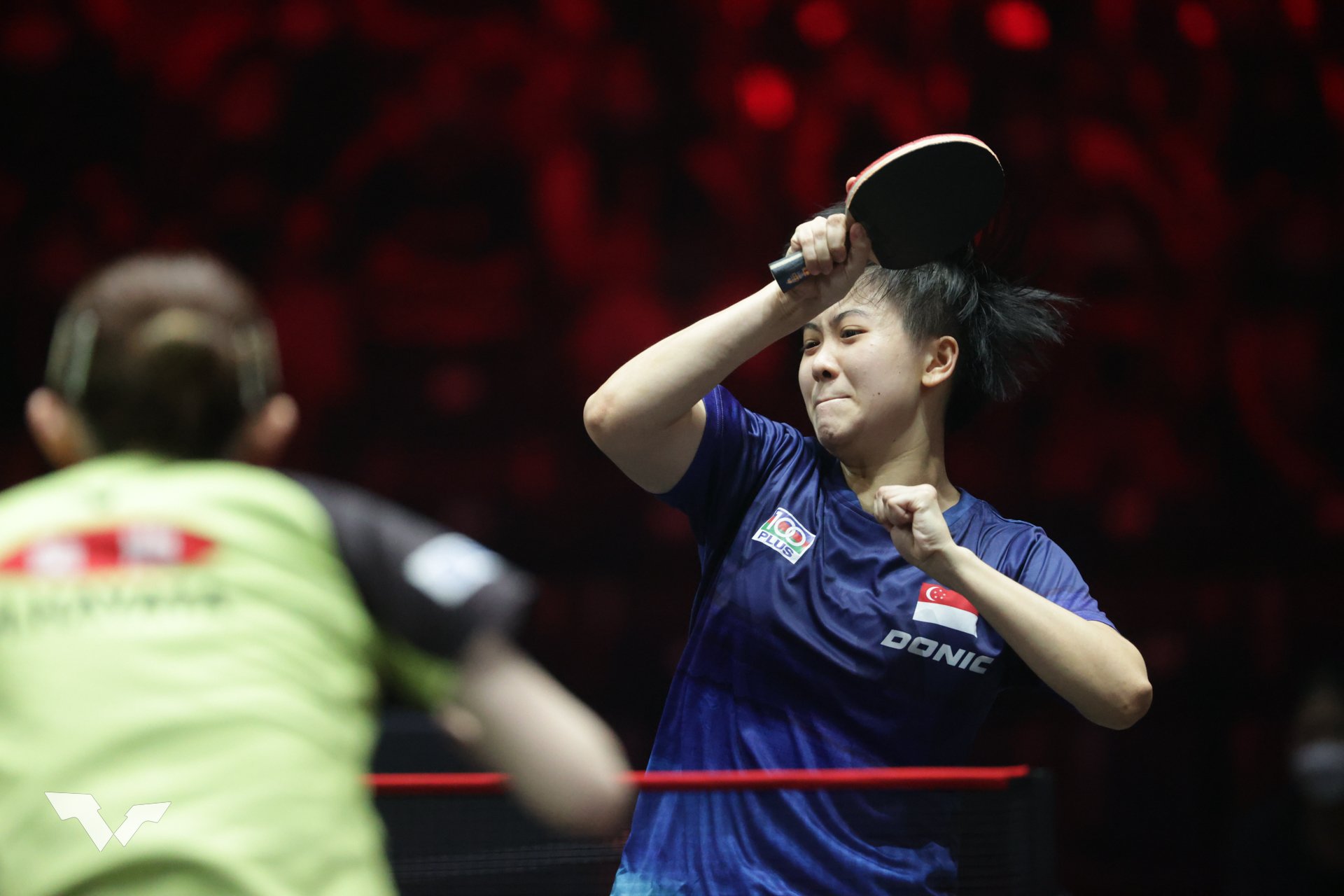 (Team Singapore's Goi Rui Xuan. Photo Credit : WTT)
Up against the higher ranked Japanese star, Rui Xuan knew she had nothing to lose. Down 2 games, the Singaporean tried to switch her strategy by focusing more on the quality of her shots. Unfortunately, Hina was too tough an opponent to beat, as she eventually won 11-4 to proceed to the next round! Hina will next face Lee Ho Ching (HK) in the Round of 16 of the Women's Singles event.
Team Singapore on Day 3 Results:
(WS)
Goi Rui Xuan vs Hina Hayata 0:3
(WD)
Koh Kai Xin Pearlyn/Zhang Wan Ling vs Barbora (SVK)/Hana (CZE) 0:3

Goi Rui Xuan/Wong Xin Ru vs Zhou Jingyi/Ser Lin Qian 3:0
(MD)
Chew Zhe Yu Clarence/Poh Shao Feng Ethan vs Ionescu (ROM)/Robles (ESP) 3:0

Pang Yew En Koen/Chua Shao Han Josh vs Alamiyan/Alamin (IRA) 0:3
(XD)
Chew Zhe Yu Clarence/Zeng Jian vs Lin Yun-ju/Cheng I-Ching 0:3
Event details
Date: 7 to 20 March
Venue: OCBC Arena, Singapore Sports Hub
Tickets: go.gov.sg/wttsingaporesmashticket
Tickets start from $10 for qualifying matches and $18 for main draw matches. All spectators to Singapore Smash 2022 are to abide by the necessary Safe Management Measures. Spectators attending Singapore Smash must be fully vaccinated and submit a negative self-administered ART test result before entry into OCBC Arena. Please visit go.gov.sg/wttsingaporesmashticket for more information.
Additional Reporting by Raj Kumar
Pearlyn Koh has been playing Table Tennis competitively for 9 years. She's currently a member of the National Team and had represented Singapore at several major tournaments, including the 2018 Asian Games and World Table Tennis Championships. In 2019, Pearlyn was also the sole Southeast Asian player to enter the Top 16 at the Asian Junior & Cadet Table Tennis Championships. During her free time, Pearlyn enjoys reading and catching up with her friends.