TeamSG's Goi Rui Xuan causes major upset in 1st round, while world no 9 Feng Tianwei bows out of the WTT Singapore Smash!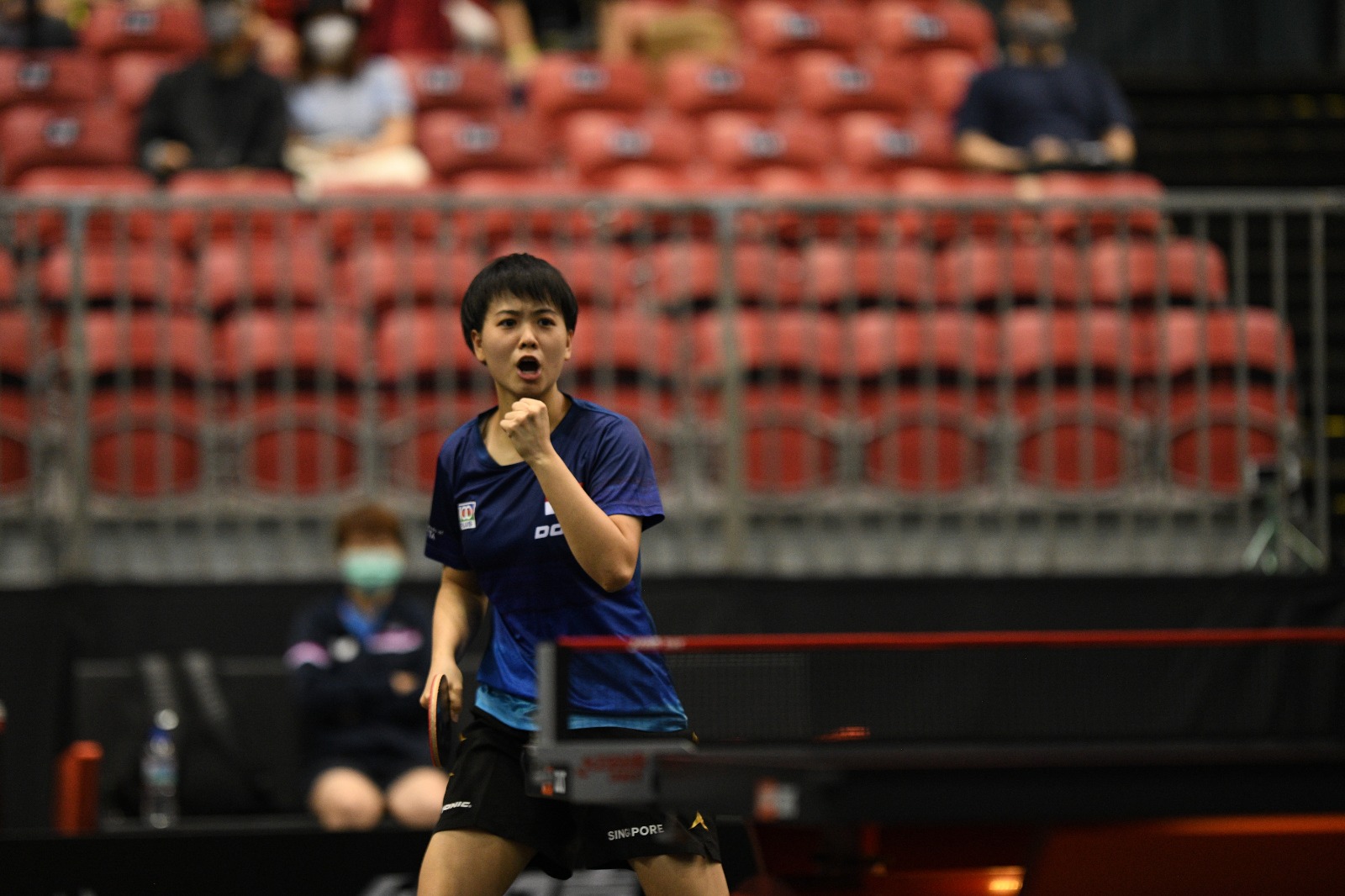 (Team Singapore's Goi Rui Xuan. Photo Credit : WTT)
By Pearlyn Koh
It was a day of mixed emotions for Team Singapore following their opening round fixtures in the Main Draw of the S$2.7 Million WTT Singapore Open. With a squad of 17 paddlers including 15 wild card entries, several national players were slated to compete across the various divisions at the OCBC Arena on Friday (11 Mar).
The biggest name from TeamSG to be competing on the 1st day was world no 9, Feng Tianwei. She kicked off her campaign against Kuai Man of China. At the recently concluded WTT Muscat, Oman just 2 weeks ago, the 18-year-old claimed the gold medal after overcoming a series of higher ranked players. Kuai Man started her Singapore Smash journey from the Qualifying rounds. And she entered the Main Draw after defeating France's Marie Migot, TeamSG's Ser Lin Qian, and Hong Kong's Zhu Chengzhu - all in straight games!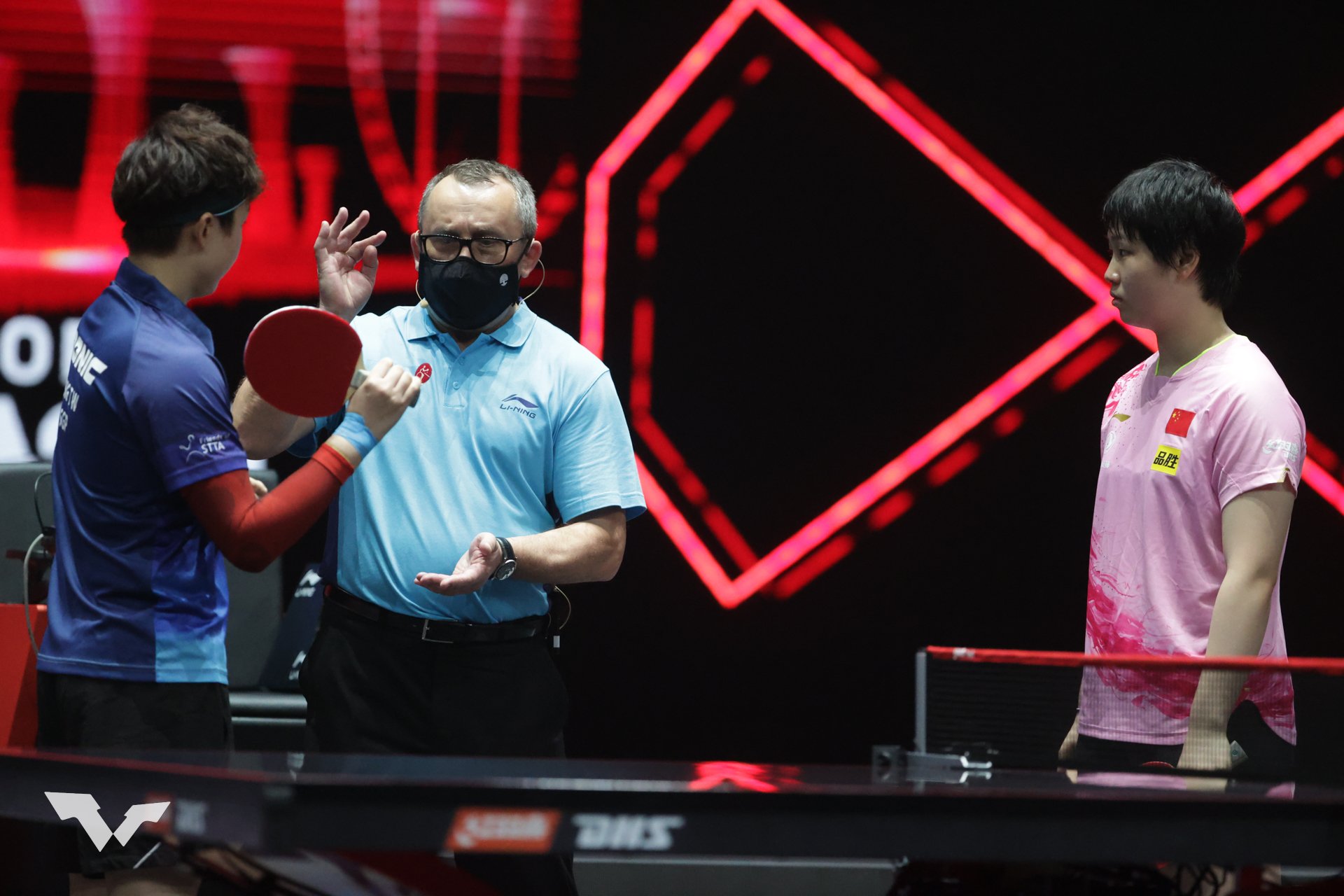 Feng Tianwei (Left) vs Kuai Man in rd of 64 at WTT Singapore Smash. Photo Credit : WTT
This is the duo's first career meeting. And Tianwei was obviously hoping to start her Singapore campaign with a victory. But her teenage opponent was looking to be the "party spoiler". Both players started off their game in the Round of 64 of the Women's Singles steadily, with 3 points apiece. However, the talented Chinese rising star quickly widened the score gap to a 7-4 lead, after Tianwei failed to receive Kuai Man's change in services. The 35-year-old tried to keep the scores close by scoring 2 consecutive points, but her opponent gave no chance, taking the first game 11-9!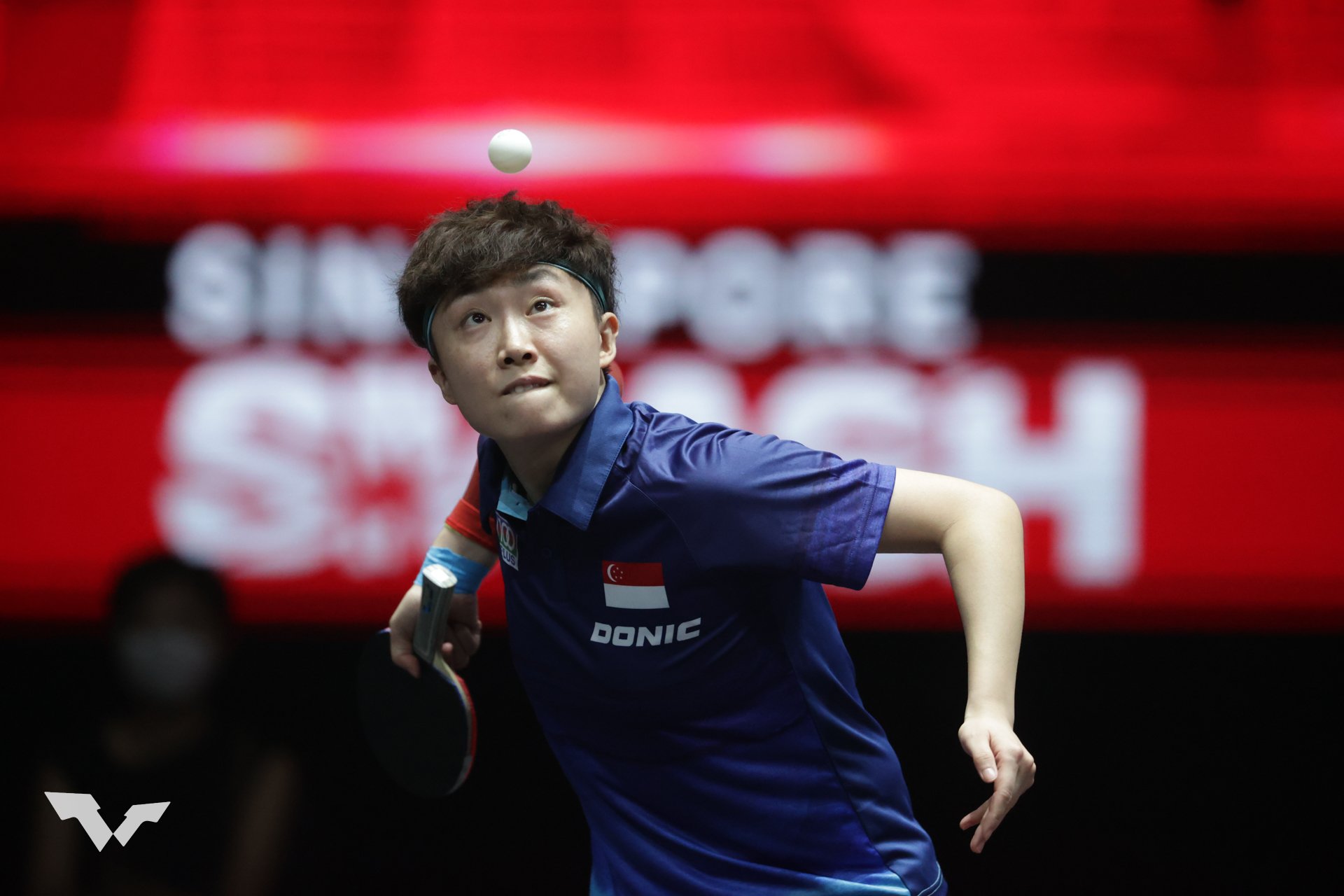 Team Singapore's Feng Tianwei. Photo Credit : WTT
In the 2nd set, the Singaporean star tried to change her strategy by aiming to her opponent's middle, hoping to cause some errors. Game 2 started with 5 points each, before Kuai Man took 6 straight points to take the game 11-5!
Trailing 2-0, Tianwei was not ready to give up without a fight against her 131st ranked opponent. Trailing 5-2 in the third game, the Singaporean's timeout strategy seemed to work when she scored 2 points after, bringing the score to 5-4. Scores were tied at 8 apiece, before the world number 9 Singaporean took the third game 11-9!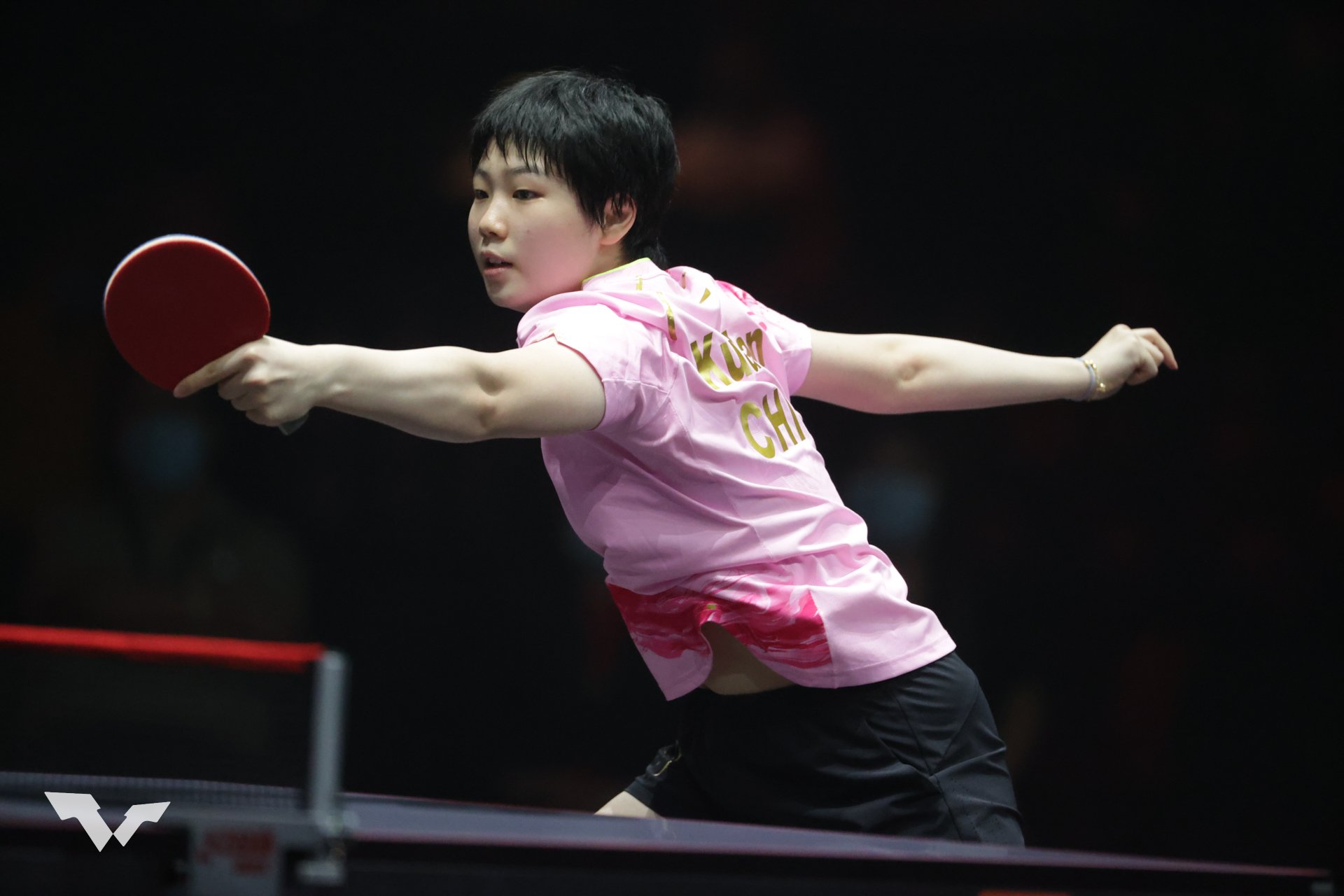 18 year old Kuai Man (CHN). Photo Credit : WTT
Despite losing a game, Kuai Man seemed unfazed as she went into Game 4. The Chinese player made use of her advantage as a South-paw by giving more wide angled shots, causing much difficulty and discomfort for Tianwei. Eventually, it was the teenage star who took the fourth game 11-6, winning the overall match 3-1! (11-9, 11-5, 9-11, 11-6).
Kuai Man will next face teammate and world number 1, Sun Yingsha, in the Round of 32. "It is my first time playing against Yingsha in an international tournament. I think it will be a very good learning experience for me", expressed the Chinese teenager after her win.
As for 3-time Olympic medallist Tianwei, she said, "She knew my tactical game very well and she was very careful playing against me. I think her strategy and tactical game was very good, so it made me feel like she was in control of the whole match....I came into this match with the mentality to play and learn from players of the new generation and also to just enjoy the process of competing again. So even though I came in knowing that I was at a disadvantage, I still tried my best and managed to win one game. Overall, it was not too bad."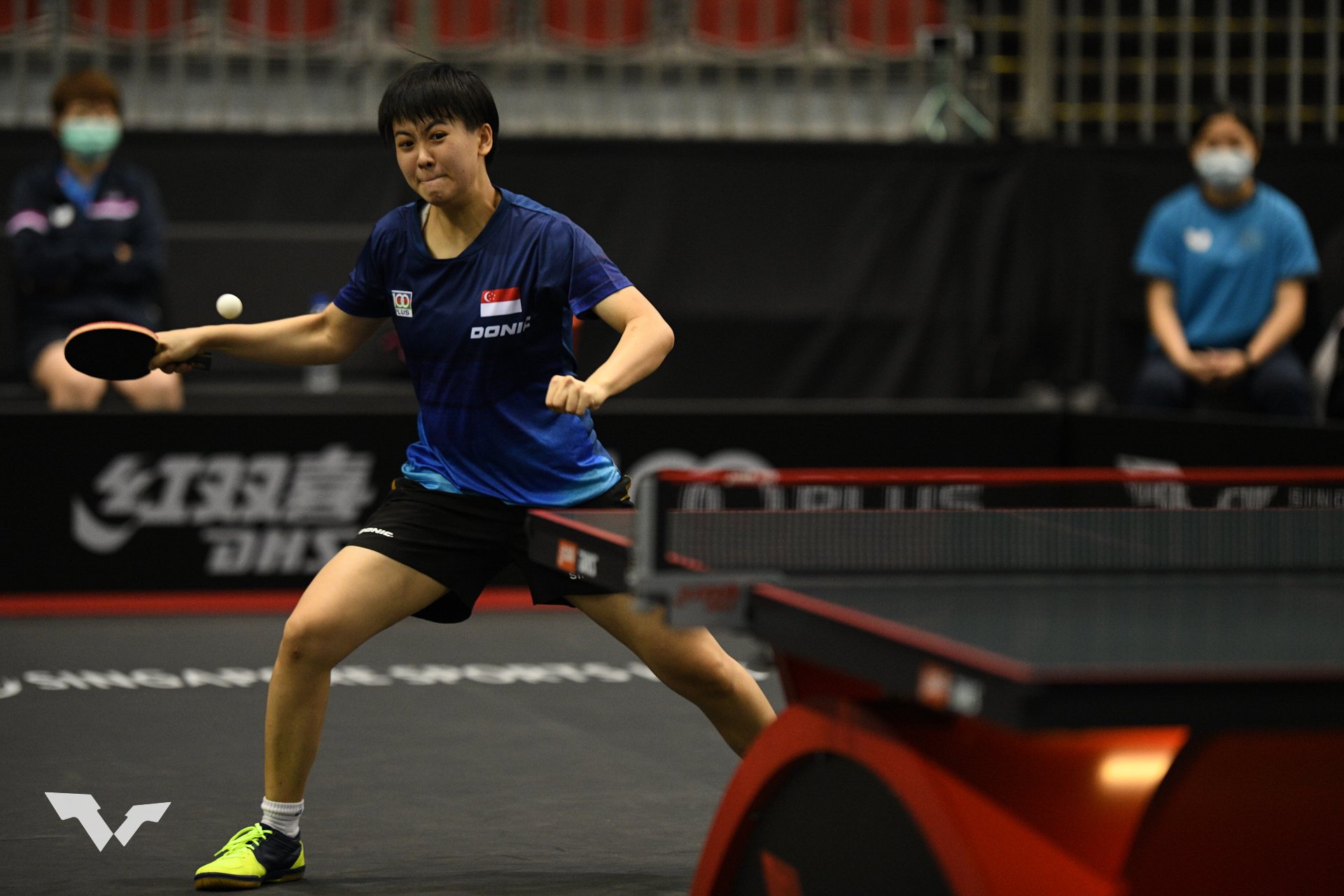 Team Singapore's Goi Rui Xuan. Photo Credit : WTT
Looking at the other Team Singapore representatives in the Women's Singles, 180th ranked Goi Rui Xuan staged her greatest career upset, when she overcame Cheng Hsien-Tzu of Chinese Taipei. The Singaporean wildcard defeated the world No. 60 3-1 (11-9, 9-11, 11-8, 11-8).
"I feel so happy for my first ever WTT win. Hsien-Tzu is a much higher ranked player than me, and it was not an easy match. I wanted to just play to my usual standard and I did not expect that I could win!" Rui Xuan will next face world number 6 Hina Hayata of Japan in the Round of 32.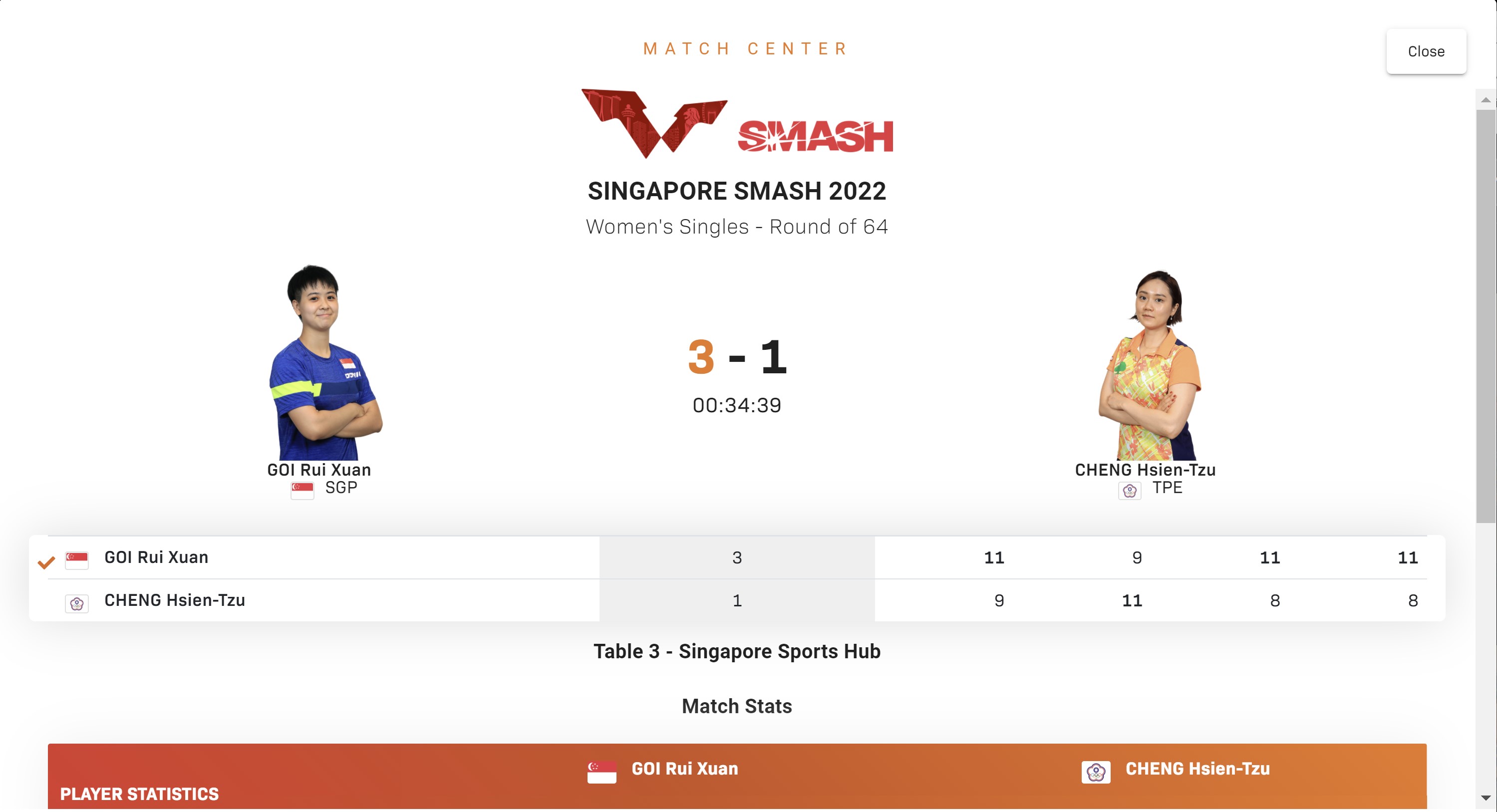 (Image Credit : WTT)
Team Singapore will continue their Singapore Smash campaign on 12 March. Reigning SEA Games Men's Singles champion Koen Pang will be competing at 2.40pm, while teammates Zeng Jian and Clarence Chew will compete at 3.20pm and 9.00pm respectively. Koen and Lin Ye will also compete in the Mixed Doubles event at 6.30pm.
Team Singapore on Day 1 results:
(MS)
Izaac Quek vs Duda Benedikt (GER) 0:3

Poh Shao Feng Ethan vs Kirill Gerrasimenko (KAZ) 1:3
(WS)
Goi Rui Xuan vs Cheng Hsien-Tzu (TPE) 3:0

Lin Ye vs Georgina Pota (HUN) 2:3

Feng Tianwei vs Kuai Man (CHN) 1:3

Wong Xin Ru vs Shao Jieni (POR) 0:3

Zhou Jingyi vs Balazova Barbora (SVK) 0:3





(MD)

Poh Shao Feng Ethan/Chew Zhe Yu Clarence vs Tan Lucas/Beh Kun Ting 3:0
(WD)

Lin Ye/Zeng Jian vs Caroline Kumahara/Bruna Takahashi (BRA) 3:0





Event details
Date: 7 to 20 March
Venue: OCBC Arena, Singapore Sports Hub
Tickets: go.gov.sg/wttsingaporesmashticket
Tickets start from $10 for qualifying matches and $18 for main draw matches. All spectators to Singapore Smash 2022 are to abide by the necessary Safe Management Measures. Spectators attending Singapore Smash must be fully vaccinated and submit a negative self-administered ART test result before entry into OCBC Arena. Please visit go.gov.sg/wttsingaporesmashticket for more information.
Additional Reporting by Raj Kumar
Pearlyn Koh has been playing Table Tennis competitively for 9 years. She's currently a member of the National Team and had represented Singapore at several major tournaments, including the 2018 Asian Games and World Table Tennis Championships. In 2019, Pearlyn was also the sole Southeast Asian player to enter the Top 16 at the Asian Junior & Cadet Table Tennis Championships. During her free time, Pearlyn enjoys reading and catching up with her friends.