TeamSG's Men's pairing of Clarence Chew and Ethan Poh, gave it their all before leaving the WTT Singapore Smash!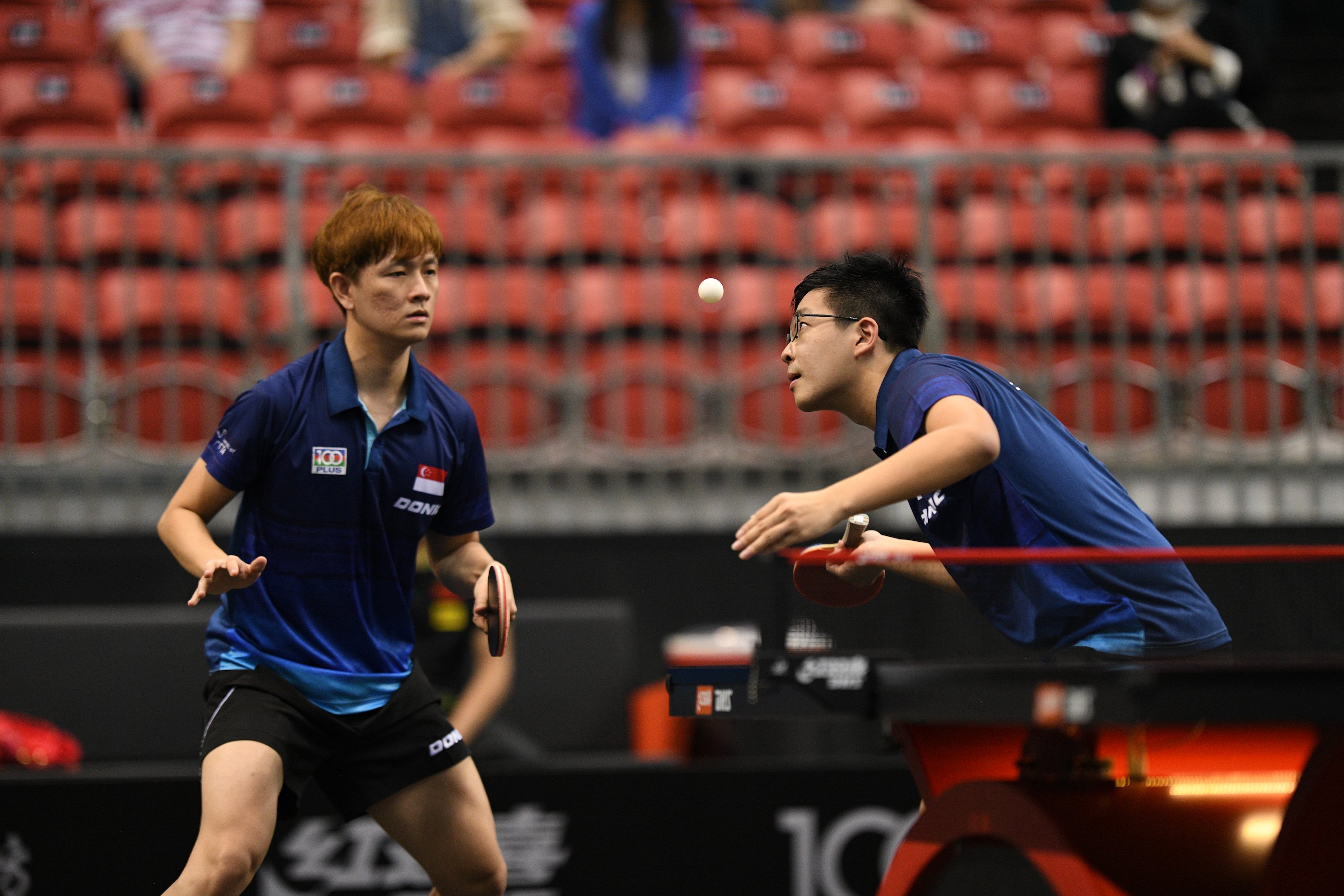 Team Singapore's Clarence Chew (L) and Ethan Poh. Photo Credit : WTT
By Pearlyn Koh
Day 5 (15 March) of the $2.7 million WTT Singapore Smash came to play at the OCBC Arena, with TeamSG's Men's Doubles pairing between Tokyo Olympian Clarence Chew and 23-year-old Ethan Poh, competing in the Quarterfinals of the Men's Doubles event.
The duo were awarded wildcard entries, and were seeded 22nd out of the 24 participating pairs. But they proved that the seedings were just numbers, as they overcame higher ranked pairs to enter the last 8!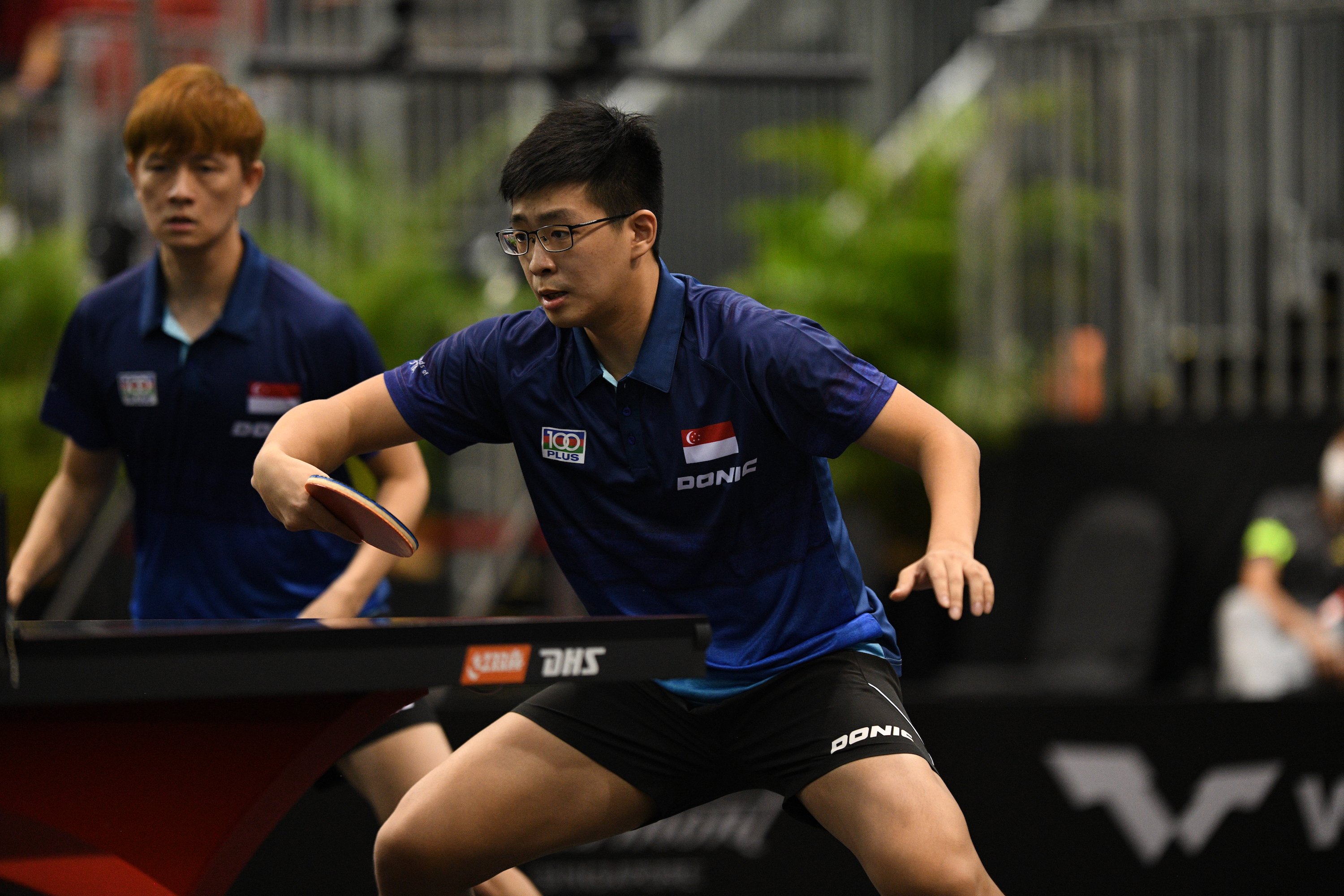 Team Singapore's Clarence Chew (L) and Ethan Poh. Photo Credit : WTT
Clarence and Ethan began their Men's Doubles campaign (4 days ago) by beating team-mates Lucas Tan/Beh Kun Ting 3-0 in the first round. And in the Round of 16, the Singaporean duo stunned the seeded 4th mixed pairing of Ionescu Ovidiu (ROM)/Alvo Robles (SPN), also in straight games!
The local pair would have hoped to continue their winning streak in the Quarterfinals. But the 7th ranked pairing of Fan Zhendong/Wang Chuqin ultimately proved one step too far, as they lost 3-1 (11-13, 11-7, 11-5, 12-10). Zhendong is the current world number 1 Men's Singles player and the silver medalist at the Tokyo Olympics. And world number 13 Chuqin is the Men's Singles champion of the WTT Macao, held earlier in January this year.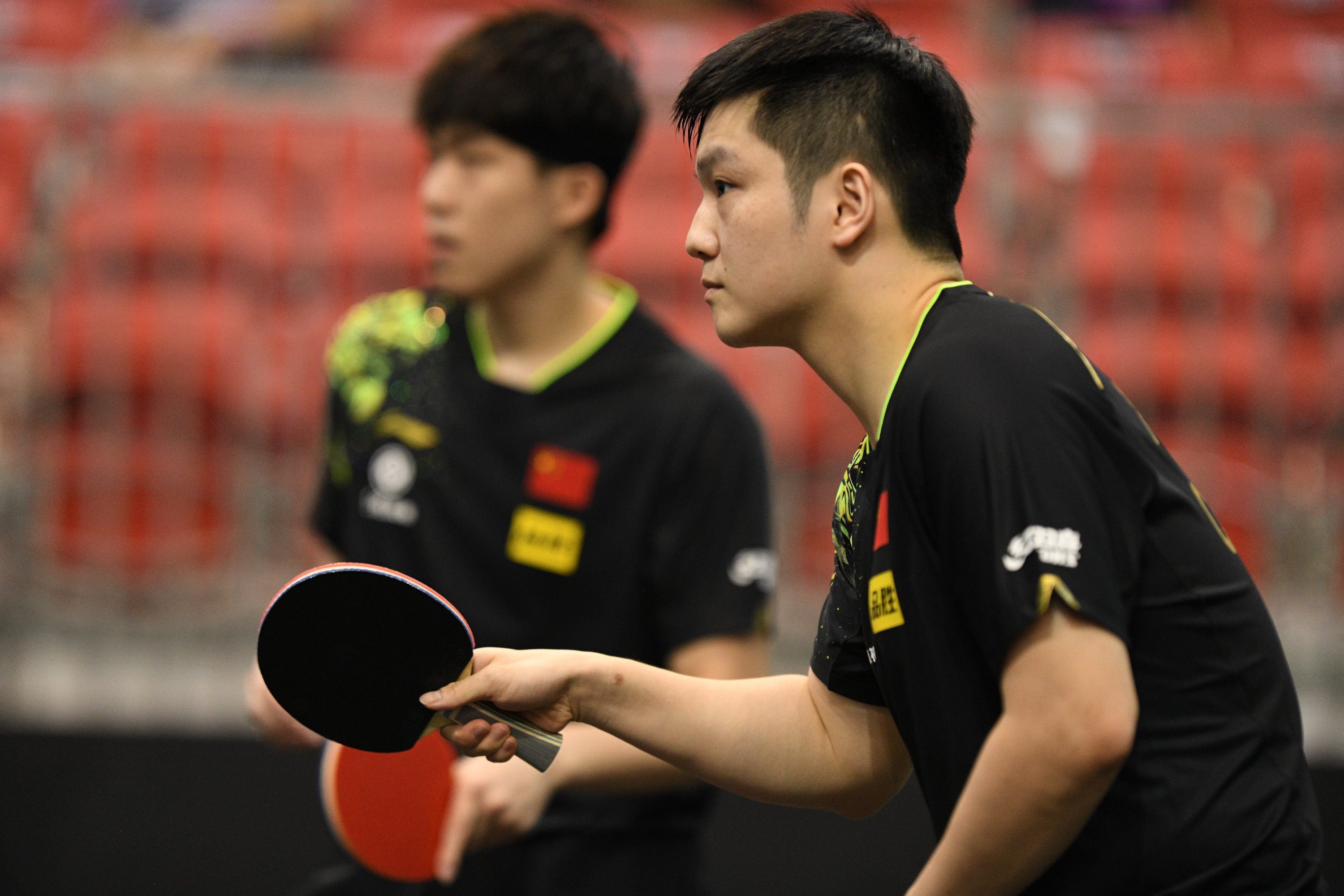 China's Fan Zhendong (R) and Wang Chuqin. Photo Credit : WTT
Up against their higher ranked opponents, the Singaporean pair entered Game 1 with confidence, knowing they had nothing to lose. After losing the first point, Clarence and Ethan took the next 3 points on offer, bringing themselves to a 3-1 lead. They managed to sustain their 2-point lead till 5-3, before their Chinese opponents took the 4 straight points, causing the local pair to instead trail 7-5.
Following a series of unforced errors on the 22nd seeded pair, Zhendong and Chuqin quickly widened the score gap to 10-6. But the Singaporeans were not ones to give up easily, as they changed their strategy by executing a series of interesting chop blocks and spins, causing some trouble for their Chinese opponents. And their strategy was effective! The Singaporean duo saved 4 game points to level the score at 10-10, before clinching the first game 13-11!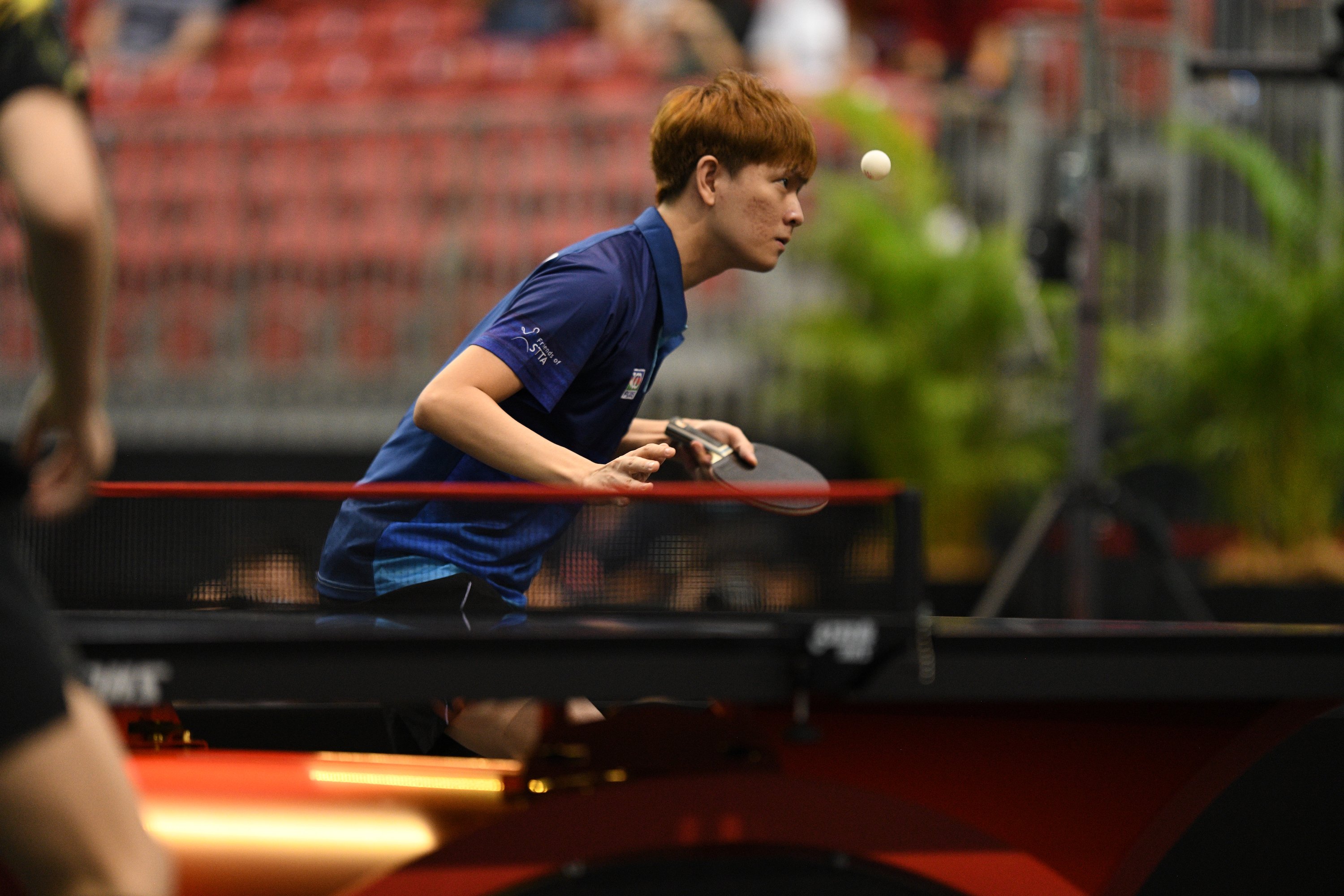 (TeamSG's Clarence Chew. Photo Credit : WTT)
With a 1-0 lead, Clarence and Ethan seemed to have found their winning strategy, as they took the first 2 points of Game 2 and subsequently took the lead till 5-2. But 2 unforced errors on the TeamSG paddlers' end allowed the Chinese duo to catch back 5-4, forcing Singapore to call for a timeout. Unfortunately, the timeout was not as effective as they had hoped it would be. The local pair struggled to return several of their opponents serves as well as high-quality shots. Even as they tried to change the momentum of the game, it was the higher ranked Chinese pair who claimed the second game, 11-7.
With the games leveled at 1-all, Clarence and Ethan were determined to keep their Singapore Smash hopes alive in Game 3. With 2 well-planned and executed forehand flicks by Clarence, Singapore took the lead 2-0. But Zhendong and Chuqin were indeed highly-experienced world-class players, as they were cool, calm and collected during the game despite trailing. The Chinese pair slowly leveled the score, before eventually overtaking Clarence and Ethan to take the 3rd game, 11-5!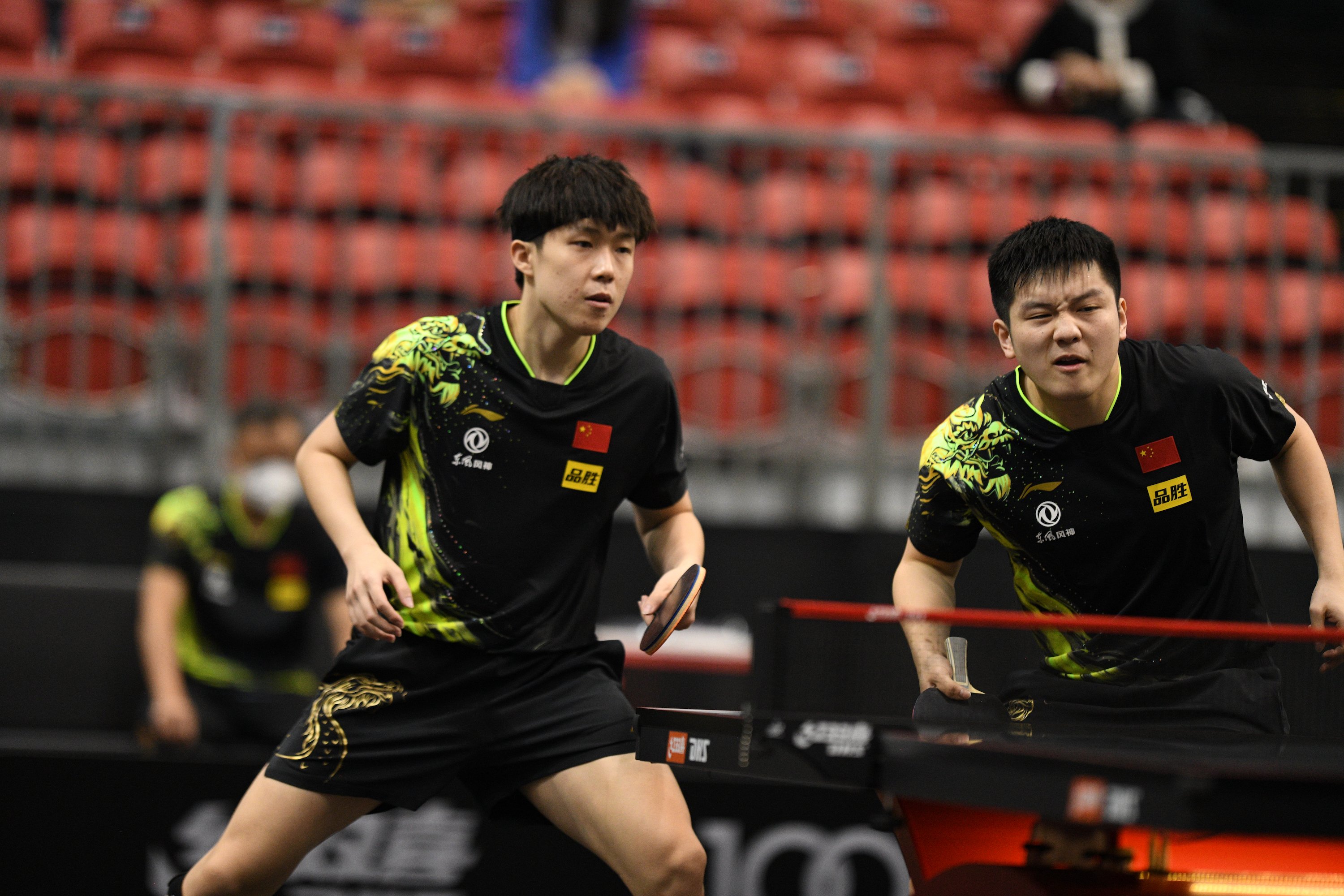 China's Fan Zhendong (R) and Wang Chuqin. Photo Credit : WTT
Despite trailing 2 games to 1, the Singaporean pair refused to give up without a fight. Gathering the lessons and experiences from the previous 3 games, Clarence and Ethan were hoping to give their Chinese opponents a run for their money in the 4th game. Their strategy of controlling their opponents' through changes in placements, coupled with new methods of receiving, were effective against the seeded 7th pair. Clarence and Ethan sustained their lead from 3-1, all the way till 8-6. But Zhendong and Chuqin chased behind closely, bringing the score to 10 a-piece. At 10-10, it was the Chinese who were evidently more experienced, as they switched serves, causing the Singaporean pair to struggle. Eventually, Clarence and Ethan succumbed to their Chinese opponents 12-10 in Game 4.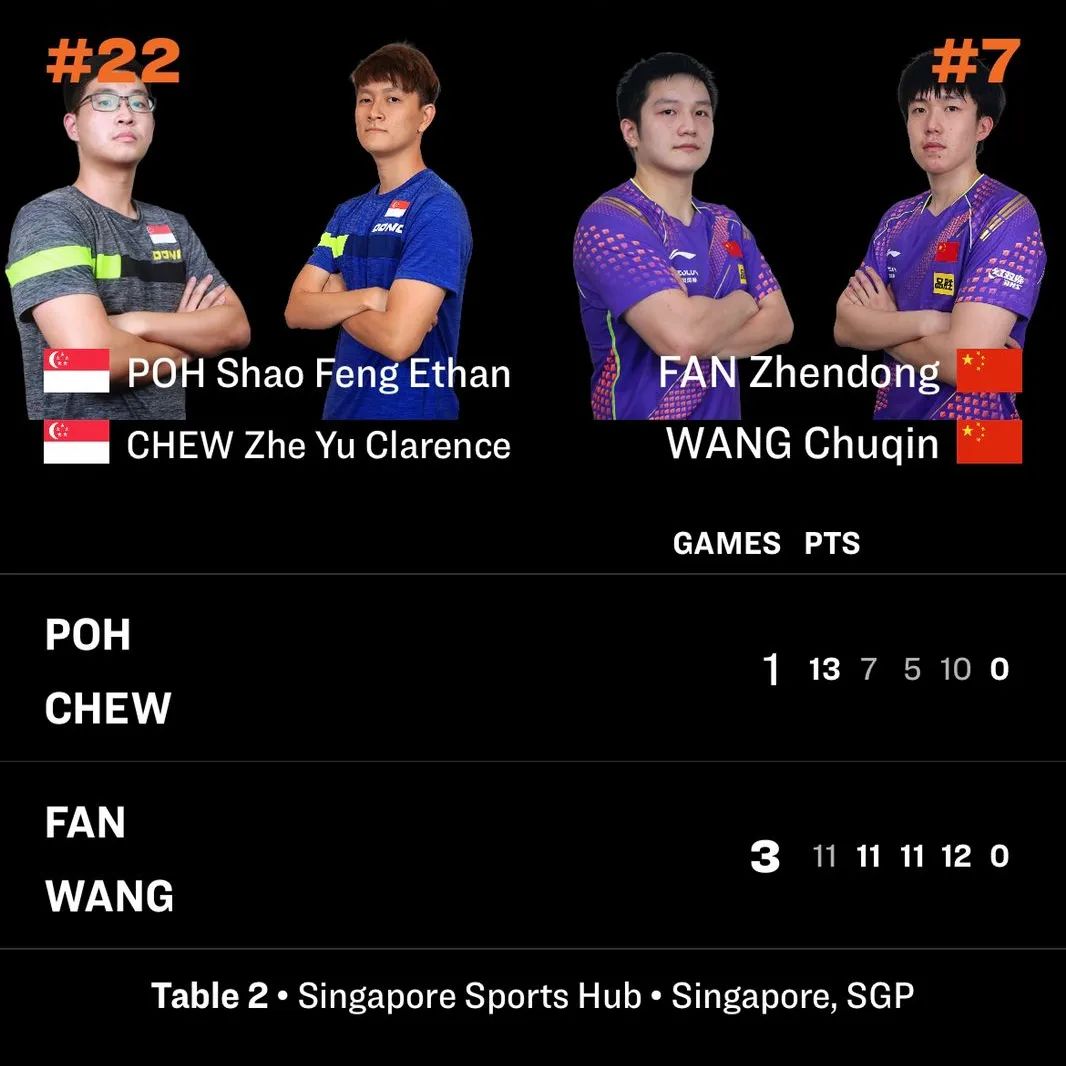 "I think Ethan and I have played very well this tournament. However, there are still lots to learn from our opponents, such as how they handled the points at crucial moments. Overall, I am quite happy with my performance and I enjoyed playing at the Singapore Smash" said Clarence after his Quarterfinal loss.
23-year-old Ethan also shared the same sentiments "I felt it was a good fight and learning experience for us today against our Chinese opponents. Of course, I hoped I could have been more decisive during the crucial points, especially in the last game. But we will learn from this experience, and hope to perform better in our future competitions."
Team Singapore on Day 4 Results:
(MD)
Chew Zhe Yu Clarence/Poh Shao Feng Ethan vs Fan Zhendong/Wang Chuqin (CHN) 0:3
Event details
Date: 7 to 20 March
Venue: OCBC Arena, Singapore Sports Hub
Tickets: go.gov.sg/wttsingaporesmashticket
Tickets start from $10 for qualifying matches and $18 for main draw matches. All spectators to Singapore Smash 2022 are to abide by the necessary Safe Management Measures. Spectators attending Singapore Smash must be fully vaccinated and submit a negative self-administered ART test result before entry into OCBC Arena. Please visit go.gov.sg/wttsingaporesmashticket for more information.
Pearlyn Koh has been playing Table Tennis competitively for 9 years. She's currently a member of the National Team and had represented Singapore at several major tournaments, including the 2018 Asian Games and World Table Tennis Championships. In 2019, Pearlyn was also the sole Southeast Asian player to enter the Top 16 at the Asian Junior & Cadet Table Tennis Championships. During her free time, Pearlyn enjoys reading and catching up with her friends.