TeamSG's SEA Games champion Koen Pang goes down fighting, after back-to-back close encounters at WTT Singapore Smash!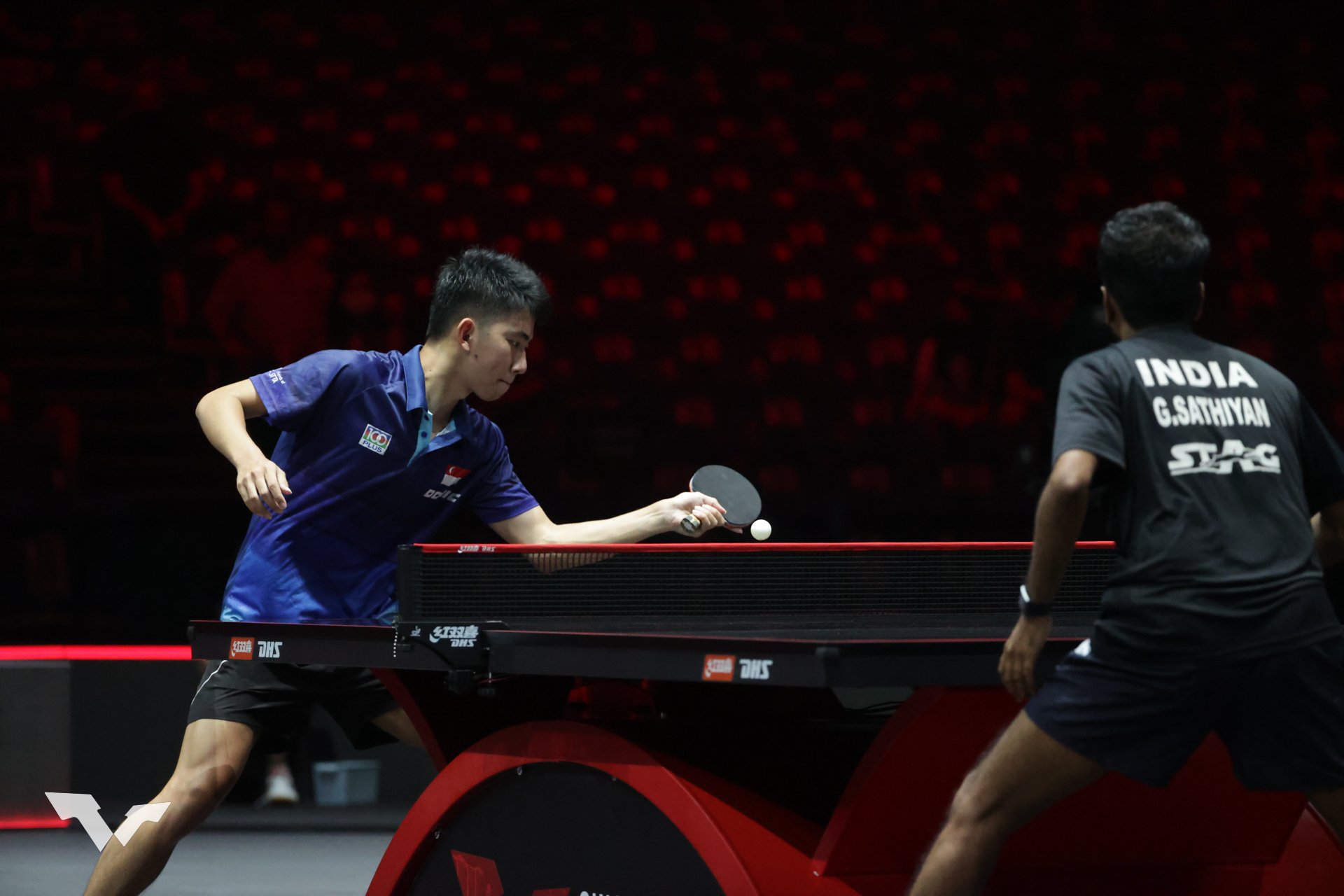 (Team Singapore's Koen Pang. Photo Credit : WTT)
By Pearlyn Koh
Day 2 of the Main Draw of the $2.7 Million WTT Singapore Smash kicked off with local favourite Koen Pang, up against India's Sathiyan Gnanasekaran in the Round of 64 of the Men's Singles event.
19-year-old Koen is the reigning Men's Singles champion at the 2019 SEA Games. And at the 2021 World Table Tennis Championships held in Houston last December, the 140th ranked paddler staged a huge upset when he overcame world number 40 Gustavo Tsuboi (BRA).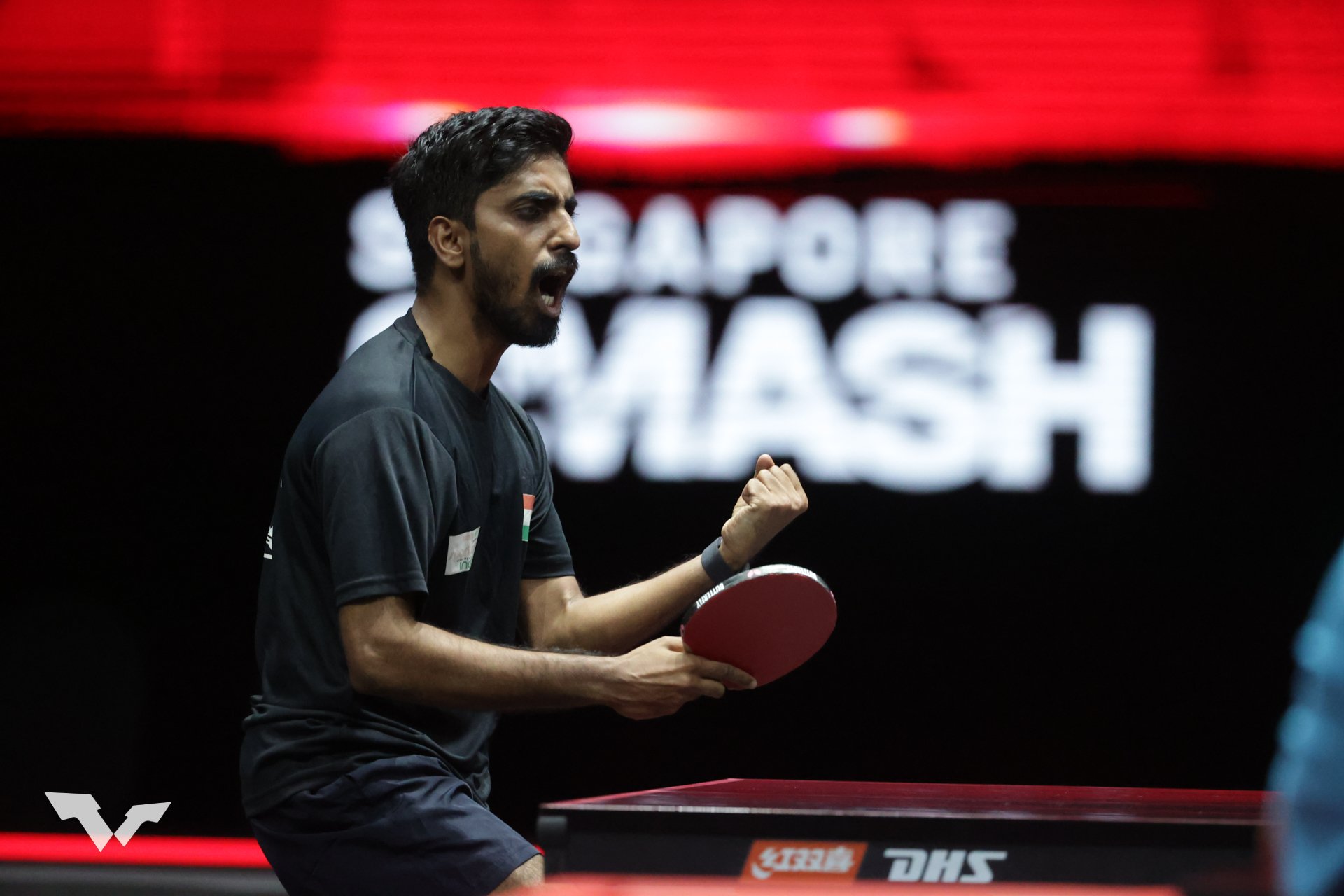 (India's Sathiyan Gnanasekaran. Photo Credit : WTT)
Sathiyan, on the other hand, is the first ever Indian athlete to have won an international title on European ground - at the 2016 World Tour Belgium Open and the 2017 Challenge Spanish Open. 14 years on the Professional circuit, he also successfully led the Indian Men's Team to win Gold at the 2018 Commonwealth Games, followed by a bronze medal at the Asian Games, a few months later.
Game 1 started off with Koen clinching the first point. But the experienced Sathiyan quickly came back, taking 5 straight points to lead 5-1. Following a series of unforced errors by Koen, it was the Indian who took the opportunity to widen the score gap to a comfortable 8-3 lead, before eventually taking Game 1 11-5.
Over at the OCBC Arena earlier today (12 Mar) and despite being down 1-0, the 19-year-old Singaporean star showed no signs of nervousness as he entered the 2nd game. Both players started off Game 2 with 4 points apiece, before Koen took 3 consecutive points to bring himself to a comfortable 3-point lead, from 7-4 to 9-6. But Sathiyan's backhand returns caused some trouble for Koen, as he took 2 straight points to bring the score to 9-8, forcing the SEA Games gold medalist to call a timeout. Fortunately, the timeout was effective for Koen, as he claimed the 2nd Game, 11-8!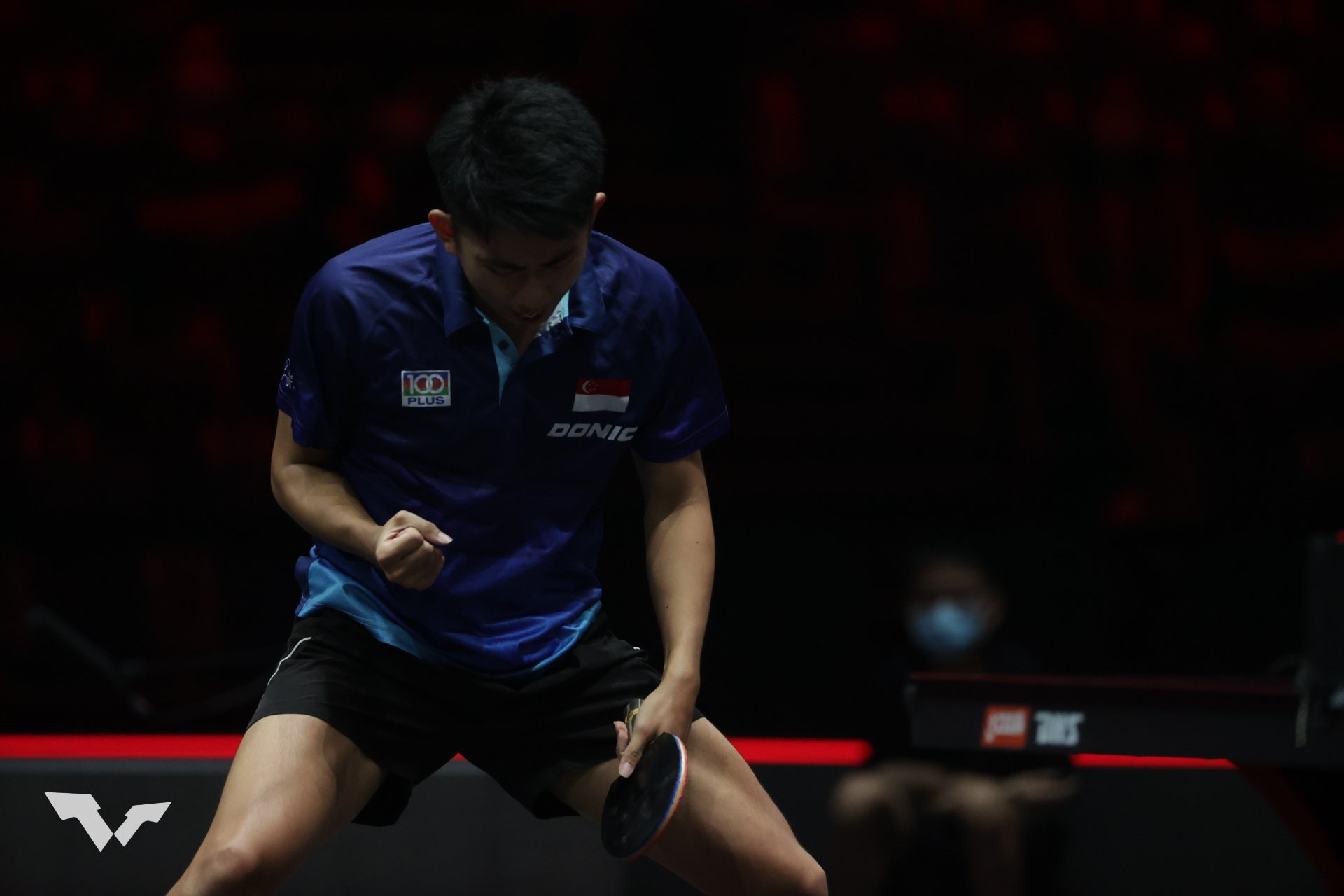 (Team Singapore's Koen Pang. Photo Credit : WTT)
In the 3rd game, Koen seemed to have found his winning strategy, as he took the first 2 points. The 19-year-old seemed to be in control of the game, as his Indian opponent struggled to cope with the variations of Koen's serves, allowing the local star to lead 6-4. But 29-year-old Satiyan quickly managed to adapt and improvise, turning the tables around to overtake the Singaporean 9-7. Trailing, the younger Koen still managed to fully make use of his 2 serves and quick attacks, leveling the score to 9-9. But Koen's attempt to clinch Game 3 was ultimately unsuccessful, as his Indian opponent took 2 straight points to win 11-9.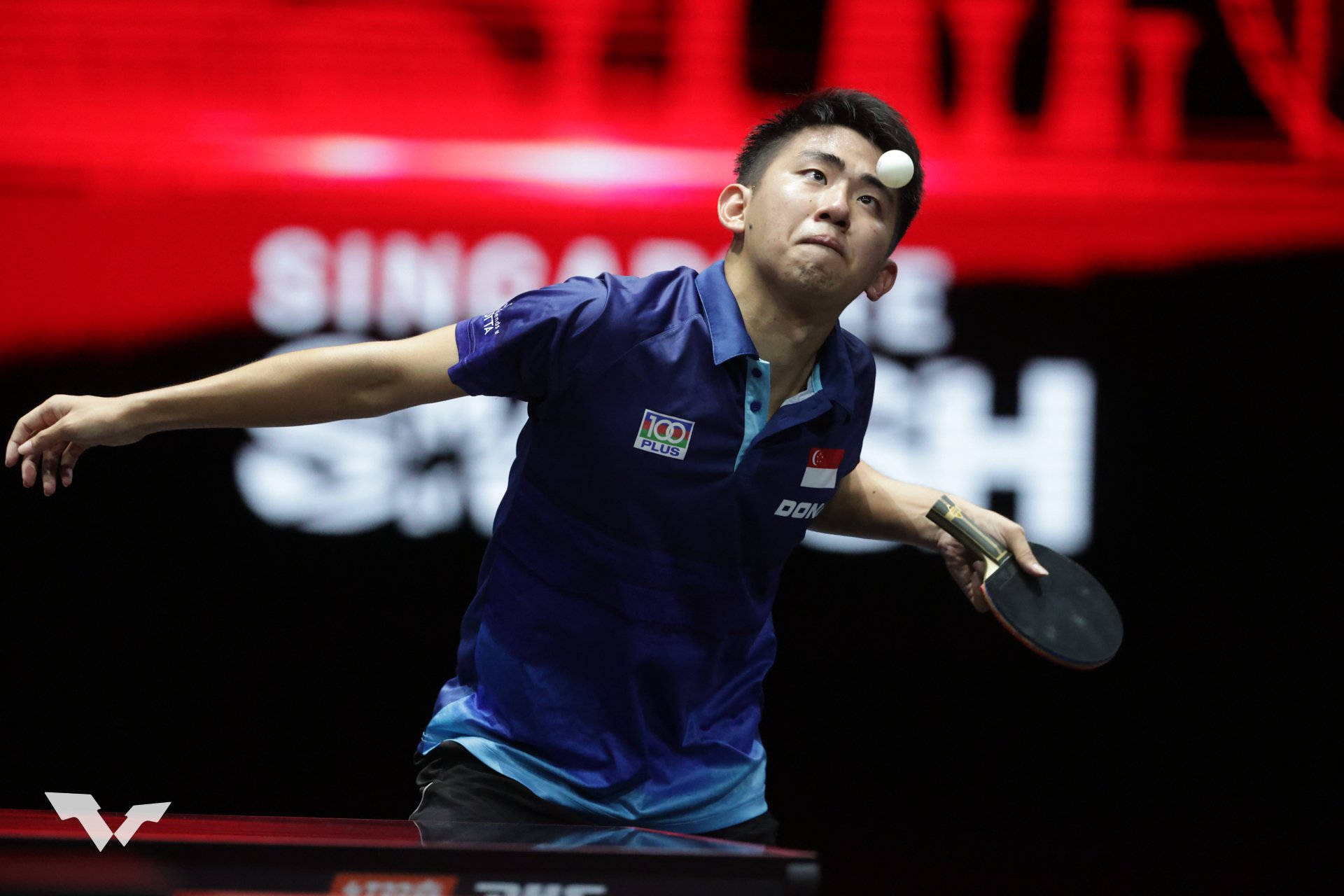 (Team Singapore's Koen Pang. Photo Credit : WTT)
Down 2-1, Koen was not ready to just give up without a fight. Game 4 saw the local player trying his very best to keep the scores close by slowing down the rhythm of the game. Scores were tied at 5 points each, until Satiyan won 4 points consecutively to lead 9-5. Trailing, the fearless Koen played a series of wonderful rallies and managed to keep his Singapore Smash hopes alive, as he caught back to 9-8. But the more experienced Indian star quickly called a timeout, before sealing off the game 11-8, to take the eventual victory 3-1!
Speaking in a post-match interview, Satiyan expressed his happiness and satisfaction with his performance. "I know that Koen is a very talented Singaporean player, so I am very happy with my win and satisfied with my performance today."
Sathiyan will next face Lim Jonghoon (KOR) in the Round of 32.
After his Singles match, Koen returned to the Arena a few hours later and partnered Lin Ye to compete in the Mixed Doubles. But the duo lost to Romanian pairing Bernadette Szocs and Ovidiu Ionescu 3-0 in the Round of 32.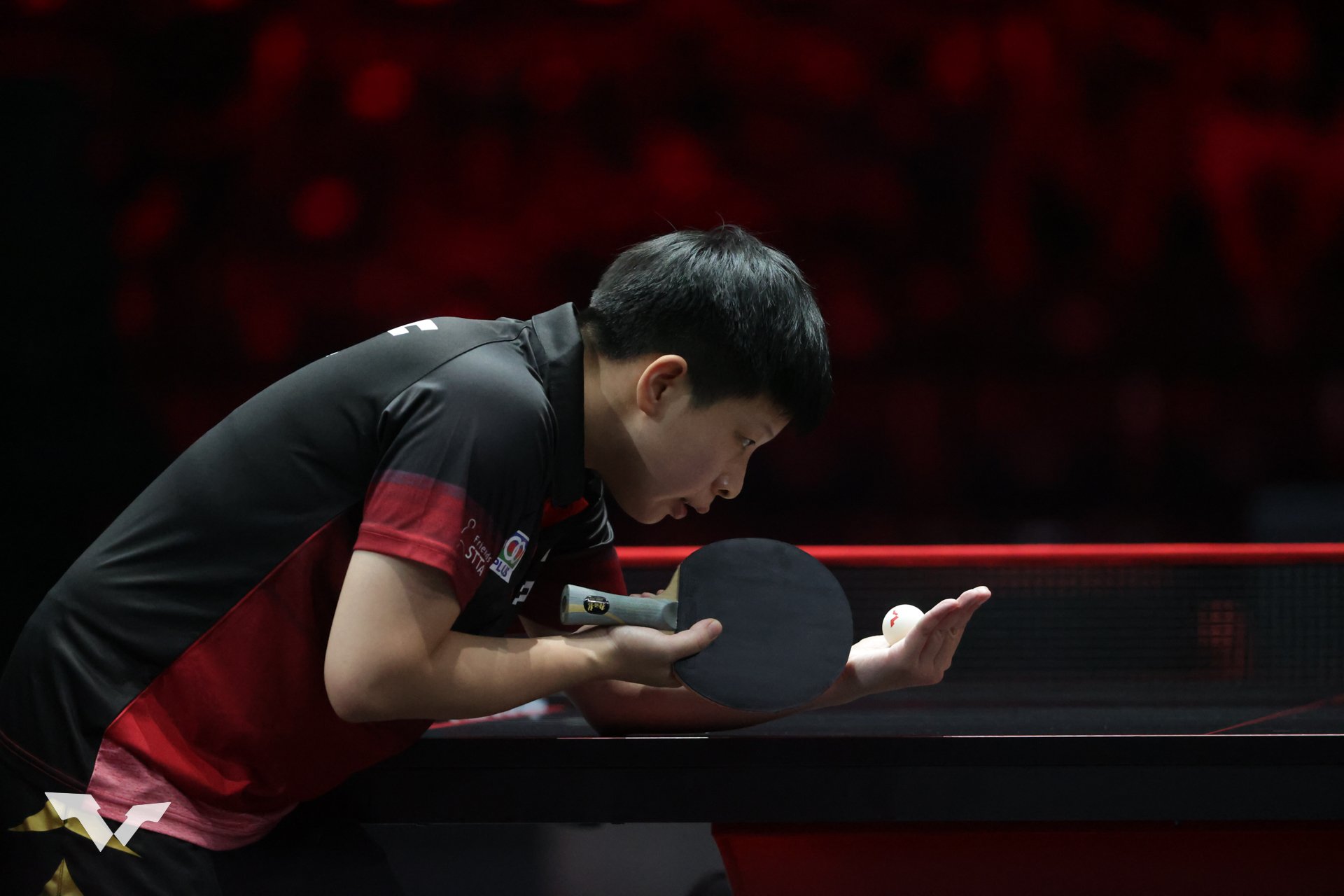 (Team Singapore's Zeng Jian. Photo Credit : WTT)
Other TeamSG athletes who competed at the OCBC Arena on Day 2 include Zeng Jian, who overcame Puerto Rico's Melanie Diaz 3-0. The 25 year old triumphed (11-9, 11-3, 11-8). And the 70th ranked Singaporean will advance to the round of 32, where she'll meet Chinese star and world no 2, Chen Meng!
Zeng Jian said. "I was actually feeling very nervous as this is the first time I've participated in such a prestigious event. I felt suitably prepared for the match and any challenges that I might face, so I could read and anticipate my opponent's shots."

In another Men's Singles match, Tokyo 2020 Olympian Clarence Chew was knocked out in the 1st round, after going down to 10th ranked, Xu Xin 3-0!. Nicknamed "XUperman", the Chinese star delivered a stellar performance (11-3, 11-1, 11-7) and will next feature against Jon Persson (SWE).
Team Singapore on Day 2 Results:
(MS)
Koen Pang vs Sathiyan Gnanasekaran (IND) 1:3

Chew Zhe Yu Clarence vs Xu Xin (CHN) 0:3
(WS)
Zeng Jian vs Melanie Diaz (PUR) 3:0
(XD)
Koen Pang/Lin Ye vs Ovidiu Ionescu/Bernadette Szocs (ROM) 0:3
Event details
Date: 7 to 20 March
Venue: OCBC Arena, Singapore Sports Hub
Tickets: go.gov.sg/wttsingaporesmashticket
Tickets start from $10 for qualifying matches and $18 for main draw matches. All spectators to Singapore Smash 2022 are to abide by the necessary Safe Management Measures. Spectators attending Singapore Smash must be fully vaccinated and submit a negative self-administered ART test result before entry into OCBC Arena. Please visit go.gov.sg/wttsingaporesmashticket for more information.
Additional Reporting by Raj Kumar
Pearlyn Koh has been playing Table Tennis competitively for 9 years. She's currently a member of the National Team and had represented Singapore at several major tournaments, including the 2018 Asian Games and World Table Tennis Championships. In 2019, Pearlyn was also the sole Southeast Asian player to enter the Top 16 at the Asian Junior & Cadet Table Tennis Championships. During her free time, Pearlyn enjoys reading and catching up with her friends.