UTR!'s School Football Academies to strengthen pathways for aspiring youth footballers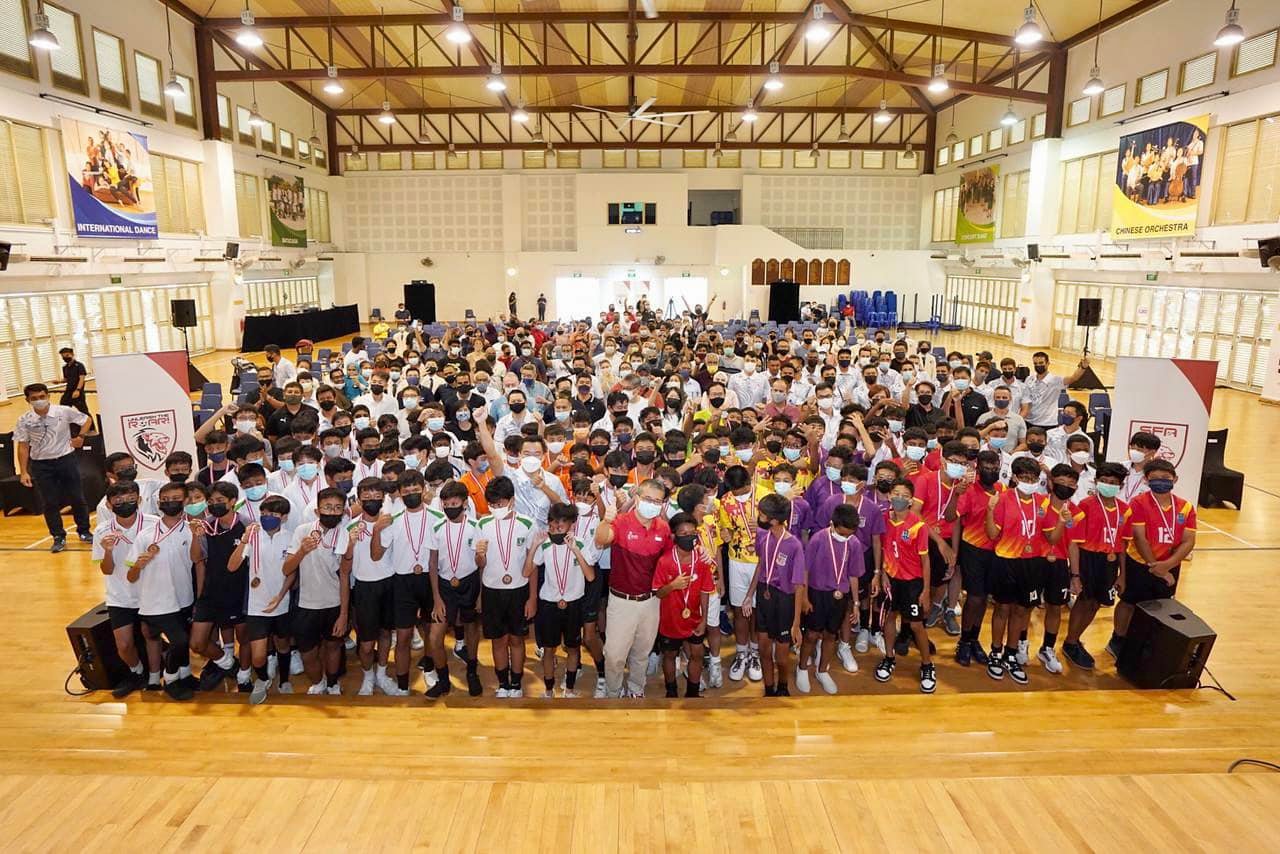 Unleash The Roar! SFAs' launch at Jurongville Sec. Photo Credit : Unleash The Roar!
23 July 2022 – The Unleash The Roar! (UTR!) national football project marked a significant milestone today as the School Football Academy (SFA) initiative was officially launched at Jurongville Secondary School, one of the 10 SFAs.
Officially launched by Mr. Edwin Tong, Minister for Culture, Community and Youth and Second Minister for Law, more than 100 young footballers were joined by their parents for a morning of friendly competition featuring teams from all SFAs.
The SFA initiative was first announced last November following a partnership with Spanish top-tier league LaLiga. Under the partnership, LaLiga coaches, working alongside local coaches, will seek to uplift and strengthen the football programmes in the schools. Among the key features of the programme are increased training frequencies – up to four times a week from the average of two - and the application of sports science to training.
The SFAs will serve as a key pipeline to produce technically sound footballers at the crucial ages of 17 and 18, when most footballers begin their professional careers. SFA footballers will be schooled under the National Football Curriculum where they will learn to adopt a possession-based, high-tempo playing style that is suited for success in today's modern game.
Through the SFA programme, the number of young players receiving elite training at the Under-15 and Under-17 levels is set to increase to about 1,400 secondary school boys and girls, close to triple the current 500. Currently, the SFA programme only features boys. But female SFAs are set to come on stream next year.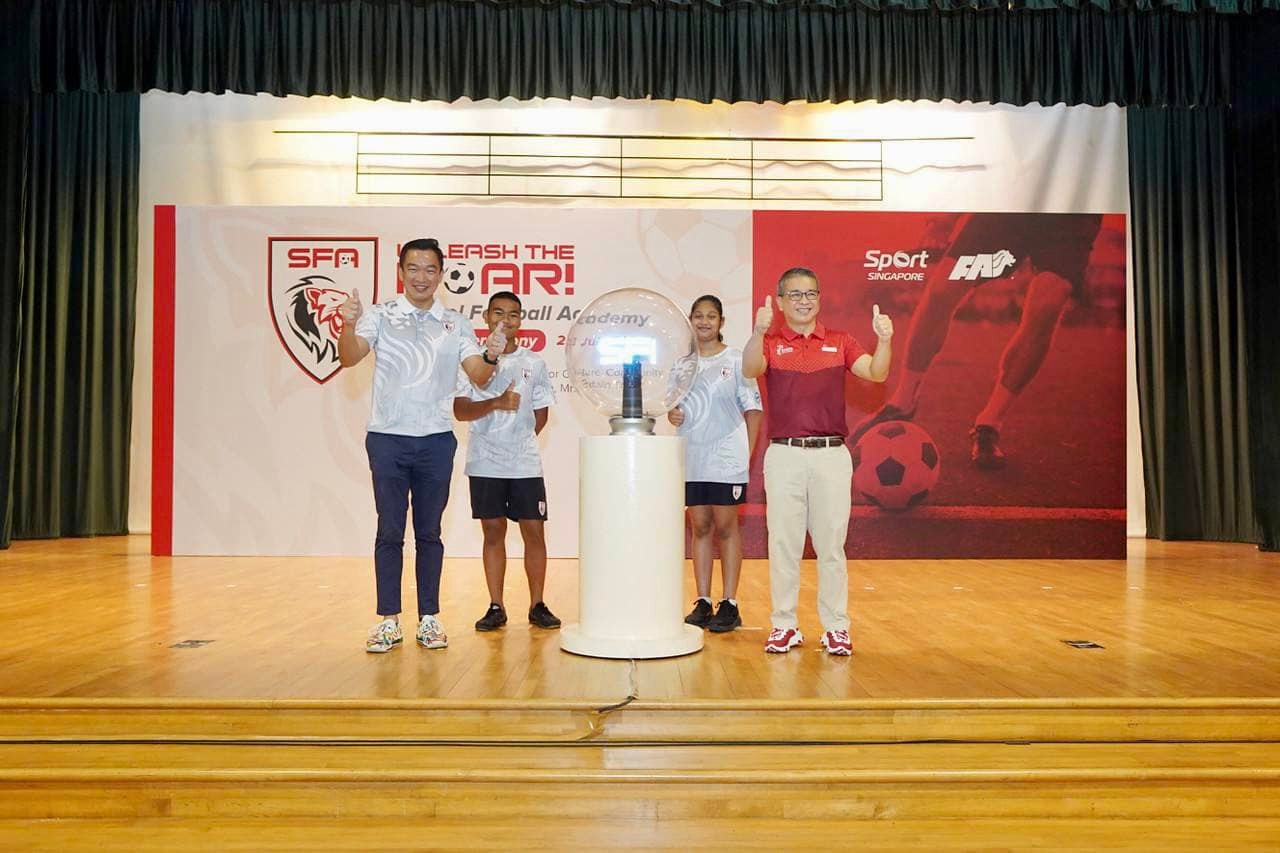 Mr Eric Chua, Chairman of the UTR! Executive Committee (White top) & Mr Edwin Tong - Minister for Culture, Community and Youth. Photo Credit : Unleash The Roar!
Said Mr Eric Chua, Chairman of the UTR! Executive Committee and Senior Parliamentary Secretary Ministry of Culture, Community and Youth: "The SFAs are one of the most important building blocks in the UTR! programme – we can only have strong national teams if we have a broad base of players to choose from, as well as young athletes who have sound fundamental skills. This is one of the key strategies of Unleash The Roar! - to strengthen the youth football development ecosystem for both boys and girls.
"Our SFAs provide young footballers with more training and opportunities to pit themselves against the best. Beyond the pitch, these student-athletes will also get the full support of their school when it comes to academic study. They will learn more about balancing sport and school work, receiving a holistic secondary school education that will build character and instill valuable life skills. Today's launch marks a step forward for Singapore football, and we look forward to celebrating more of such milestones."
Coaching – Spanish flair with a local touch
At the launch, parents and stakeholders had a chance to meet SFA coaches who have been quietly working behind the scenes with the student athletes. A total of 23 coaches, who have extensive experience in coaching and developing youth talent, started training students since January this year. These coaches have previous roles leading and managing youth teams across several age groups in Spain, China, Indonesia and Singapore. All 23 coaches are full-time football coaches, as well as specialist coaches who provide support in the areas of strength & conditioning and goalkeeping. (The full list of coaches and support staff is available in Annex B of the attached release.)
SFA Head Coach Angel Toledano Flores is one of the Spanish coaches who has decided to take up the Singapore challenge. A former Head Coach and Technical Director of FC Barcelona's academies in Spain and overseas, Flores is excited about the project.
He said: "I have spent some time working with the SFA students here, and their passion and commitment to improving themselves is commendable. This is a good start in developing football here.
"I am also excited with the comprehensive approach where I work collectively with all coaches, teachers and sports scientists to help these young footballers fulfil their dreams. It is a privilege to be able to play an important part in raising the standards of Singapore football among the youth."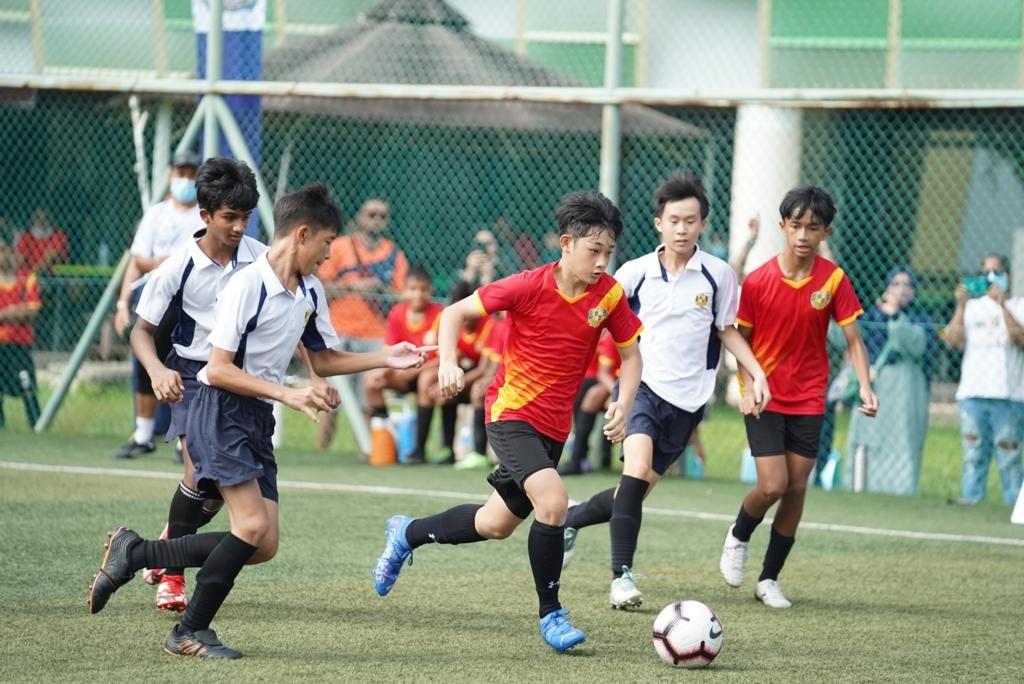 Unleash The Roar! SFAs' launch at Jurongville Sec. Photo Credit : Unleash The Roar!
Former international Ismail Yunos is part of the Singaporean core of the SFA. The AFF Championship winner feels that the SFA setup will not only be a boost for the young footballers but also local coaches.
He said: "The process of lifting the standards of football requires cooperation and learning from others. It is important that we acquire the best practices in football coaching to improve Singapore football. The coaches from Spain have been great in sharing their knowledge with us. Not only will the SFA coaching setup help our youth, but it will also uplift the overall football coaching standards in Singapore."
While it may be early days in a long-term project like the SFA, there has already been some impact made.Montfort Secondary School reached the National School Games North Zone B Division football final for the very first time.
Said Montfort SFA's midfielder Jairus Owl: "I have learnt to be more disciplined and to manage my time better, thanks to being part of the SFA programme. We are training more frequently than before, but we also learnt how to take charge of our own recovery and nutrition. My teammates and I are consciously doing this so that we stay focused on the field and in class. This has helped us play better football and I am proud of our team for reaching the zonal finals this year."
Strengthening Pathways - a double boost
Under the SFA programme, players will get to play more matches and regularly compete with both local and international teams.
To that end, a tournament involving SFAs is being planned for early next year and it will be played at the National Stadium.
Said UTR! Executive Committee Chairman Mr Eric Chua: "Giving our aspiring athletes more opportunities to compete at the National Stadium is one of SportSG's plans when we take over the running of the Sports Hub in December.
"We want our young footballers to build an affinity with the National Stadium, to be inspired to hopefully one day play for the Lions in front of the home crowd."
SFA footballers will also get a boost later this year - the first batch of the brightest SFA talents will be heading for an overseas training stint. This is part of plans to have a multi-faceted scholarship programme that will not only send the best footballers for short-term attachments, but also explore longer-term footballscholarships.
More details of the SFA scholarship programme will be announced by the end of this year.
Such plans were welcomed by parents such as former international Baihakki Khaizan, whose son Mika is at the ACS (Barker) SFA.
Said Baihakki: "For us as parents, it's very reassuring to learn of these plans and opportunities that are available for our children.
"As a former player, I am glad that even at this young age, Mika is getting the sports science and analytics help that is often reserved for professional athletes.
"Such support will go a long way in helping our children progress as footballers, but of course, they must also find that motivation from within to stay the course and be committed. For young athletes, the opportunity to compete at venues as grand as the National Stadium can also help provide that extra spark of inspiration and give them a vision to aspire towards."
In addition to football, student athletes in the SFA will benefit from a holistic educational experience, ensuring that these footballers balance their football and academic commitments. In addition to developing players' technical skills, the SFA curriculum also emphasises character development such as teamwork, responsibility, discipline and time management.
Jurongville Secondary School principal Mr Chan Yew Wooi said: "Our school has a proud history of achievements in our football CCA. The SFA programme allows us to provide a more comprehensive developmental programme that sharpens the technical skills of our students and shapes their whole-person development.
"The SFA programme is thus aligned with our school's focus on developing our students' strengths and interests, and equipping them with what they would need to do good and do well in future.
"Our "C" division boys have benefited from the expertise of the professional coaches. On the field, they are playing with greater cohesion, fitness and intelligence. Off the field, their behaviour is guided by the expectation that they exemplify our P.R.I.D.E values, namely, Perseverance, Respect, Integrity, Discipline and Empathy. We are confident that through the Programme our boys will become thinking footballers, committed students and contributing citizens."