World Champion, World No 1 and the 1st ever Men's Singles winner of the WTT Cup Finals : Fan Zhendong!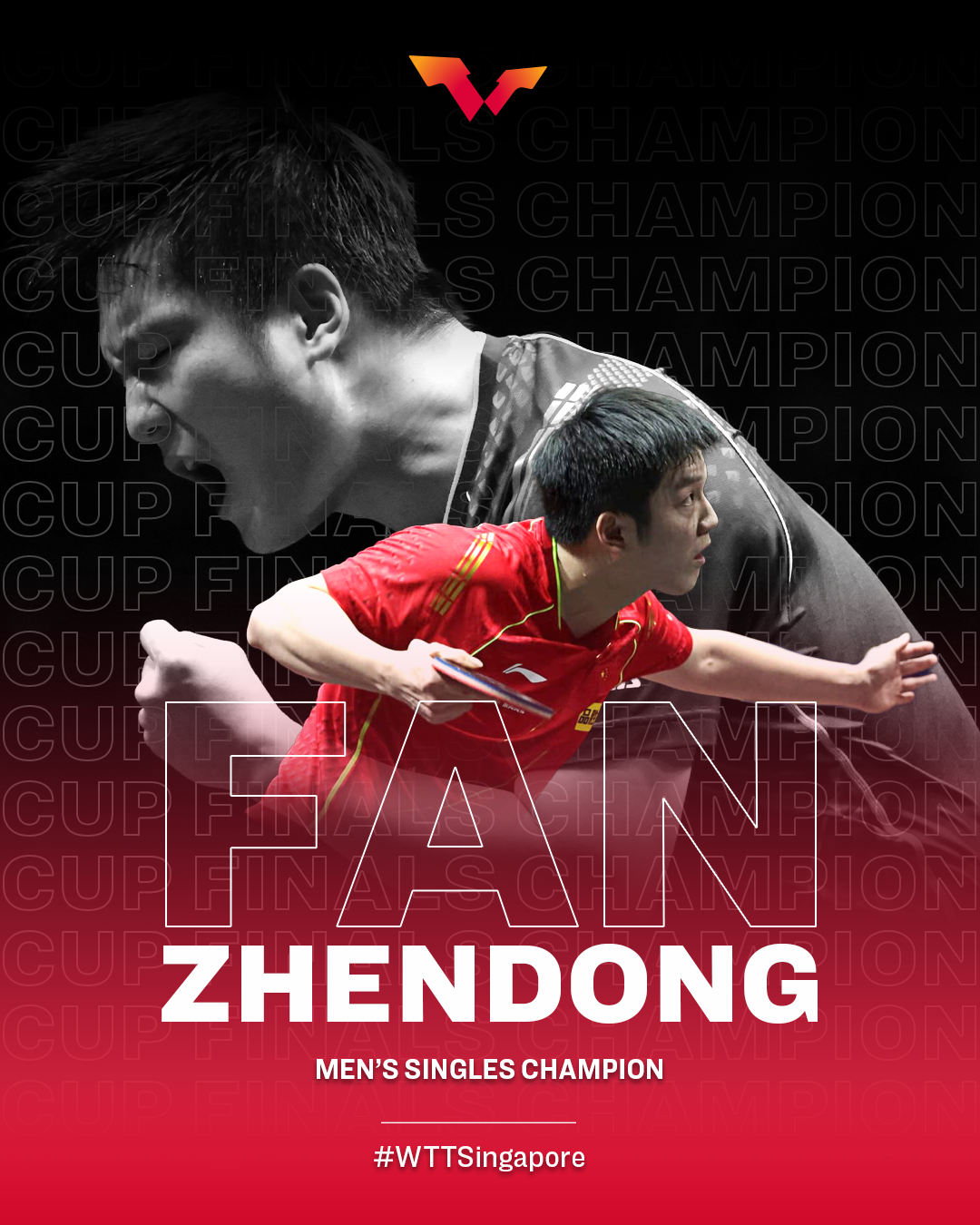 (Poster Credit : WTT)
By Pearlyn Koh
After a grueling 45-minute battle, it was the world no. 1, Fan Zhendong, who stood on the winner's podium at the OCBC Arena. That's after winning the Men's Singles grand showdown, in the first ever WTT Cup Finals in Singapore on Tuesday (7 Dec).
Zhendong and his Japanese opponent, Tomokazu Harimoto, had previously met on 5 occasions, since 2018. And out of all 5 encounters, the Japanese teenager had only prevailed once - at the 2018 ITTF Asian Cup. Their most recent encounter was at the Men's World Cup, held in Chengdu, in 2019. Back then, the Chinese star paddler defeated his younger opponent 4-2 (11-8, 9-11, 11-9, 11-7, 11-5).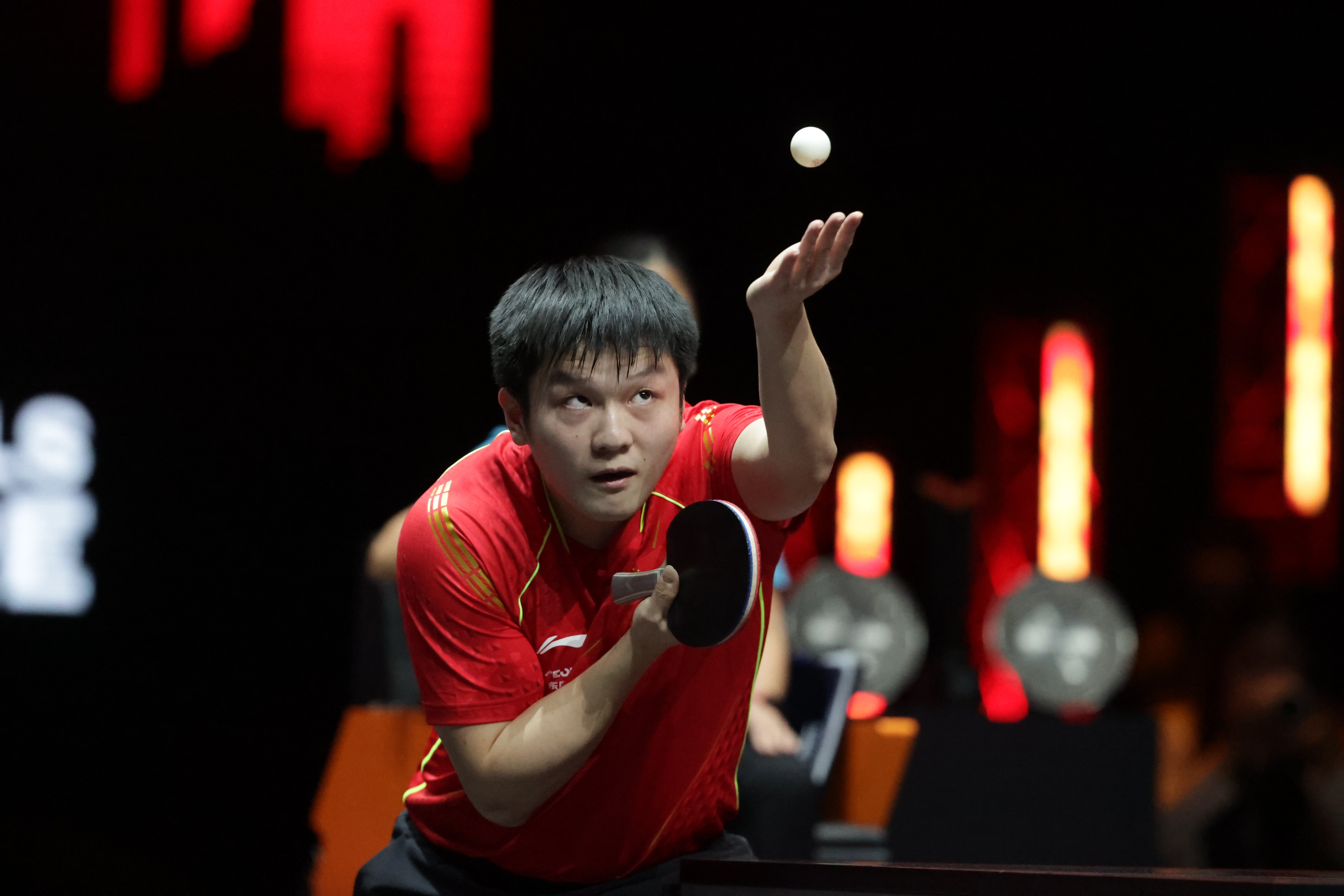 (World No 1 Fan Zhendong. Photo Credit : WTT)
Both players, with sufficient experience in major tournaments, knew they had no time to waste in the Men's Singles Finals. As soon as they began their face-off at the OCBC Arena, both combatants quickly entered the game, executing their planned tactics. In a closely-contested Game 1, both players were tied at 8 apiece, before Zhendong took the game 11-8!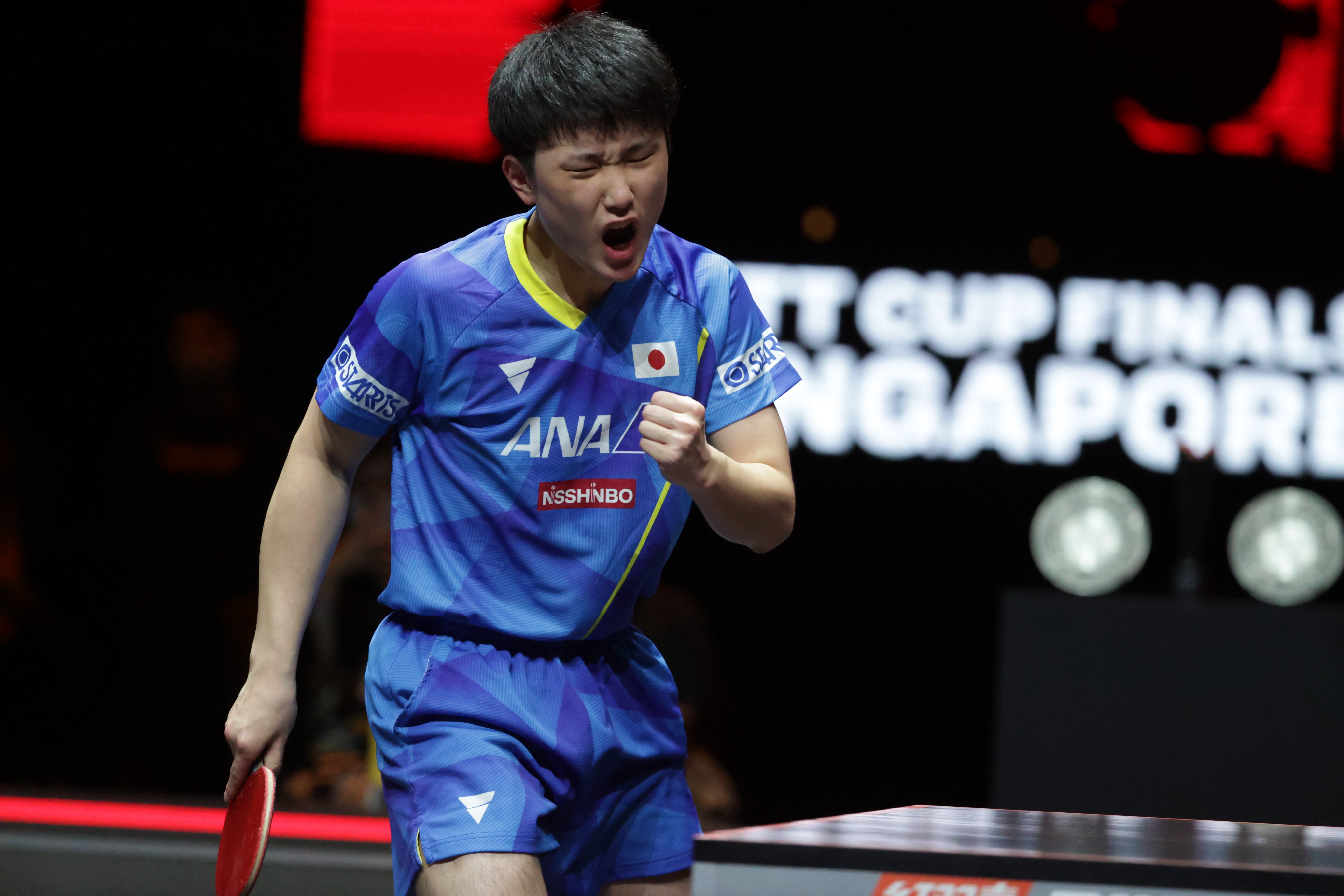 (World No 5 Tomokazu Harimoto. Photo Credit : WTT)
Game 2 was a roller coaster of emotions for the world no. 1. He started off the game with a 8-4 lead, but ultimately could not sustain it, as the talented 18 year old teenager managed to counter Zhendong's powerful far-table shots, by staying close to the table and adding speed in his returns. Unable to quickly devise a counter-strategy, the top seeded player subsequently lost 6 straight points, to leave his opponent overtaking his score 10-8, before taking the game 11-9!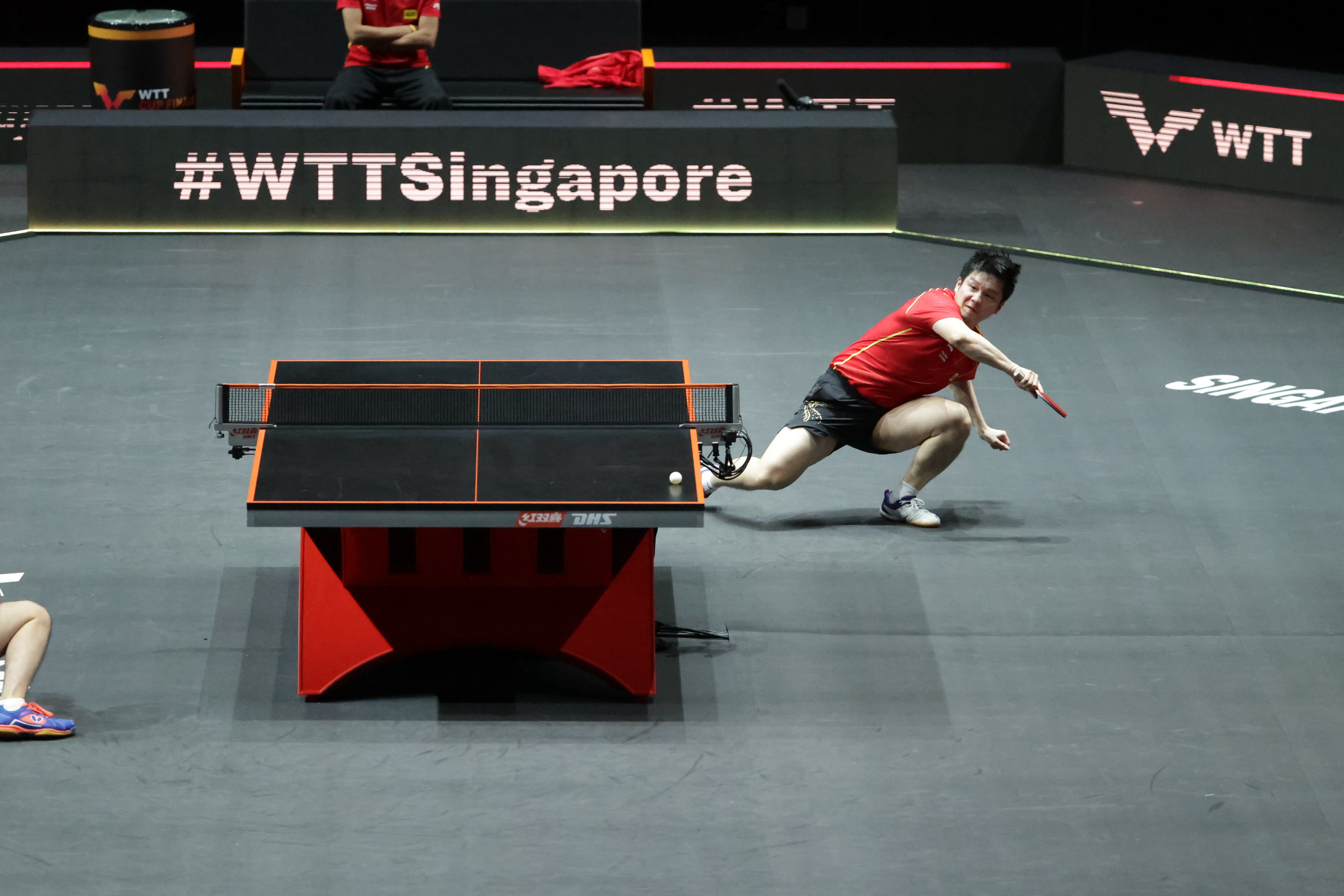 (Photo Credit : WTT)
With the match level at 1-1, both players kept the scores close at 4-4, before Zhendong widened his lead to 7-4 in Game 3. What followed were spinner, slower shots from the Japanese sensation, which successfully caused the world no. 1 to stumble as the scores became even at 7-7. But following a timeout by the Chinese star at 9-8, the Japanese teenager made 2 unforced errors on his backhand, leaving Zhendong to seal off Game 3, 11-9!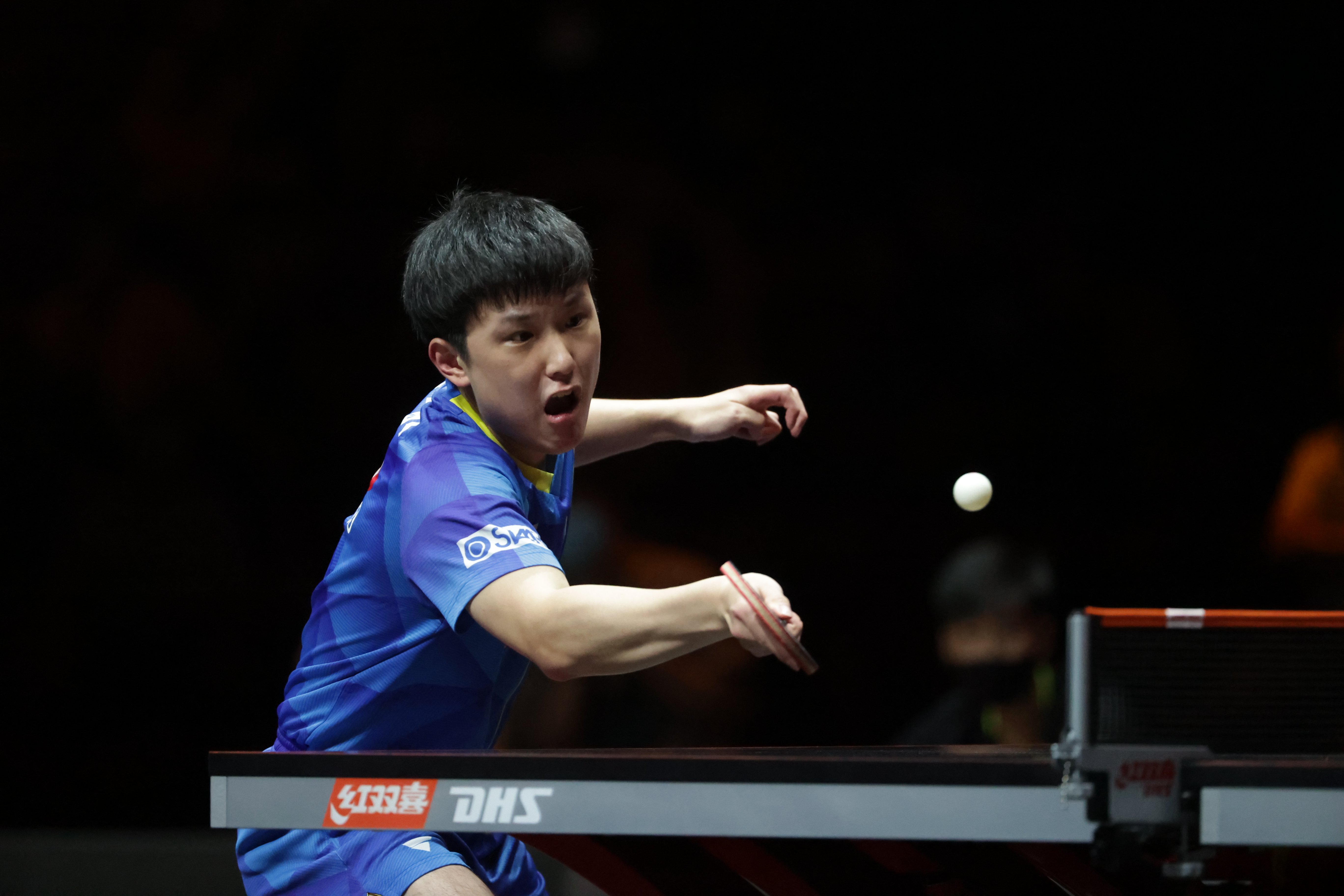 (World No 5 Tomokazu Harimoto. Photo Credit : WTT)
Up against the world no. 1 and winner of the World Championships in Houston just last week, Tomokazu tried his best to play the game to his favor, by controlling the length of his returns. But the experienced Chinese player was simply too good for him - having anticipated most of Tomokazu's tactics, quickly adapting to them. In an attempt to control more short and spin balls to put more pressure on Zhendong, the Japanese wonder kid was eventually unsuccessful, as he fell to the current Olympic Silver medalist, 11-7 and 11-5, in the 4th and 5th games respectively.
After the 4-1 win and in a post-match interview in front of the sold out crowd, 24 year old Zhendong said "I am very happy to be the first-ever Men's Singles winner of the WTT Cup Finals in Singapore, especially against such a strong opponent like Tomokazu. Initially, I was rather tired physically, from all the travelling and competing. But the support that my fans in Singapore gave me, encouraged me to do better each point!"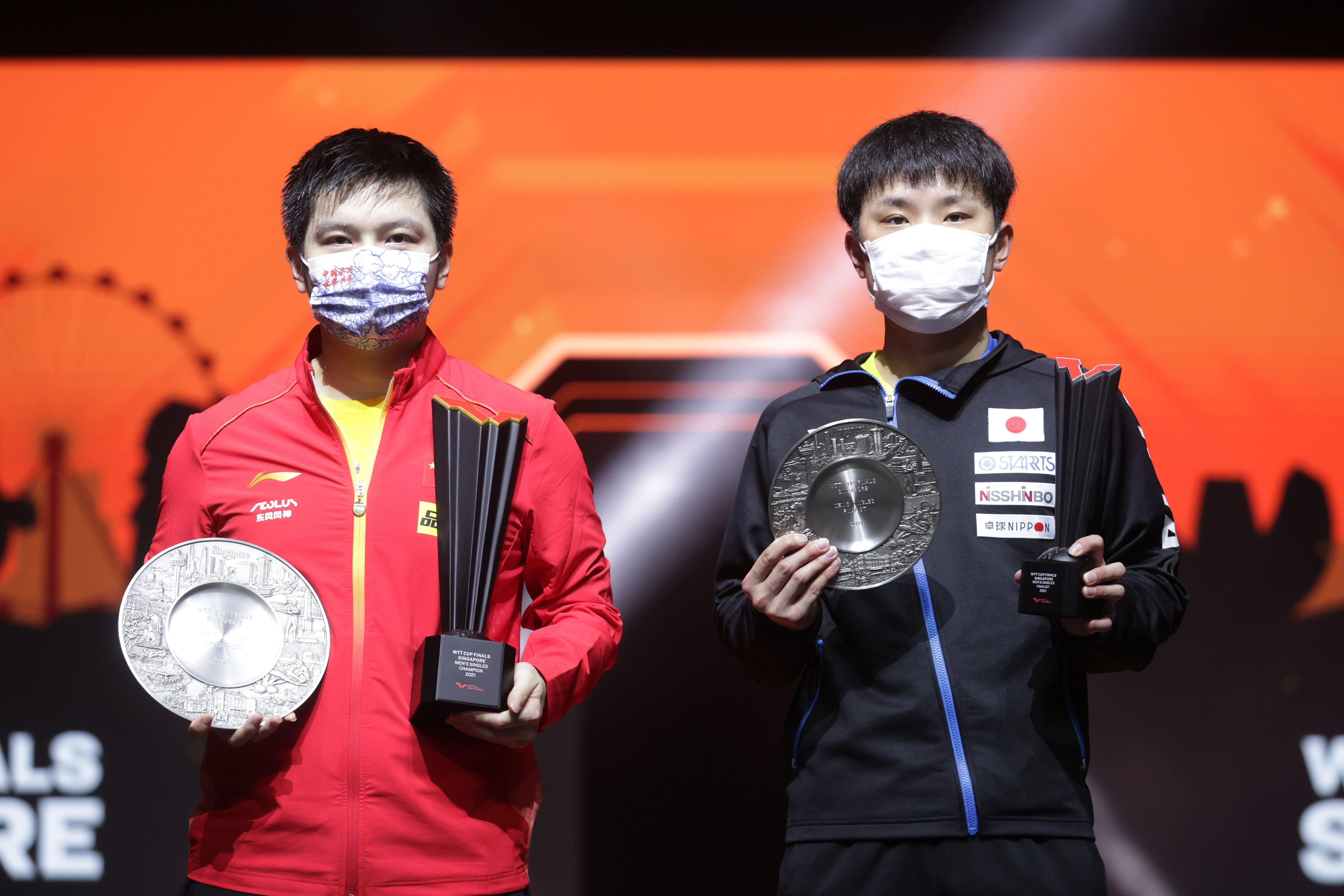 (From L to R : Fan Zhendong and Tomokazu Harimoto : Photo Credit : WTT)
Zhendong's win in Singapore marks his second title in a fortnight, having also won the World Championships in Houston just last week. The inaugural WTT Cup Finals from December 4-7 in the Lion City concluded, with Zhendong taking Gold, Tomokazu settling for the Silver, as well as Hugo Calderano and Wang Chuqin sharing the Bronze.
For selected match reports from the WTT Cup Finals in Singapore, do check out https://circle.myactivesg.com/
Edited by Raj Kumar
Pearlyn Koh has been playing Table Tennis competitively for 9 years. She's currently a member of the National Team and had represented Singapore at several major tournaments, including the 2018 Asian Games and World Table Tennis Championships. In 2019, Pearlyn was also the sole Southeast Asian player to enter the Top 16 at the Asian Junior & Cadet Table Tennis Championships. During her free time, Pearlyn enjoys reading and catching up with her friends.