World Champion Fan Zhendong sets up grand finale against Tomokazu Harimoto, in WTT Cup Finals in Singapore!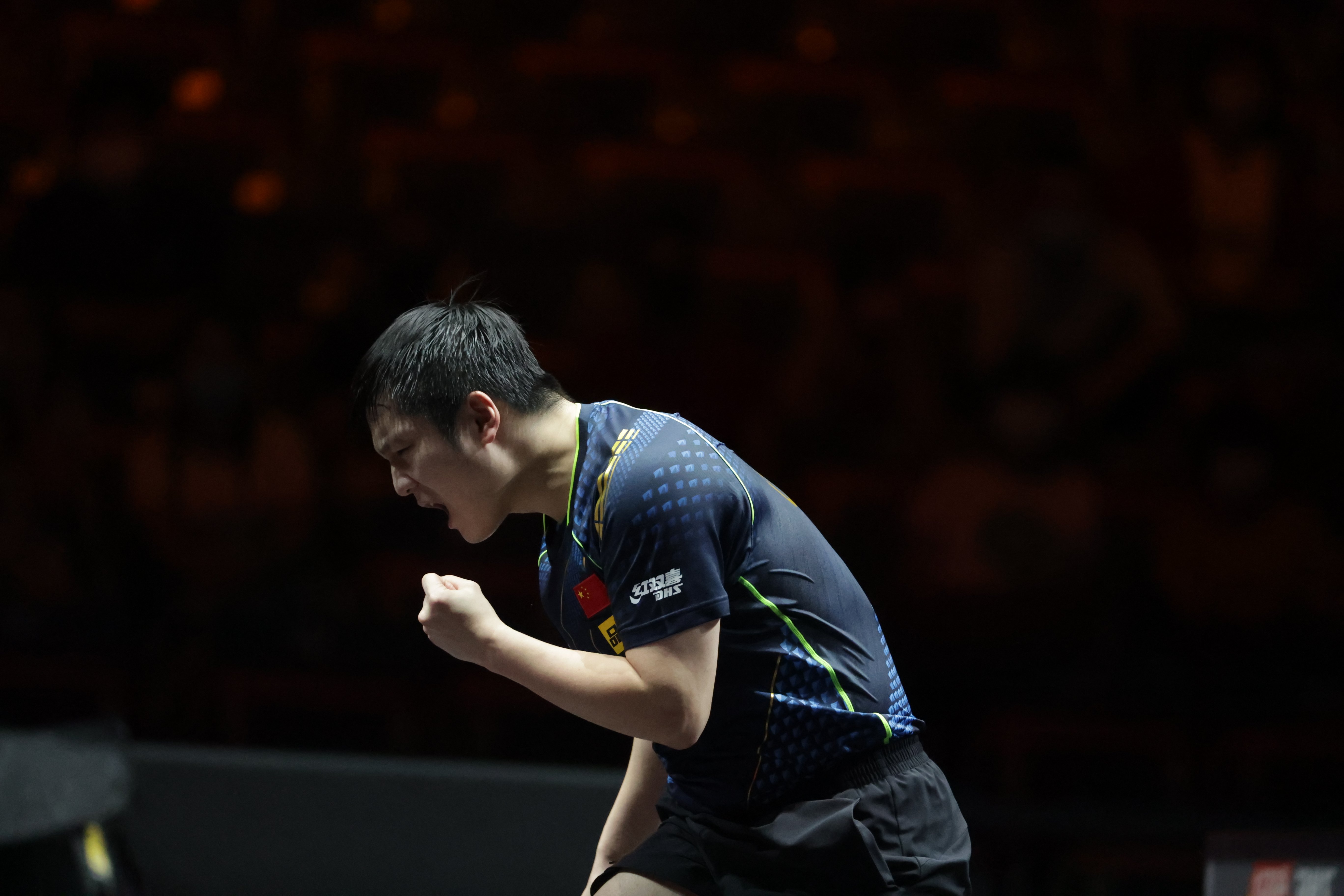 (World No 1 Fan Zhendong. Photo Credit : WTT)
By Pearlyn Koh
In a stiff semi-final battle between top seeded Fan Zhendong and compatriot Wang Chuqin (6 Dec), it was the former who took the eventual victory, 4-2 (9-11, 11-9, 12-10, 6-11, 11-7, 11-9). Their semi-final meeting in the first-ever WTT Cup Finals at the OCBC Arena, is the duo's 7th career meeting. And from all of their previous encounters, the world no. 1 had only lost once. That was at the 2019 ITTF Hungarian Open, where he fell to his younger teammate, 4-3!
Zhendong and Chuqin's most recent clash was just slightly more than a week ago, at the ITTF World Championships in Houston, Texas. And Fan beat his fellow countryman 4-2, in the round of 16.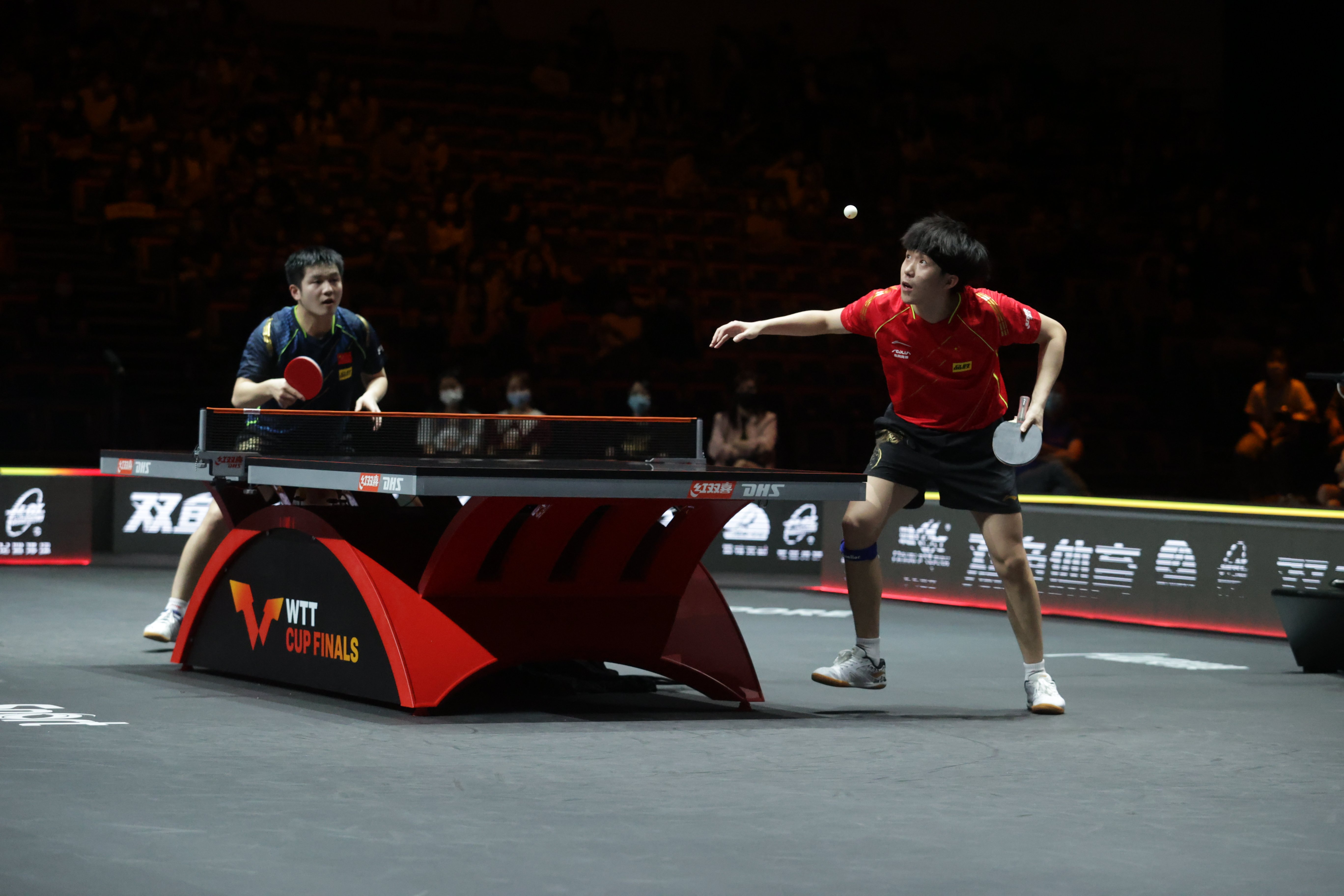 (China's Wang Chuqin to serve. Photo Credit : WTT)
Battling for a spot in the Finals in Singapore, both players did not waste any points as they went into Game 1, clear-minded of the tactics they wanted to execute. With exciting rallies from the opening point, both players took turns to take the lead, and the score remained close at 6 apiece. Eventually, 21-year-old Chuqin managed to pull the score apart to 9-6 in his favor, before taking the 1st game, 11-9!
The world no. 1 tweaked his strategy in the 2nd and 3rd games, as he played more wide-angle shots. But the score remained close, as Chuqin managed to adapt to Zhendong's changes. Both players seemed to use the same strategy against each other - shifting their respective opponents to one end, before hitting a wide one to the other. After two closely contested games, it was the top seeded paddler who took both wins, 11-9 and 12-10!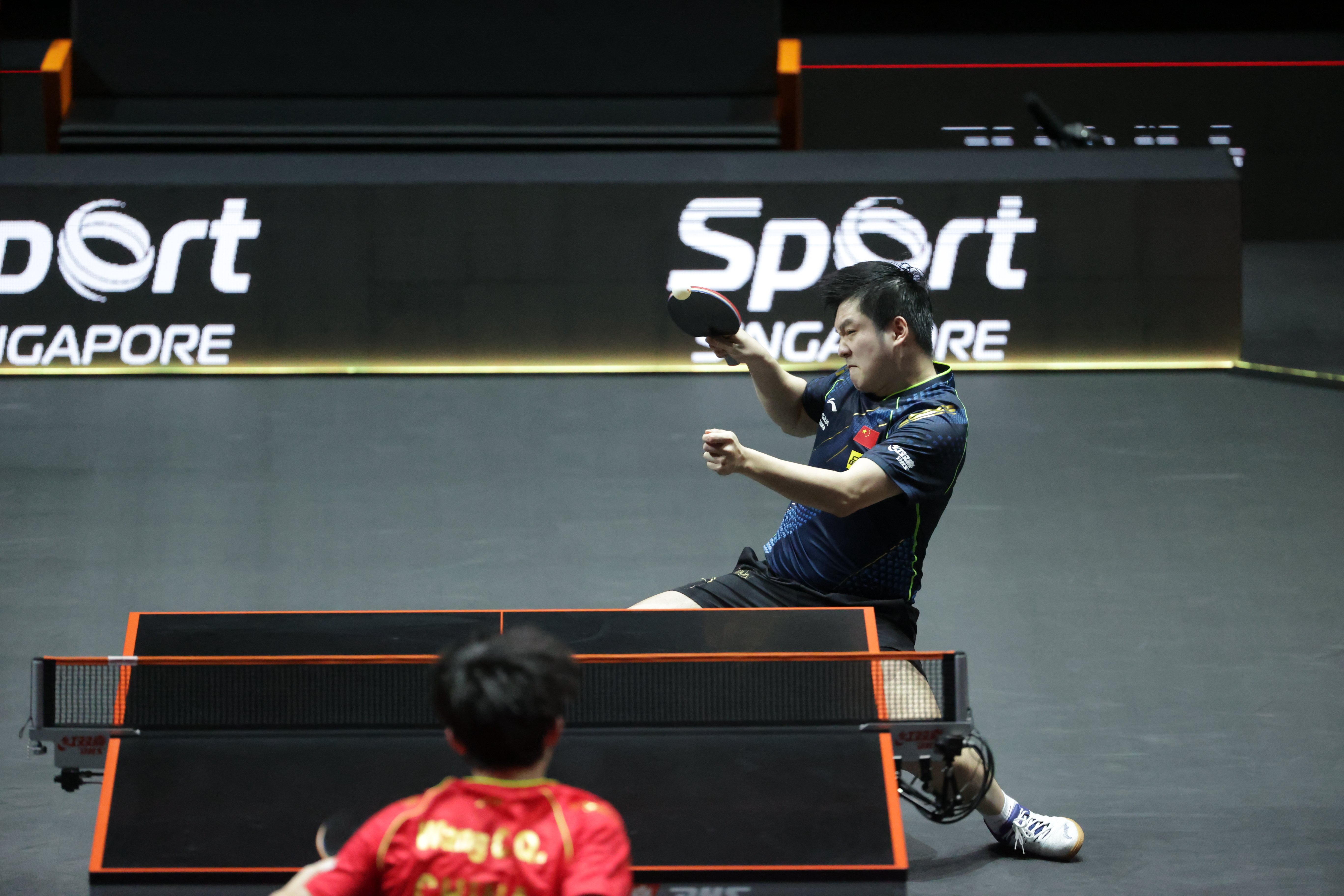 (World No 1 Fan Zhendong. Photo Credit : WTT)
Despite being down 2-1, the younger Chinese paddler displayed no sign of fear as he exhibited his advantage as a south-paw (left-hander) in Game 4. Instead of the usual blocks, 21-year-old Chuqin began counter attacking, firing down his powerful backhand shots which left his opponent unable to return. The 4th game saw the world no. 17 taking a 7-2 lead, before ending the game with a 11-6 margin.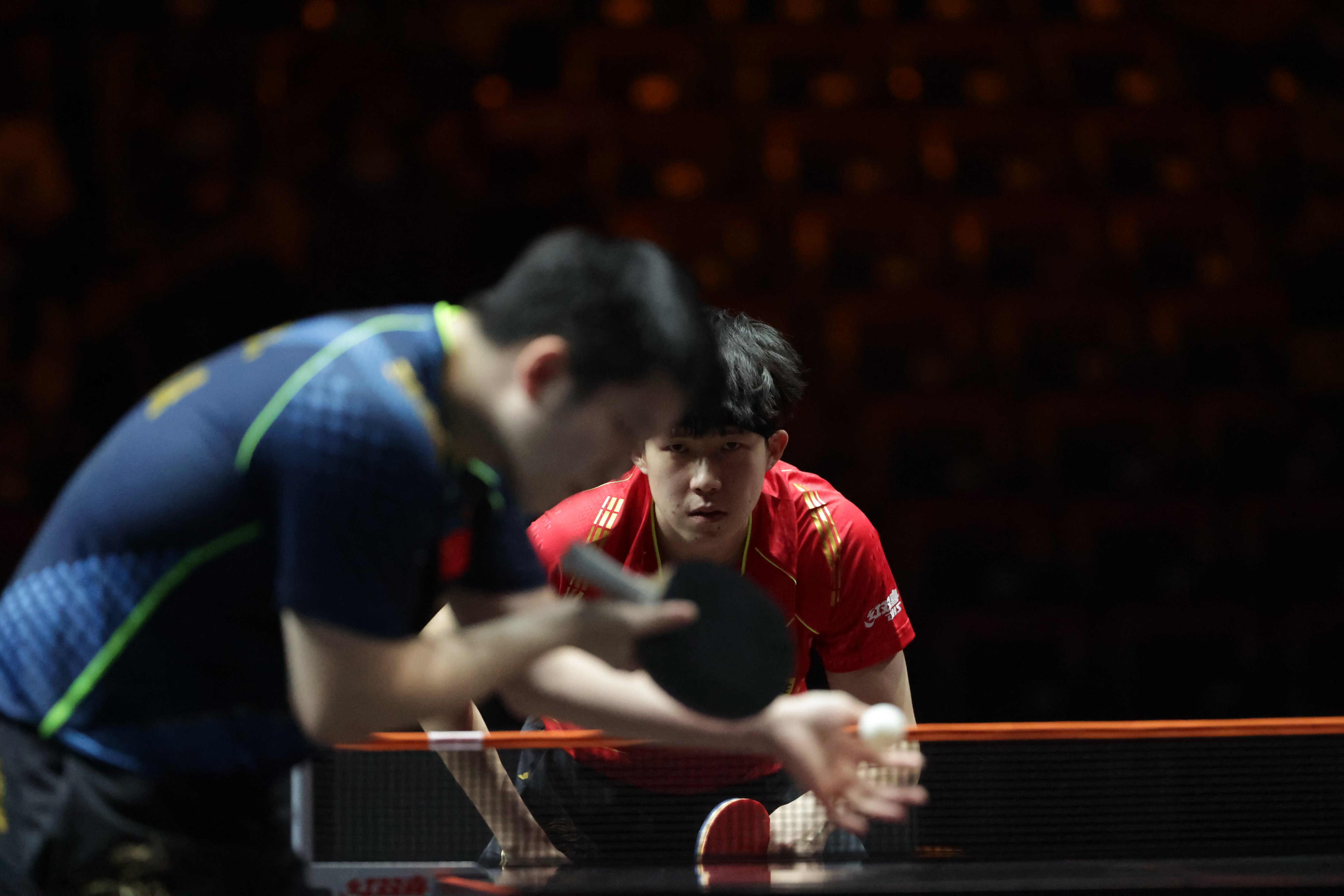 (China's Wang Chuqin to receive. Photo Credit : WTT)
With 2 games apiece, both paddlers were desperate to come up with a winning game plan. Game 5 took off with Zhendong claiming a 3-0 lead. But that did not last long, as his talented opponent quickly clawed back 4 points, to overtake 4-3. The experienced world no. 1 immediately called for a time-out. And that proved to be the game changer, which helped Zhendong retake the lead 7-5, and eventually led him to clinch the 5th game, 11-7!
In the 6th and final game, scores remained tight all the way to 9 apiece. At 9-9, Zhendong showed his fans at the OCBC Arena once again, why he is world no. 1. Having competed in more major tournaments proved to have contributed to the top seeded player's calm and decisiveness, as he mercilessly delivered his lethal and powerful far-table returns. Against a strong and experienced Zhendong, Chuqin eventually succumbed, as his opponent took the final win, 11-9!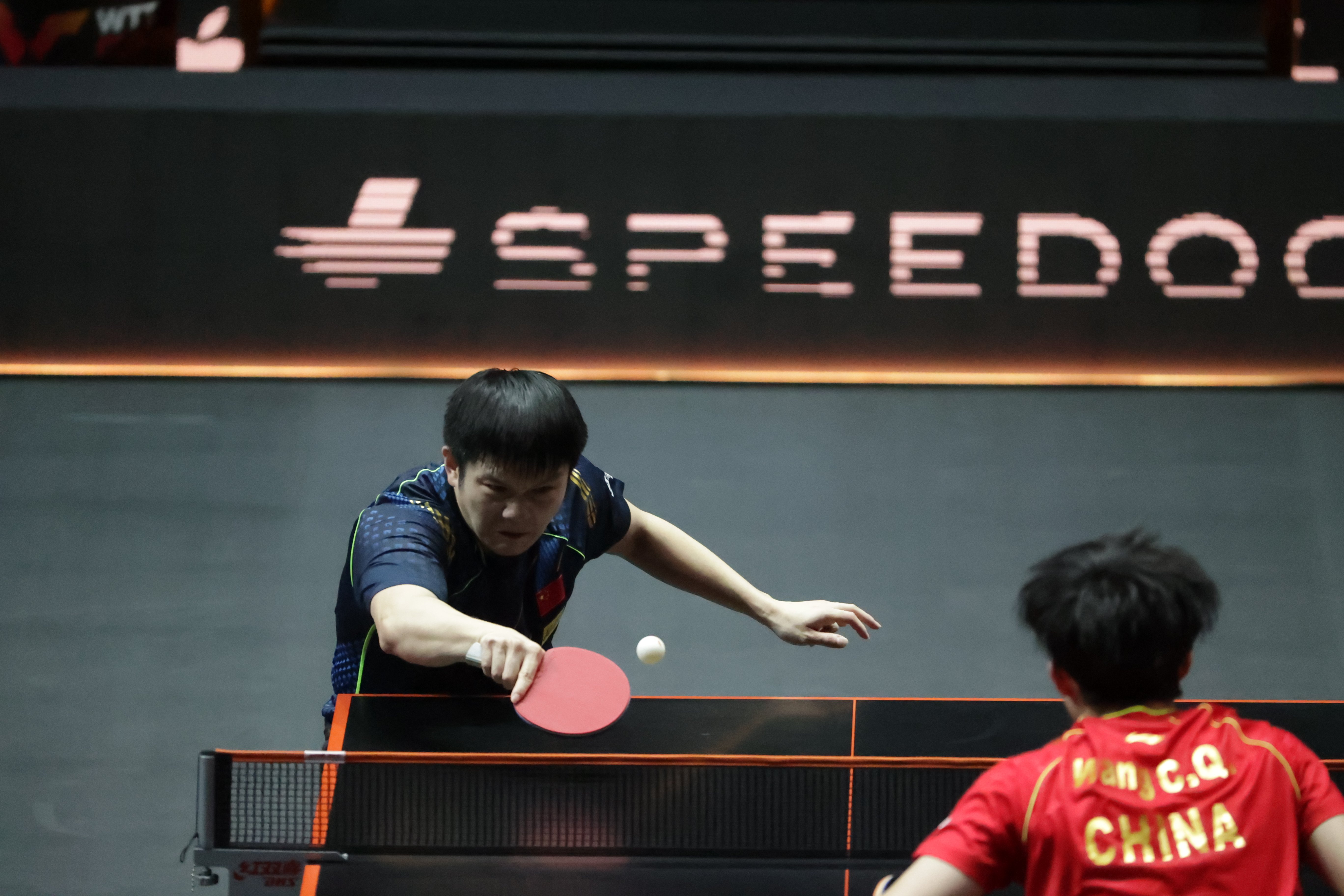 (World No 1 Fan Zhendong. Photo Credit : WTT)
With his semi-final win, 24-year-old Zhendong booked his spot in the finals of the Men's Singles event, which is scheduled to take place on Tuesday (7 Dec) at 7.45pm. Zhendong will be going for his second title this month, after his recent win at the World Championships. And in the WTT Cup Finals in Singapore, the Chinese superstar is slated to meet Tomokazu Harimoto of Japan for a shot at more than S$60,000 in prize money! Harimoto defeated Brazilian sensation, Hugo Calderano in the semis 4-1.
Tickets for the FINALs are SOLD OUT at the OCBC Arena. But fans can still watch your favourite players on Singtel Mio Sports! And you catch LIVE streaming for FREE on the WTT App or the WTT's official website, https://worldtabletennis.com/home.
For selected match reports from the WTT Cup Finals in Singapore, do check out https://circle.myactivesg.com/
Edited by Raj Kumar
Pearlyn Koh has been playing Table Tennis competitively for 9 years. She's currently a member of the National Team and had represented Singapore at several major tournaments, including the 2018 Asian Games and World Table Tennis Championships. In 2019, Pearlyn was also the sole Southeast Asian player to enter the Top 16 at the Asian Junior & Cadet Table Tennis Championships. During her free time, Pearlyn enjoys reading and catching up with her friends.