Yip Breaks World Record in Golden Swim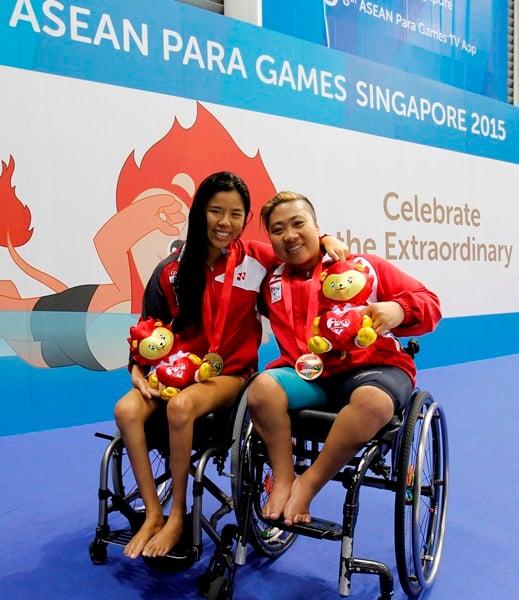 Yip Pin Xiu (L) and Theresa Goh (R) with their medals [Photo by Sport Singapore / Action Images via Reuters]
Team Singapore swimmer Yip Pin Xiu not only added to the Republic's gold medal haul in the pool but she incredibly set a new World Record of 1:01.61 for the S2 category in the Women's 50m Backstroke S5 Finals.
Because of a lack of competitors in the S2 category, Yip swam three classifications above her official status in the S5 and provided a world record time.
The previous record was 1:03.00 set by Feng Yazhu of China during the 2012 London Paralympics.
"I'm so happy that it hasn't sunk in yet. I'm very touched and glad that I'm able to do this on home ground," said Yip.
At the end of a thrilling finale to the race, compatriot Theresa Goh took the bronze while Vietnam's Nguyen Thi Den claimed silver.
Team Singapore's most successful swimming campaign at an APG concluded with a total of 16 golds, six silvers and 11 bronzes from the pool.
Singapore finished third in the swimming medal standings, with Vietnam and Indonesia taking the first and second positions respectively.
In the Men's 200m Individual Medley SM14 Finals, Lawrence Tay and Han Liang Chou took Silver and Bronze with a time of 2:45.29 and 2:47.48 respectively.
Lawrence Tay and Han Liang Chou swept the Gold and Silver in the Men's 50m Backstroke with times of of 0:35.52 and 0:35.94 respectively.